Yesterday my daughter made these yummy Mint Chocolate Chip Ice Cream Cookies all by herself. She is really becoming quite the culinary daughter!
Don't they just look scrumptious?
If you get the All You magazine, then you might have seen this recipe in there. That is where she got it from.
She and I are going through all my old magazines and recycling the recipes we want and then getting rid of what's left to make room for the new magazines I have coming.
My name is Jennifer and I am a magazine junkie!
Okay–enough with the chit chat. Would you like to be able to make these yummy and delicious sweet treats?
Here's the recipe!
Mint Chocolate Chip Ice Cream Cookies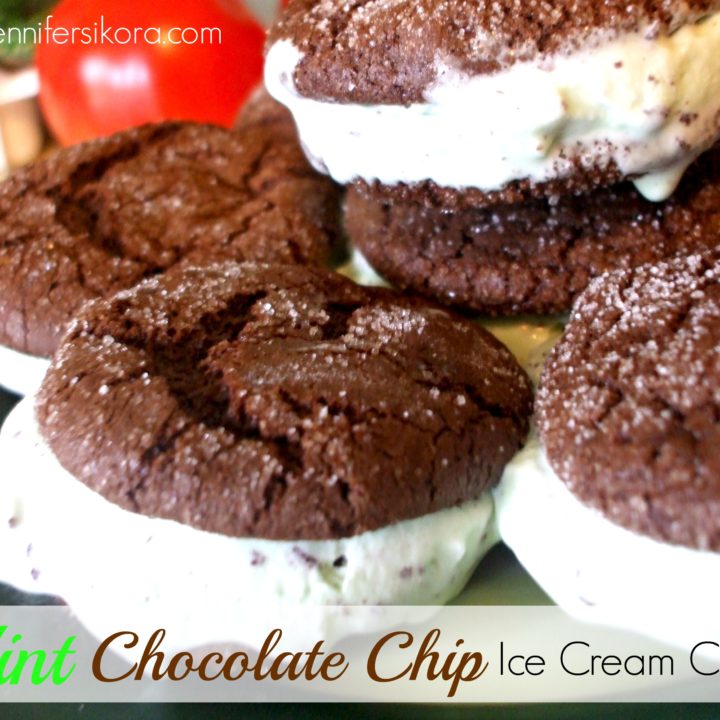 Ingredients
1/2 cup of all purpose flour
1/4 cup of unsweetened cocoa
1/4 teaspoon of baking soda
1/4 teaspoon of salt
4 ounces of bittersweet chocolate
4 tablespoons of butter
3/4 cup of brown sugar
1 large egg
1/2 teaspoon of vanilla extract
1/4 cup of chocolate chips
3 tablespoons of sugar
1 pint of mint chocolate chip ice cream
Instructions
Preheat oven to 325 degrees.
Line 2 baking pans with parchment paper.
In a medium bowl, whisk together flour, cocoa, baking soda, and salt. Set aside.
Melt bittersweet chocolate and butter in a double boiler over medium heat. Set aside
Combine chocolate mixture, brown sugar, egg, and vanilla in a large bowl and beat until it is combined.
Gradually stir in flour mixture into the chocolate mixture, then fold in chocolate chips.
Cover and allow it to rest in the refrigerator for about an hour to firm up.
Take the 3 tablespoons of sugar and put it on a plate.
After removing from the refrigerator, roll dough into 16 1 and 1/2" balls, then roll each in sugar.
Transfer balls to cookie sheet and bake until cookies are puffed and lightly browned, 12 to 15 minutes.
Transfer cookies to a plate to cool.
Arrange 8 cookies bottom side up.
Top each with a small amount of ice cream.
Top with a second cookie, bottom side down, pressing together slightly.
Wrap each in plastic wrap and place in the freezer until firm, about 1 hour.
What is your favorite ice cream cookie?