Something I love more than anything is pretzels — big, hot, salty, and cheesy pretzels. Anytime I am at a gaming event or a theme park, I make a beeline for the soft pretzel stand. Want to know what's better than just a pretzel? A pretzel dog –slathered in mustard or ooey, gooey cheese sauce.
Looking for more easy recipes? Check out my huge database of delicious, homemade goodies.
Today is National Hot Dog Day — so I think for dinner tonight, I will switch up what I was originally going to make and create some of these yummy treats! My family will LOVE me for it. I have made them in the past and they are super easy and SO delicious.
What is your favorite kind of hot dog to use?
My favorite are all beef hot dogs. They just make everything taste so much better.
Here's the recipe. Hope you enjoy it!
National Hot Dog Day - How to Make Your Own Pretzel Dog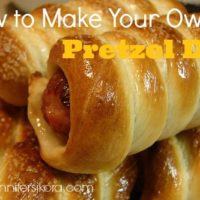 Ingredients
2 1/2 teaspoons of yeast
2 heaping tablespoons of brown sugar
1 1/4 teaspoon of salt
1 1/2 cups of warm water
4 cups of flour
Melted butter
Coarse Salt
Brine
2 heaping tablespoons of baking soda
2 cups of water
Instructions
In your mixer dissolve yeast, brown sugar and salt in warm water. Let yeast bloom for a few minutes.
Mix in flour. If you are kneading by hand mix with wooden spoon until a cohesive dough ball forms then turn it out onto a floured surface and knead until smooth and elastic, about 7-8 minutes. If you are using your mixer just let it go until it's smooth and has completely cleaned the sides of the mixing bowl. Cover and let rise for about an hour.
Cut dough into 12 equal pieces. Let dough rest for a few minutes. Roll each piece of dough into a 2 foot long rope.
Twist each rope around a hot dog making sure to seal the ends of the ropes securely.
If you have any pieces left, cut them into nugget size and make pretzel nuggets.
In a large saucepan bring the brine mixture to a simmer over med heat.
Dip each pretzel nugget and pretzel dog in the brine for approx 30 seconds.
Place on a greased or parchment lined baking sheet. Let rise for 20 min.
Bake at 450 for 9-10 minutes or until golden brown. Nuggets will take a little less time, watch them fairly closely so they don't burn.
Brush with butter and sprinkle with salt or whatever topping you prefer.
Serve alongside a delicious cheese sauce (recipe coming soon)
How do you celebrate National Hot Dog Day?