This shop has been compensated by Collective Bias, Inc. and its advertiser. All opinions are mine alone. #CollectiveBias #LICDrugDisposal
National Prescription Drug Take-Back Day is this coming Saturday, October 27th. I am working hard to do my part in stopping the Opioid drug problem that is ransacking this world. The best way to do that is by dropping your old medications off at any of the LifeInCheck Drug Disposal locations across the United States.
I had my own run-in with opioids last year when I had my appendix out. What amazes me is how quickly and how many pills are prescribed to someone who is in pain –and how potent those pills are.
Here's my story.
My appendix almost burst last year and I had to have emergency surgery. The doctor told me that I would be in a lot of pain, and prescribed me some painkillers to get me through until the pain resided.
Little did I know at the time that the painkillers they prescribed me were indeed opioids. I started taking them the minute I got home. I noticed after each dose how weird I would feel. I could barely hold my eyes open, I felt so drugged — but at the same time, I felt amazing because there was no pain.
Resting is hard after surgery when you are used to go go go all the time.
I took my medication as prescribed — every 4 hours for pain. By day four, I realized I was not hurting as bad and didn't really need the medication. But here is the scary part — even though I was getting to the point that I knew I didn't need them anymore, I could feel my body craving that drugged lull feeling.
I got worried, so I was telling my daughter what my body was doing (she's 20 by the way), and she encouraged me at that moment to stop staking them and put them away — which I did.
For the next two days, my body would instantly crave those painkillers, but I fought it until the feeling passed. Y'all — that was just in 4 days of taking them.  I cannot imagine what it's like for people who have to take them for weeks. Opioids are crazy addictive and we have to be cautious when taking them.
How to Dispose of Unused Prescribed Prescriptions
Because of how crazy addictive opioids are, it is not a good idea to leave them laying around the house as I did. There has to be a way to get rid of them right? Flushing them down the toilet is not an option or just throwing them away in the garbage because it damages the environment.
In an effort to assist in reducing these issues and bringing awareness to the massive opioid crisis that is plaguing many families, LifeInCheck created a Drug Disposal program that provides consumers with a safe option to discard their unused or outdated prescription medications in secure receptacles located across the US.
If you have leftover medication laying around your house, please check to see if there is a LifeInCheck Disposal location in your area.
According to the National Institute on Drug Abuse, approximately fifty-four million Americans over the age of 12 have used prescription medications for non-medical reasons at least once in their lifetime.
LifeInCheck has created this tool to help you safely dispose of unused or expired medications. Simply enter your city and state or zip code and search radius and we will provide a list of safe drug disposal locations in your area. Thank you for helping to protect your family and our communities.
Once you find the place to drop off your used medication, simply visit the LifeInCheck Receptacle and follow the steps. Be sure to look around to find the receptacle and if you cannot, ask around. Ours was supposed to be located in our local hospital pharmacy but was actually positioned in the Emergency Room Department.
The receptacle we found is still the old style, but all the LifeInCheck Receptacles are getting an upgrade to their look so yours might look something like this one.
Pull to open the drawer. Place the medications inside and simply close the drawer. It's that easy.  It's discreet, safe, and responsible drug disposal is critical in the fight against the opioid crisis.
What Types of Medication Do They Dispose Of?
Here is a list of what each receptacle can take and what they cannot take. Even if you have leftover pet medication laying around, they will take that too!
Drugs Accepted at Receptacles:

Unused or expired prescription medication (Including Schedule II-V controlled substances)
Unused or expired over-the-counter medication
Pet Medication

Drugs NOT Accepted at Receptacles:

Schedule I controlled substances
Illegal drugs
Thermometers
Inhalers
Lotions/Liquids
Aerosol Cans
Needles
Hydrogen Peroxide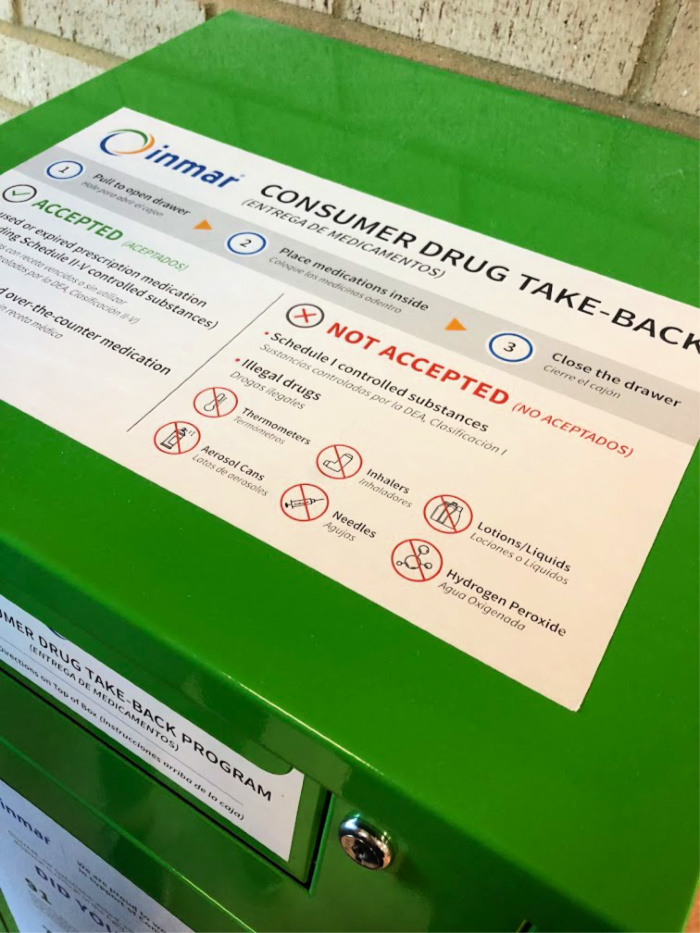 National Prescription Drug Take-Back Day – Let's Help Stop the Opioid Drug Problem
The LifeInCheck Drug Disposal Program is so important! Leaving medication like this laying around the house can cause serious issues for teenagers who might be looking for a quick fix. In fact, 62% of teens who admit taking medication for non-medical reasons say they get drugs from medicine cabinets in their homes.
Source: National Survey on Drug Use and Health, SAMHSA
Now that you know my story and I have shared the safest way to dispose of these very addictive drugs, I hope you will consider finding a location in your area to drop off your unused medications. Remember to look here for a receptacle near you. Join me this Saturday for National Prescription Drug Take-Back Day and drop off all your unused medications to a LifeInCheck Receptacle near you.
I would love to hear any stories that you have regarding painkiller addiction. Have you experienced this personally or know someone who has?