The other day when I was getting ready for my Mom's Night Out Party, I was looking for a really good popcorn recipe. Not one that is just plain popcorn, but something with a kick. That was when I found Nigella Lawson's Party Popcorn. OMG — this stuff is awesome!
When you have friends over, you don't want to serve boring appetizers, but you don't want to break the bank making them either. This serves both purposes. It not only looks festive, especially when you serve it in individual cupcake holders like I did, but you also dress it up with spices you have right in your very own pantry.
Popcorn is fairly inexpensive. You can buy a bag of kernels for around $1.50 at any store and it serves so many servings it is unreal.
Yield: 12
Nigella Lawson's Party Popcorn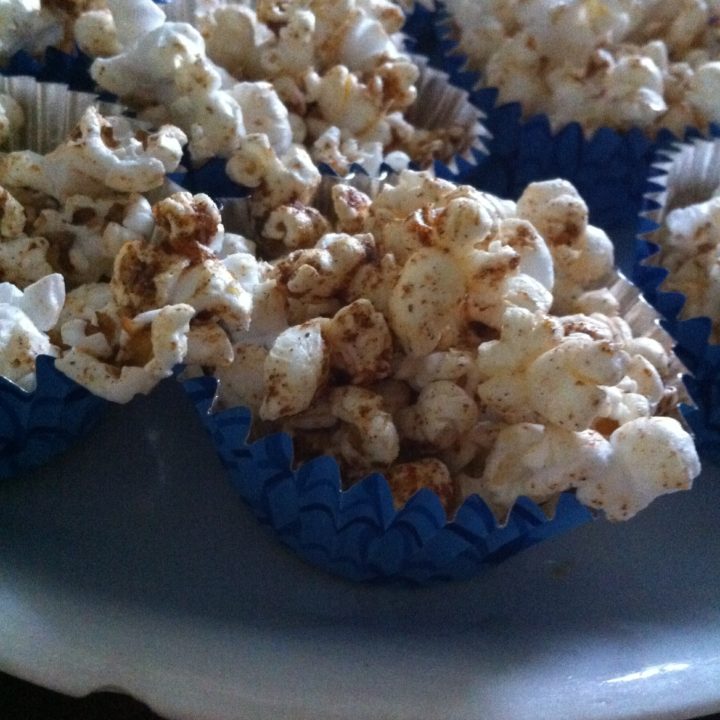 Ingredients
2 tablespoons oil
1 cup un-popped popcorn
1/2 stick butter
2 teaspoons ground cinnamon
2 teaspoons ground cumin
2 teaspoons ground paprika
4 teaspoons table salt
4 teaspoons sugar
Instructions
Put the oil into the biggest pan you have with a lid over high heat, add the popcorn and quickly put on the lid. Let the popcorn pop, shaking the pan every now and then to keep the kernels moving. You will hear it begin to pop. Let it continue popping until it slows down to where there are a few seconds in between pops.Take it off the heat.
Melt the butter with the spices in another pan and then pour it over the popcorn. Use a big spoon and continue mixing the popcorn until it all gets coated evenly.
Arrange in a party bowl or individual cupcake holders.
This is a recipe that you will be making for years and years to come – and it goes great for movie night as well!