If you want a delicious and healthy snack, be sure and try my yummy No Bake Chia Energy Bites. Full of vitamins and good stuff for your body — but you would never know that they are good FOR you!
Yesterday, Kayla and I got in the kitchen and made a fabulous new snack that we found on Pinterest. It is so good and it took me literally minutes to whip them up.
I have been trying really hard to eat healthier and not eat so much junk food, BUT I love my sweets. When I saw a recipe on Pinterest for them, it sounded like something I could eat, and I had a brand new bag of Nutrigold Organic Chia Seeds I needed to use up, so I decided to try and make them.
Just a few ingredients is all that is needed. Put them all in a bowl, roll them into balls and you have the perfect energy bite.
On the other hand, these bites are pretty fulfilling, it's a great snack before your exercises or even powerlifting workout.
Chia, also known as Salvia hispanica, is a Latin American plant recognized as part of the mint family. Historically, chia seeds have been added to soups and beverages by ancient Native American civilizations such as the Aztecs to boost well-being. Chia seeds are becoming popular because they are a rich, vegetarian source of omega-3 fatty acids.

Additionally, Chia seeds also contain large amounts of fiber and protein, and lesser amounts of calcium, magnesium, iron, and antioxidants. Chia seeds are often described as having an agreeable crunchy texture and nutty flavor. Chia seeds can be added to a healthy diet in many ways, including sprinkling chia seeds on salads, soup, yogurt, or in smoothies.
No Bake Chia Energy Bites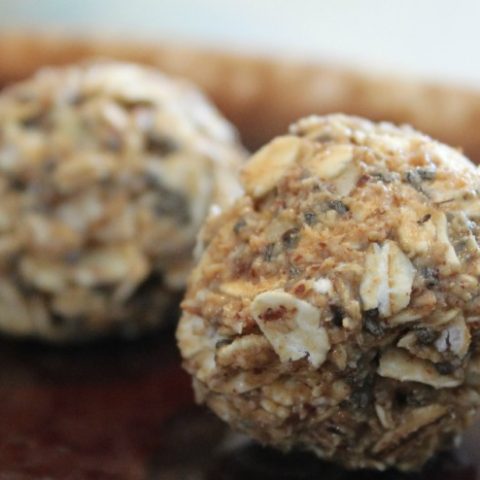 Ingredients
1 cup rolled oats
½ cup almond butter
3 tbsp honey
2 tbsp sliced almonds
1 tbsp chia seeds
½ tsp vanilla extract
Instructions
Mix the oats, almond butter, honey, sliced almonds, chia seeds and vanilla extract together in a bowl until fully combined.
Roll the mixture into equal size bites. Place the bites in the fridge to firm up.
Store in an airtight container in the fridge for up to 5 days.
If you want to bump up the flavor on them, you can melt some chocolate and drizzle on them, but I like them just like they are.