Here we are already in November. I honestly cannot believe how fast this year is coming to a close. Normally by now I have almost all my Christmas shopping done and I haven't even begun to shop yet. I think one of the things I am asking for this Christmas is a gift card to my favorite bookstore so I can stock up on some more books for 2019! Speaking of books, here is my November Reading List!
Last month for my October reading list, I made a pretty daunting list of books, and while I got through most of the reads, there were a few I was not able to finish that I am adding to this month as well.
I was able to finish all of the books, with exception of three on my Kindle and one paperback–
I am almost done reading Brownie Points for Murder and it is SO good Y'all.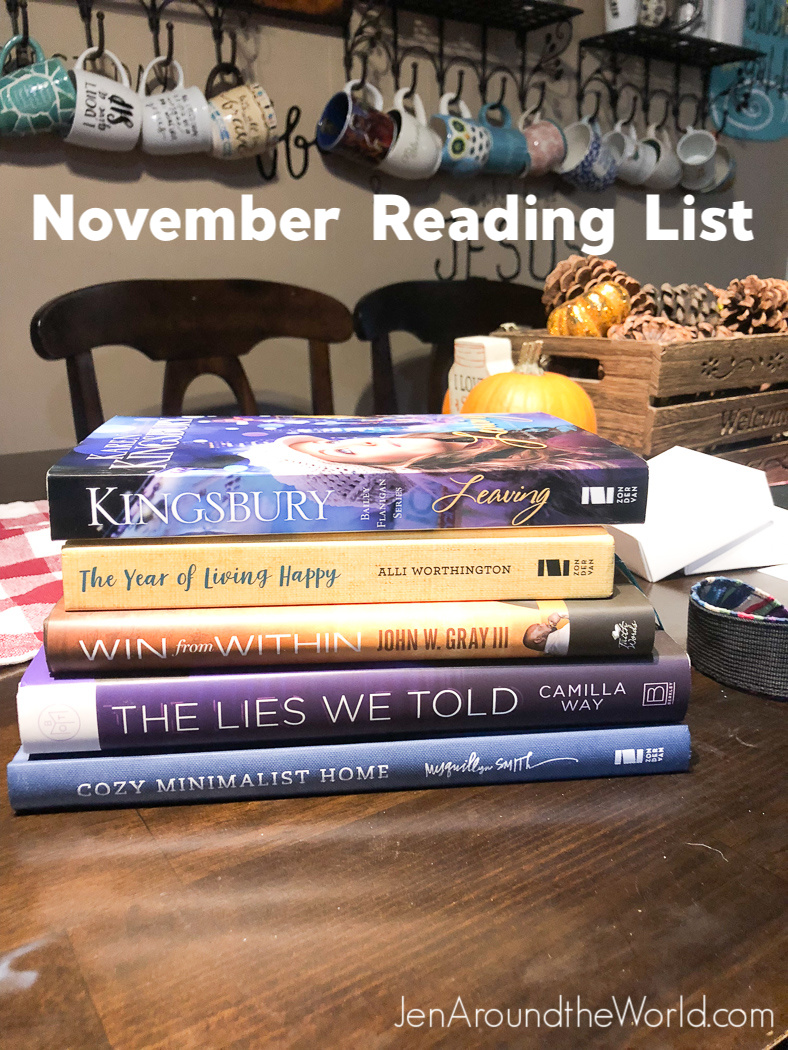 Self Help Books
This month, I am so excited to be reading John Gray's new book Win From Within. He is absolutely one of my favorite preachers, and I am so excited that sometime in the next 3-4 months, we will be making our move to Greenville, SC and will be attending church at Relentless.
His book looks very promising.
I've already started on Alli Worthington's book The Year of Living Happy and I am in love with it. It is a yearly devotional helping you focus on creating a happy and joyful environment in your life.
Of course, anything by MyQuillen Smith, aka The Nester is going to be a good read. I pre-ordered her book Cozy Minimalist Home, and I can't wait to snuggle up with a blanket, a hot cup of coffee, and this book.
Novels
This month, I have several novels I am reading. November and December are usually heavy reading months for me simply because it's too cold to do anything else.
The Lies We Told is one of the books I got from my Book of the Month Club. I simply LOVE getting books from them. They push me way past my comfort zone and turn me on to books I would normally not pick up and read. They have helped me to expand my genre and this month, I am reading The Lies We Told by Camilla Way.
I am a huge Karen Kingsbury fan. Her book Leaving looks like a very fascinating read. I can't wait to dig into the pages of this book.
On My Kindle
The books on my Kindle that I plan on reading this month are the 3 listed above as well as these three —
Most of these are small reading novels, so they won't take long at all to read.
So there you have it! That is my November reading list. What are YOU reading this month?