This post has been sponsored by Rachael Ray Nutrish. All opinions listed are 100% my own.
Over the course of the last few months, my family has embarked on a journey of learning to eat real food. Now, I am not talking about junk food in a bag. To some that might be real food, but I am talking real meat, real fruits, and real veggies.
Our family has been out of shape for some time now, and we are all working towards living a healthier lifestyle. Even Tucker is getting in on the change as well, thanks to Nutrish for Pets and their new Dish formula.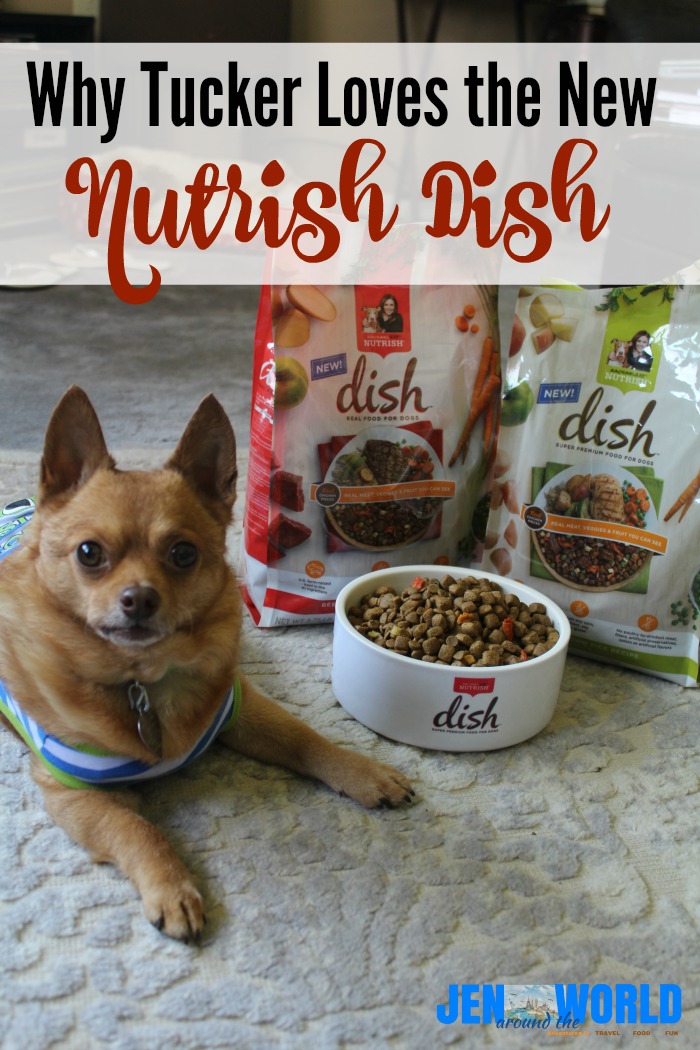 It is SO important to teach our families how to eat better. Better food means better health, not just for the 2 legged people in your life, but also for the four legged family members as well.
I can tell you from personal experience that by feeding my family better ingredients, and making more food at home and from scratch, our health has improved drastically.
This is the kind of food we have been eating, so let me tell you about what Tucker has been eating!
Since Tucker has been on Nutrish now for almost 3 years, his health (and Mittens the cat) has improved as well.
Because Tucker has been on Nutrish for a while, he was able to just dig right in (we did not have to follow the normal routine you should take when you get your dog a new food).
What Does Tucker Think About the Nutrish Dish?
We had fun letting Tucker try out his new dog food. Granted, at first, just like a kid, he wanted to pick through the real veggies and real fruit he could see in his food and go right for the hunks of real chicken he could see.
What kid doesn't want to eat veggies, right? We kept encouraging him though, and before you know it, he was eating all the pieces in his food.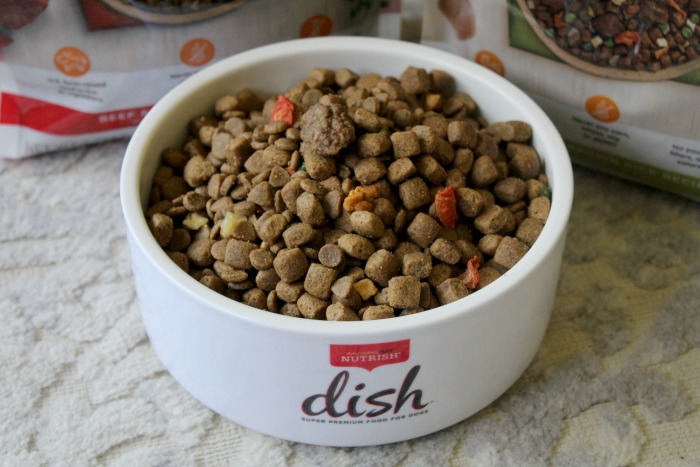 Honestly — he had never seen real food like this in his dog food and neither had I. We were totally impressed.
What You Will Love About Nutrish Dish
The food right from the beginning straight out of the bag looks amazing. It is very colorful and offers all kinds of goodies for your dog.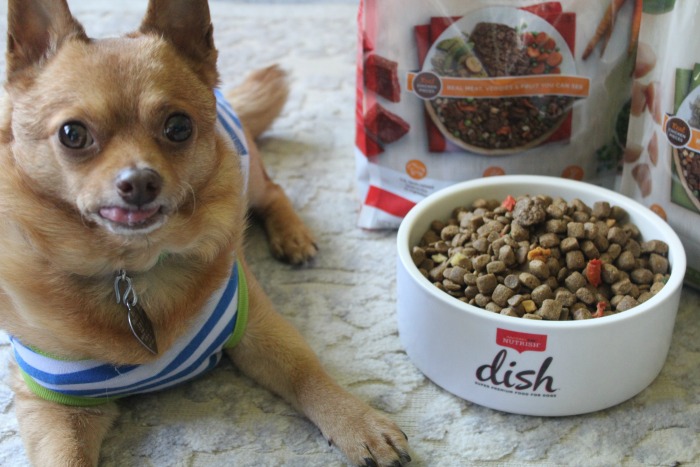 Each bag is full of
brown rice –which is a great source of fiber and essential B vitamins
Cranberries – this one thing helps keep your dog's immune system strong because of the Vitamins A, and C plus a great source of fiber
Crispy Carrots – The crispy carrots offer excellent sources of carotenoids to support healthy immune system
Farm Grown Potatoes – These are easily digestible and are gluten free and gentle on your dog's tummy
Flaxseed & Poultry Fat – Great sources of Omega 3 and 6 fatty acids
Real Chicken and Beef Pieces – These are slow roasted with a real hickory smoke flavor your dog will love
Garden and Field Peas – These offer healthy immune support and help aid in healthy digestion
Tree-Ripened Apples – The apples offer up Vitamins A, C, and dietary fiber which aids in your dog's digestion as well
Dish comes in either Beef & Brown Rice Recipe with Veggies, Fruit & Chicken and Chicken & Brown Rice Recipe with Veggies & Fruit and I promise you that your dog will love the flavor and the texture of this new food from Nutrish.
These new recipes were inspired right from Rachael's own kitchen — and you already know that the #1 reason I love supporting her and the Nutrish brand is because she CARES about what goes into my Tucker's little body.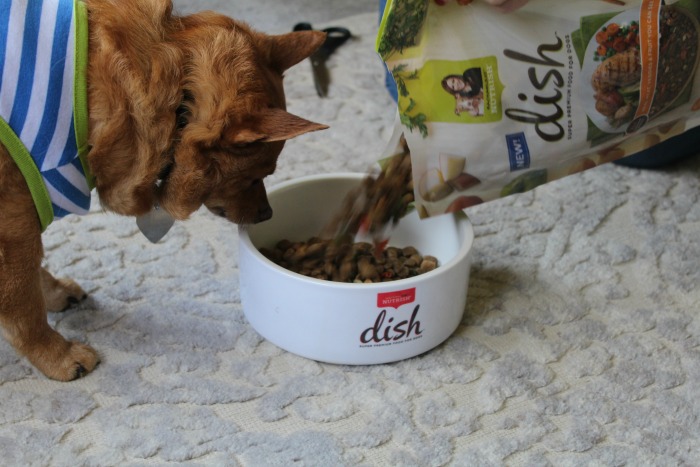 And – the proceeds she makes from the sale of Nutrish goes to fund Rachael's Rescues — and helps other sweet furballs to find forever homes.
I'm Giving Away 10 Free Coupons
If you would like to try out Nutrish's new food, Dish for your dog, use the Giveaway Tools below. I am giving away 10 coupons so that 10 of my readers can try it out and tell me what they think. You can use this store locator to find the grocery nearest you that has the food available.
One winner will also win a Nutrish Kit that comes with both bags of dog food, an apron, and a bib for your sweet pooch!
About Rachael Ray Nutrish:
In 2007, with help from pet nutrition experts, Rachael Ray created Nutrish super-premium food and treats for dogs inspired by recipes from her own kitchen. In 2014, we were very excited to grow the brand into the world of cat food. Whether intended for dogs or cats, Nutrish recipes are made with simple, wholesome ingredients like real meat or fish, and do not contain poultry by-product meal or fillers.
Rachael's personal proceeds go to Rachael's Rescue, which was created to help shelter pets in need. To date, she has donated over $10MM. This money has gone toward food, medical supplies and treatments for these unfortunate animals. All of the Rachael Ray Nutrish products are available where you shop for your family's groceries, making specialty recipes accessible and convenient for every pet parent.
FOLLOW NUTRISH: