Thanks to Nielsen Massey Vanillas for sending me a copy of Dessert for Two so I could learn how to make these amazing from scratch Oatmeal Cream Pies.
My kids are almost grown. I realized this just the other day when I started counting down the days until my daughter's 17th birthday. That means it won't be much longer until it's just me and my hubby. That's great and all, but when I cook, I cook for a family of four — so I am having to learn how to make desserts and other things in smaller portions. That's why I was excited to learn about this new cookbook — Dessert for Two.
Inside the pages, you find delicious desserts, but paired down to smaller portions — which is PERFECT for me and Stephen. We love our desserts, but honestly — I hate having desserts sitting around for days. For one, they are too tempting to eat too many at one time. And two — smaller portions mean I can make it more special — like these Oatmeal Cream Pies I made.
This recipe comes straight from the pages of Dessert for Two.
This recipe yields 5 cookies total — well 10, but you make them into sandwiches, so you end up with 5 cookies total.
Start with all your ingredients — and yes — it looks like a lot of them, but really it's not.
Mix together your dry ingredients and then set them aside.
Take all of your wet ingredients and mix them together (this is the key to making delicious desserts by the way).
Then mix your dry ingredients into the wet ingredients in batches. You want to make sure you get all the dry incorporated into your wet.
When you get this finished, the result should look like this —
With a cookie scoop, scoop out the mixture into mounds. You should have 10 by the time you are done.
Now, take each mound and roll it into a ball in your hand. This warms up the butter and will allow you to make sure every little bit gets stuck together.
Then once you roll it into a ball, flatten it out into a cookie. They don't spread that much in the pan, so you will want to make sure you get it about the size you want your cookies to be.
Once you get them all flattened and placed on the cookie sheet, bake them in the oven at 350 degrees for about 10-12 minutes.
While your cookies are making, mix together your ingredients for the cream filling. It is simply, marshmallow cream, powdered sugar, butter, and shortening.
Once your cookies are done, pull them out and let them cool on a wire rack.
Match up your sizes and then fill with cream on one side of cookie and top with another. These are seriously some of the best cookies I have ever tasted.
Oatmeal Cream Pies for Two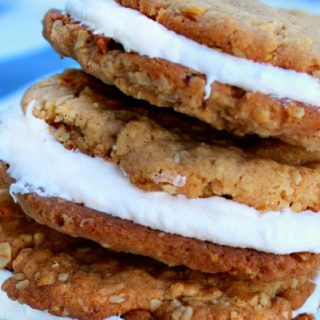 Ingredients
1/2 rolled oats
3/4 cup all purpose flour
3/4 teaspoon cornstarch
1/2 teaspoon baking powder
1/8 teaspoon baking soda
1/8 teaspoon salt
1/2 teaspoon ground cinnamon
1/8 teaspoon grated fresh nutmeg
1/8 teaspoon ground ginger
3 tablespoons of salted butter at room temperature
2 tablespoons of solid vegetable shortening
3 tablespoons of molasses
1/2 cup of sugar
1/2 teaspoon of Vanilla Extract
1 large egg yolk
For the Marshmallow Filling
1 cup of marshmallow Cream
2 tablespoons of salted room temperature butter
2 tablespoons solid vegetable shortening
1/2 cup powdered sugar
Instructions
Preheat oven to 350 degrees. Line a baking sheet with parchment paper.
In a food processor, chop up your oatmeal in 10 pulses to break them up a bit, just don't grind it to a powder.
In a small bowl, whisk together the dry ingredients.
In your mixer bowl, on medium speed, cream together the butter, shortening, molasses, sugar, and vanilla for 45 seconds. Scrape the bowl if necessary until all ingredients are combined.
Beat in egg yolk and then add the dry ingredients into two batches making sure to mix well.
Make 10 golf ball size dough balls with your hands. Space them apart on the sheet equally and then press them flat with your hands.
Bake for 10 to 12 minutes or until fragrant. Don't overbake or they will get really hard. They tend to still bake a bit after coming out of the oven.
Let cool on the cookie sheet for 5 minutes and then move them to a cookie rack to cool.
While cookies are cooling, make the filling. Mix all the filling ingredients together and cream together until combined. Divide it among five of the cookies and then press another cookie on top to make five sandwiches.
Note — be careful how long you cook them otherwise they will not be soft and chewy like a real oatmeal cookie. They will get crispy. They are still good, but crispy instead of chewy.
Dessert for Two is the perfect cookbook for newlyweds, empty nesters, or anyone looking for a bit of portion control in their lives.
Lane's downsized treats are complemented by high-quality baking ingredients, which enhance flavor profiles and make her tested two-person recipes shine.
Her Mini Sour Cream Pound Cakes (recipe below) use just ¼ cup sugar but keep their sweet, creamy flavor with Nielsen-Massey Madagascar Bourbon Pure Vanilla Extract.
Visit Dessert for Two at www.dessertfortwo.com/ and Nielsen-Massey Vanillas atwww.nielsenmassey.com for additional vanilla-infused dessert recipes.