This post has been sponsored by OdorKlenz. All opinions listed are 100% my own.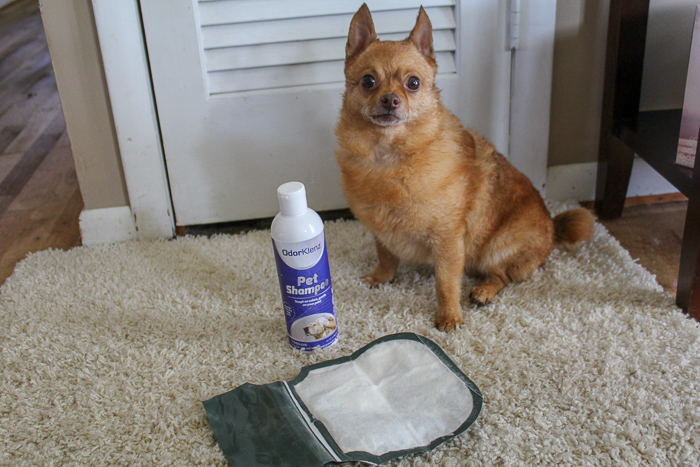 I don't know about you, but nothing makes my nose curdle up faster than a house that has a funky smell behind it. Believe me when I tell you that our house used to have that smell. We had carpet in every room of the house, and with so many animals running around (3 cats and a dog) — I have to do something to get that smell out of here.
One of the first things we did was to remove all the carpet and refinish our floors in our home. This helped tremendously. Another thing that I do is to make sure I bathe our dog about twice a month. I normally use those perfume type dog shampoos, but recently I was introduced to OdorKlenz — a non-toxic formula that cuts through every pet smell you could imagine — including litter boxes, tough fur smells and more.
A Little About OdorKlenz
OdorKlenz products are made from safe and effective earth minerals which are designed to remove the most stubborn odors from your home.
Their products are strong enough to remove even the strongest of smells but safe enough for the whole family.
OdorKlenz products contain no masking agents or perfumes that leave behind residual scents, making it ideal for use on a day-to-day basis to eliminate household odors like sweat, smoke, pet odors and household cleaners, and much more.
OdorKlenz Pet Products
When the company reached out to me and asked if I would like to try them, I said yes! I am always looking out for new products to try on Tucker that are not only safe for him but safe for the environment as well.
We were sent the pet shampoo and the pet deodorizing mitt.
I gave Tucker his bath because it was time for his bi-monthly washing. He had gotten into some poop or something outside (he likes to roll in things he finds out there), so I was glad to try this out and wash him with it.
Let me tell you a little about what we used to use on Tucker —
Like I said before, I have always bought the perfume type dog shampoo (you know the Hartz brand that has the smell goods in it to "get rid of the odor?")
The problem was that every time after having his bath, he only smelled good for just a little while, then he would go back to smelling like the outside again. I was beginning to get extremely frustrated that we weren't able to get rid of the smell on his fur.
Thankfully, I was introduced to OdorKlenz — and since starting to use this product, I am happy to annouce that we have finally discovered a product that actually does what it says it will do.
I noticed right off the bat that it smelled clean, but did not have the perfume scent behind it that I was used to. It is also not thick like most shampoos. It was pretty runny, but not to worry. It suds up just like a normal shampoo does.
After washing Tucker, I towel dried him and was glad to find that the stench was gone. He actually smelled really good. The odor of the stench from whatever he rolled in outside was gone. I honestly think it was rotten food or something. Trust me when I say it was disgusting.
A few days later, he decided to roll in it AGAIN. Y'all — I am not kidding when I say he loves to roll in smelly things outside. Thankful for me, I had the deodorizing mitt to use to neutralize the odors. Since Tucker is little, I don't like to give him a bath too close together and since it had only been a couple of days since his last bath, I was glad to have the deodorizing mitt to use.
The soft mitt contains their patented powder which works fast to absorb and neutralize the odor. It has a hole for your thumb so that you can easily rub your pet down to remove any smells.
The mitt worked perfectly and took care of the outside smell that had attached itself to Tucker's fur.
The pet shampoo was definitely made with Tucker in mind. He is sensitive to a lot of smells and things, so I love that they thought of that when making this.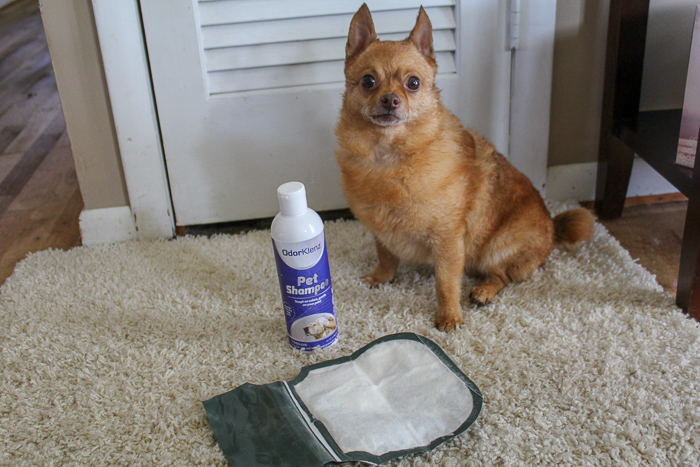 It is made with simple, powerful ingredients and designed with the best technology to eliminate the worst smells like body odor, wet dog, even skunks!
Where Can You Buy OdorKlenz
You can visit the OdorKlenz website to order your pet products by clicking here. Not only do they have pet products but they have these other amazing products as well —
Laundry
Air
Household Odors
They ship same day, offer free shipping for orders over $75 and if you are not 100% satisfied, they even offer a 30-day money back guarantee (but I can tell you that you will not need that. Their products are legit).
Tucker says he thinks you should order their products! Be sure to use the code WORLD15 to get 15% off your order. For more information about OdorKlenz, you can find them here –
For other cool company reviews, check out companyreviews.com.
How do you keep your pets clean and fresh?