The first time I saw this recipe for Old Fashioned Cocoa Cake with Caramel Icing was a few weeks ago when I was watching Trish Yearwood on Food Network. Do you not love her? Oh my goodness, she is just so precious!
The minute Stephen saw it, he told me — you have to make this for me– so being the wonderful wife that I am, I said sure!
Now — there are many steps to this cake, but don't let that scare you off. Just take it in baby steps and before you know it, you will have the most tastiest cake on the planet sitting before you.
I made it pretty rustic simply because I am not one for perfect looking desserts. I like to let people see when my food is not magazine worthy, but it sure does taste like it!!
I had fun making this cake. In fact, it's only been two days and the whole cake is almost gone!
Making a cake from scratch is easy — you should try it!
Here is the recipe — hope you enjoy it!
Old Fashioned Cocoa Cake with Caramel Icing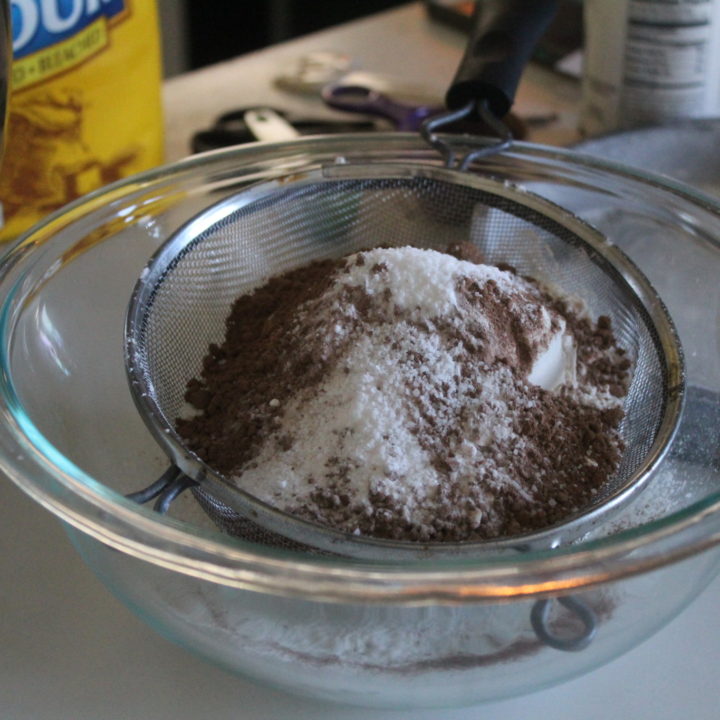 Ingredients
For the Cake
2 cups all-purpose flour
2/3 cup cocoa
1 1/4 teaspoons baking soda
1/4 teaspoon baking powder
1 teaspoon salt
1 1/3 sticks butter
1 2/3 cups sugar
1 1/3 cups of water
3 large eggs
1/2 teaspoon vanilla extract
Cooking spray
For the Caramel Icing:
4 cups sugar
1 cup milk
1 stick, 1/2 cup butter
1 teaspoon vanilla extract
1/8 teaspoon baking soda
Instructions
Preheat the oven to 350 degrees F. Take some cooking spray and lightly spray your baking pans and then dust with flour.
For the cake
In a bowl, sift together the flour, cocoa, baking soda, baking powder and salt and set aside.
In your stand mixer, cream the butter and sugar until fluffy, about 2 minutes. Add the eggs one at a time and then the vanilla. Beat on speed 2 for about 2 minutes.
Add the flour mixture in stages with the water, beginning and ending with the flour.
Divide the batter evenly between the pans and bake for 30 to 35 minutes. Remove from the oven and allow the cakes to cool before removing from the pan.
For the caramel icing:
Mix 3 cups of the sugar and the milk in a heavy 3-quart saucepan. Bring slowly to a boil and reduce heat to low to keep it hot.
Caramelize the remaining cup of sugar in an iron skillet. Do this by cooking over medium-high heat and stirring and scraping the pan with a flat-edged spatula as the sugar melts.
Continue to cook until the syrup turns to medium or dark brown in color. It doesn't take long, so be sure to watch it. Do not scorch the syrup.
Stream the syrup into the boiling sugar and milk mixture and cook to the soft ball stage, about 238 degrees F. You will need a candy thermometer for this.
Next, add the butter, vanilla extract and baking soda and remove from the heat.
Pour the hot mixture into the bowl of a stand mixer and beat as it cools until the icing is creamy. It will take about 25 minutes or so.
Watch the icing because it will go from runny to too thick very quickly. When the icing gets to a spreadable consistency, spread on the cake layers while the icing is still warm.
Serve now or later. It is delicious for days!