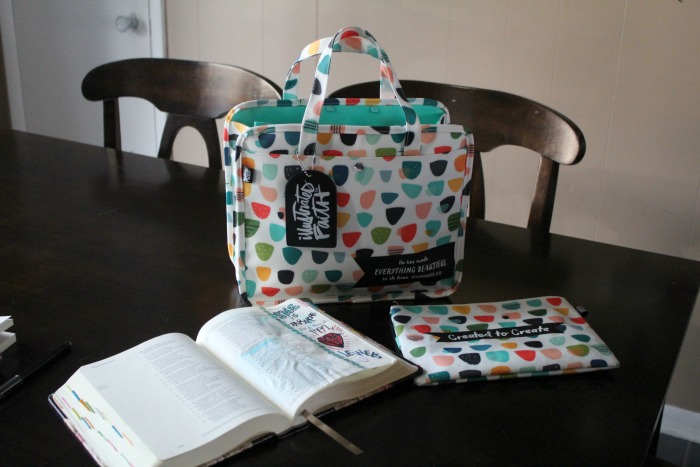 **I received these products as part of the Dayspring Illustrated Faith Launch Team. Post contains affiliate links. All thoughts are 100% my own.
A couple of months ago I started bible journaling so I have a ton of new journaling supplies. It has been a great way for me to study God's word, but to also discover a side in me that I didn't even realize I had — a creative side.
Now that my kids are grown and I am pretty much flying solo during the day while everyone is at work, I am filling my free time with Bible journaling.
The problem is that in just 2 months I have collected a ton of supplies — pens, markers, washi tape, stickers, stamp pads, stencils, ink pads, etc. My supplies are endless!
Illustrated Faith Kangaroo Pouch and Organization Bag
Today, I'm super excited to share with you two great new products from Illustrated Faith and Dayspring that will help: the Kangaroo Pouch and Organization Bag.
I love keeping all my supplies organized and separated by product– such as all my colored pencils together, all my markers together, all my stickers together and this bag is the perfect way to do that.
Kangaroo Pouch
One of the reasons that this kangaroo zipper pouch system works so well for me personally, is because I love to journal while sitting on my couch. That makes these two products perfect for my personal journaling needs.
My daughter has a zipper pouch that she packs everywhere with her and now that I have one, I am in love with it. What sets this kangaroo pouch apart from all the others is the fantastic elastic band that allows you to wrap the pouch around your Bible.
This is great for those products you want to take with you on a trip to the doctor's office, or whenever you feel you need to wait somewhere. If you are currently working on something and happen to be using certain supplies, this pouch will keep them all close at hand.
And even when I don't want to put it on my Bible, the strap makes it easier to manage, I can just grab it and go!
Organization Bag
Next up, the product I am most excited about- the Organization Bag! This bag is absolutely stunning! I have had more compliments on it than any other bag I have ever used.
I love the fun design featured on both products, but I particularly love the verse.
This verse has always been a favorite of mine. It really helps me to see the beauty in everything.
This bag is very practical and is great for everyday life. On the outside, you will find a pocket on each side. These are not especially wide, but perfectly hold things like my mini ipad, my note pads, sticker sheets, and more.
The inside of the bag is even roomier and can hold things like my markers, my water color paints, and even my journaling bible which we all know seems to expand once you start journaling.
The mesh pockets are perfect for smaller items like scissors, paints, washis… easily accessible and you can see just what you're getting. There is also a larger interior pocket that is the perfect size for stickers, devotionals paper pads, etc.
This is deeper than the outside pockets so you can fit much more! It holds everything I need. Whether you are journaling on the go or just want to better keep organized at home, these new products are perfect for you.
And these are just a few of the new products available today through Dayspring. In fact, they have just launched over 100 new Illustrated Faith goodies! I am all about these beautiful products now a days!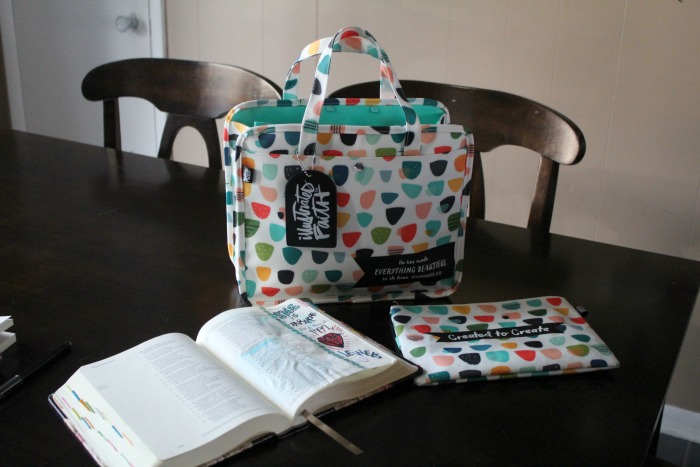 New collections, new products… you do NOT want to miss any of this! I will be sharing more throughout the week, but don't wait! Head on over to check it all out now!
Don't forget to use the code 25FORYOU to save 25% off your purchase + free shipping. There is no minimum purchase so whether you want to stock up, or just grab a few new pieces, this is a great deal! Offer expires March 31, 2017. 
Are you into Bible journaling? Do you have any organization products? How can these new Illustrated Faith products make journaling easier for you?