This post for OVERCOMER movie has been sponsored by FLYBY Promotions. All opinions listed here are 100% my own.
When OVERCOMER hit the theaters this past summer, I was one of the first in line to go see the movie. I have seen every single one of the Kendrick Brothers films.
I own every single one too and I am excited to be able to add the newest one — OVERCOMER — to our DVD collection when it comes out on December 17th!
Here's the cool thing that I love about these films. The Kendrick Brothers have received a rare A+ Cinema Score on 3 of their movies — which is awesome for a Christian movie in these days and times — right? In fact, Overcomer is the #1 Inspirational Family Film of 2019 and has received a 98% audience score on Rotten Tomatoes. That is something to be proud of right there!
About OVERCOMER
OVERCOMER is from the creators of the #1 box-office hit War Room. Life changes overnight for coach John Harrison (Kendrick) after he loses his basketball team and is challenged by the school's principal, Olivia (Shirer), to coach a new sport he doesn't know or like.
As John questions his own worth, he dares to help the least likely runner take on the biggest race of the year. Filled with a powerful mix of faith, humor and heart, this inspirational story will have you on the edge of your seat.
The Blu-ray, DVD and digital release come with an extensive array of bonus material, including 10 minutes of extended and deleted scenes, fun bloopers, exclusive commentary by the Kendrick Brothers, moving in-depth looks at the power of forgiveness, identity and more.
Bonus Material
BLU-RAY AND DIGITAL EXCLUSIVE BONUS MATERIALS
The Heart of Overcomer: See how the heart of Overcomer is grounded in personal growth, faith and identity.
Creating the Opening Drone Shot: See how the stunning opening drone shot of the film was realized with a lot of ingenuity and a well-organized crew.
Working with the Kendricks: Watch how Alex, Stephen and Shannon Kendrick found their path to filmmaking through authenticity and faith.
Looks Behind-the-Scenes of: Editing, Composing, Coloring and Sound Design
"Enough" (Lyric Video) Featuring Koryn Hawthorne
Don't Mess with the Editors: Check out what the editors of Overcomer created on the side for a little fun.
BONUS FEATURES AVAILABLE ON BLU-RAY, DVD AND DIGITAL
Feature Audio Commentary with Director Alex Kendrick and Producer Stephen Kendrick
Bloopers & Outtakes
10 Minutes of Additional Scenes with an introduction from the Kendrick Brothers.
The Making of Overcomer: Learn about how the crew worked together with faith and prayer to create this incredible film.
The Theme of Identity: In this piece the cast and crew discuss what the theme of identity means to them.
The Power of Forgiveness: Describes why forgiveness is such an important theme of this film.
"Overcomer" (Lip Sync Music Video) Featuring Mandisa
Overcomer in 60 Seconds: a quick fun film recap.
Overcomer Resources Video: Learn more about accompanying resources to help you grow in faith
How to Get Your Hands on a Copy of OVERCOMER
If you are a church who would like to get a site license to show this to your congregation, they are available for purchase now and have already starting shipping. There's even a Bible study kit.
Now — here's the awesome thing I learned —
If you have NEVER seen any of their movies (and I encourage you to watch each and every single one), you can get a special Kendrick Brothers Six Movie DVD Gift Set that will also be available exclusively at Walmart beginning December 17.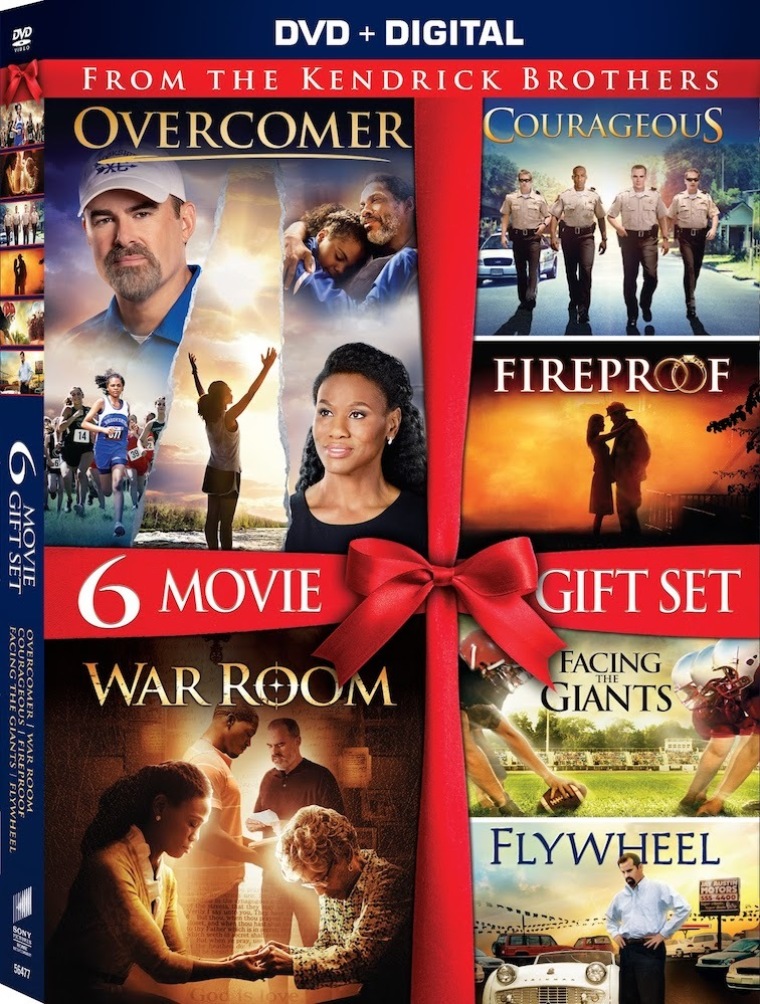 The set will contain fan-favorite films OVERCOMER, WAR ROOM, COURAGEOUS, FIREPROOF, FACING THE GIANTS, and FLYWHEEL. Each and every single movie is just as good as the last.
I will tell you — STOCK UP ON THE TISSUES while you are at Walmart getting your movie. You are gonna need them for both the laughter and the tears.
Make plans to get your copy or the whole 6 movie set on December 17th!
FOR MORE INFORMATION
Twitter: https://twitter.com/OvercomerMovie
Instagram: https://www.instagram.com/overcomermovie/
Facebook: https://www.facebook.com/OvercomerMovie/
Hashtag: #overcomermovie