I was sent a pair of the Pamu Scroll Wireless Earphones to review. All opinions listed are 100% my own.
I am always looking for a new tech product that helps me in my day to day work, and my newest obsession? The Pamu Scroll second-generation wireless earphones.
The creators of Pamu scroll reached out and asked if I would like to try out their new wireless earphones and of course I said yes!
So let me tell you about these amazing earphones.
What I Love About the Pamu Scroll
For starters, my number one favorite thing about these wireless tv headphones is the fact that they are so light weight and fit so snugly in my ear.
They come with 3 different sizes of plugs to figure out which one fits better in your ear. Once situated, they stay in place! That's more than I can say for the last pair I had, which constantly fell out of my air.
The second thing I love about these wireless earphones is that fact that once you sync them once to your device, anytime you pull them out of the case to use them, y'all — they auto pair!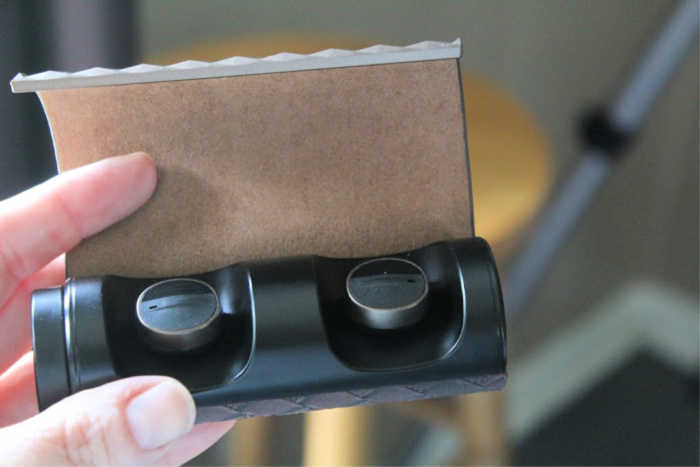 Here are some other features that I love about the Pamu Scroll Wireless earphones:
Bluetooth5.0
Enhanced Bass
Wireless Charging – extra receiver to upgrade older Micro USB devices for wireless charging
Auto Pairing
Snug Fit
Leather Shell
Scroll Design
Water Resistant
Touch Control
The people behind the Pamu scroll wireless earphones have worked tirelessley over the last 7 months to improve on their design. Because of all the feedback given, they are offering these 2nd edition earphones with all the upgrades for only $39! They are in very limited quantities at this price, so click here to order yours.
About Padmate
Their team seeks to provide the world's best quality and most innovative audio equipment alongside industry leaders, such as Bose, Apple and Samsung. They have worked in the audio industry for over 17 years and have developed and fabricated for major brands including Monster, Intel, AT&T, Nokia, Softbank, HAMA, Huawei, and Xiaomi etc.
Their engineers now develop these innovative audio products for you, and we also own the best factories in the audio industry all over the world!
The price strategy for the PaMu Scroll campaign is their way of saying thank you for all the support during the launch!
Want to know more? Check out my video review below!
Now that you know what I think — what are you waiting for? These are the perfect earphones for anyone who needs a wireless on the go set.