Wow your special couch gating guests this season with this recipe for Pepper Steak with Horseradish Cream Sauce. This post has been sponsored by Silver Spring Foods. All opinions listed are 100% my own.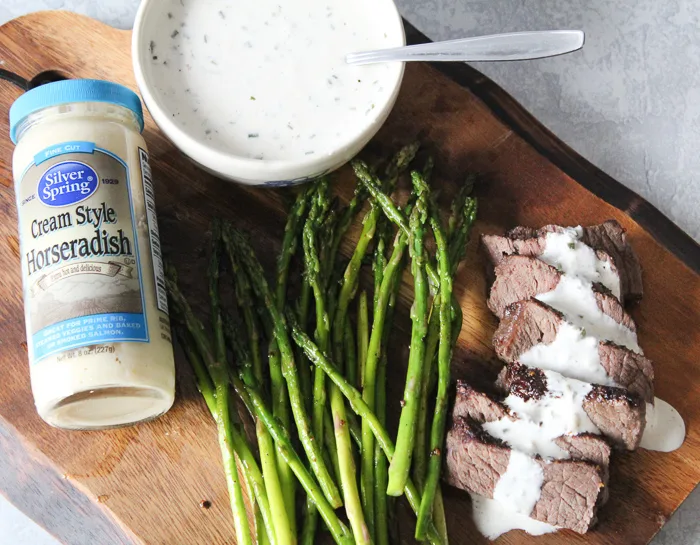 One of our favorite things to do during the fall and winter months is to have friends and family over. Right now, we are heavy into basketball, and sometimes you will catch my husband and I engrossed in a boxing tournament on television.
Whatever sport or get together you happen to be having this year, you can up your entertaining game by serving this sliced Pepper Steak with Horseradish Cream Sauce.
Be sure and hop over to Instagram (@jennifersikora) and enter my giveaway! You can win a Silver Springs Food Gift Basket.
I am a huge fan of horseradish. I use it in a lot of the recipes I make because I love the heat and the zing it adds. Silver Spring Foods is the world's largest grower and processor of horseradish and they are family-owned.
When they reached out and asked if I would like to partner with them to get the word out about their amazing products, of course, I said yes.
How to Make Pepper Steak with Horseradish Cream Sauce
The best thing about this recipe is how quickly it comes together.
For starters, you will need about 3-4 center-cut sirloin steaks. I like these because they resemble filet mignon, but they are much more affordable.
Now, using crushed peppercorns, coat both sides generously with the pepper.
Sear the steaks in a cast-iron skillet until they are done to your liking. I prefer my steaks medium, but your guests may want a little more done, so go for a medium-well and you should be just fine.
When they get done, they should look just like this —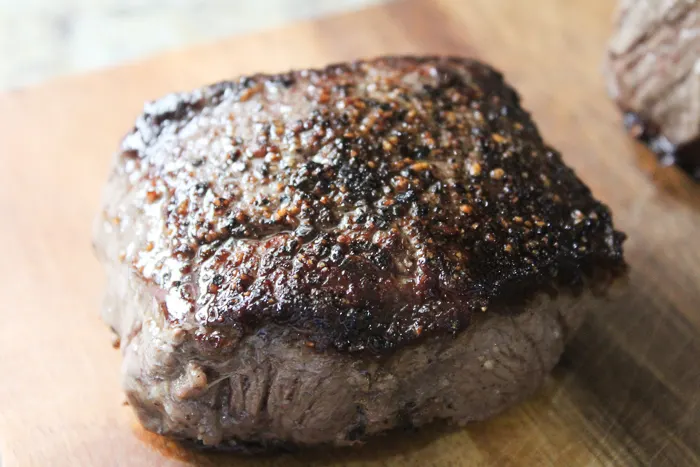 While your steaks are resting, it's time to make the horseradish cream sauce.
How to Make Horseradish Cream Sauce
The recipe that I created uses greek yogurt, a little mayo, some dried chives, salt, pepper, lime, and of course, the Cream Style Horseradish from Silver Spring Foods.
I like this version because it is less chunky in my dips. And — it looks great when dripped over the beef slices that you will be serving to your guests.
Once all of the items are mixed together, set the sauce aside while you make the asparagus.
For this recipe, you are going to serve this to your friends and family on a food board. This way, they can serve themselves and enjoy an upscale meal while they watch the big game, or just hang out with you!
The asparagus is as simple as throwing in the same pan that you cooked the steaks. Add a tablespoon of butter, some extra salt, and pepper, and allow it all to saute for about 5-7 minutes. You do not want to overcook your asparagus. Toss it a couple of times while it is sauteing to get an even sear on the spears.
Some people may not be a fan of the horseradish cream sauce, so you can serve it in a pretty bowl on the board, along with the steak slices and the asparagus spears.
Horseradish is the perfect way to add zing to your entertaining or tailgating recipes and go from traditional to traditional with a twist.
Yield: 2 steaks
Pepper Steak with Horseradish Cream Sauce
This recipe features a zing thanks to the Cream Style Prepared Horseradish from Silver Spring Foods.
Ingredients
For the Steaks and Asparagus
4 center cut sirloin steaks
1 cup crushed black peppercorns
1 bunch young asparagus spears
2 tbsp oil for cooking steaks
1 tbsp butter for cooking asparagus
For the Horseradish Cream Sauce
1/2 cup heavy cream
1/2 cup Greek Yogurt
1/4 cup Mayonnaise
1/4 cup Silver Spring Foods Cream Style Horseradish
2 tbsp dried chives
1 lime, juiced
salt and pepper to taste
Instructions
For the Steaks
Coat each side generously with crushed peppercorns
In a heavy skillet, place a little oil, about a tablespoon or two, and sear steaks on both sides, or until the internal temperature reads 155. Remove from pan and set aside.
For the Asparagus
Take the asparagus and cut the touch ends off so that it fits inside the skillet. Add a tablespoon of butter and saute for about 5-7 minutes on medium-high heat. Toss a few times in the pan to ensure even cooking. Remove pan from heat and set aside.
For the Horseradish Cream Sauce
In a medium bowl, whisk heavy cream until thickened, but not yet at soft peaks.
Fold in Greek Yogurt, horseradish, chives, lime juice, salt, and pepper. Refrigerate for 30 to 60 minutes before using, or transfer to airtight container and refrigerate up to 2 weeks.
Nutrition Information:
Yield:
8
Serving Size:
1
Amount Per Serving:
Calories:

466
Total Fat:

38g
Saturated Fat:

17g
Trans Fat:

1g
Unsaturated Fat:

18g
Cholesterol:

124mg
Sodium:

154mg
Carbohydrates:

11g
Fiber:

3g
Sugar:

2g
Protein:

23g
What is your favorite way to use horseradish?