Green Mountain Coffee has some new flavors — just for the holiday season. They recently sent me 2 to try, Spicy Egg Nog and Gingerbread flavored. I loved both flavors, but the main winner in my home — the one we went through the quickest was the gingerbread flavor. I created a Peppermint Gingerbread Mocha and every single night, my family wanted a cup of coffee as we sat around watching Christmas movies.
Looking for more easy recipes? Check out my huge database of delicious, homemade goodies.
Peppermint Gingerbread Mocha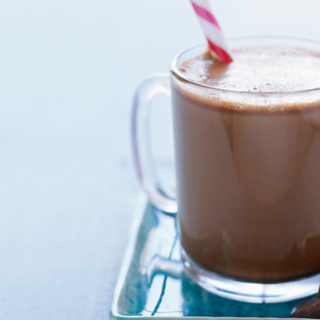 Ingredients
6 cups of freshly brewed Green Mountain Gingerbread Coffee
1 ½ cups Milk
4 squares BAKER'S Semi-Sweet Chocolate
1 tbsp. peppermint extract
8 peppermint sticks
Instructions
Prepare Coffee in coffee pot per package instructions.
Cook finished Coffee, milk and chocolate in large saucepan on low heat 5 to 7 min. or until chocolate is melted and mixture is heated through, stirring occasionally.
Stir in extract.
Pour into mugs.
Add peppermint stick to each.
(optional) you can add whipped topping and shaved chocolate to the top.
About Green Mountain Coffee
At Green Mountain Coffee, our passion extends beyond creating great coffee. We believe in the significance of the world around us, and the impact we have on everything we do. Learn more about what we're doing to brew a better world.
Gingerbread Flavored Coffee
In creating their flavored coffees, they often take a home cook's approach… combining flavors and roasts isn't so unlike working with your favorite recipes. And who doesn't enjoy the aromas and flavors of fresh-baked gingerbread?
After lots and lots of recipes, Green Mountain is proud of the result. The Fair Trade Gingerbread coffee offers the zesty ginger and spice aromas of Mom's old-fashioned gingerbread pastry and warm oven-fresh flavor.
The flavored coffees are free of calories and carbs, and have no additional nutritional impact. They do not add any sugars or sweeteners of any kind. So while the flavors may taste indulgent, they're absolutely guilt-free.
Spicy EggNog Flavored Coffee
For some, the holiday season just isn't complete without eggnog… whether theirs is the traditional, spirited milk and egg punch, or something with a little less nog.
Green Mountain is all for holiday traditions, so they just couldn't help themselves. They brewed up a batch of coffee that's got the cinnamon and nutmeg spice of the nog you know, with a creamy body all its own. Add fresh (or whipped) cream, and brew up your very own holiday tradition!
The flavored coffees do not use sugars or sweeteners of any kind.
Which do you think would be your favorite?Hurry and grab a bag before the season is over! These are limited edition flavors.
I was sent both flavors in order to facilitate my review. All opinions listed are my own.