This post is sponsored by PetSmart® and the BlogPaws® Pet Influencer Network. I am being compensated for helping spread the word about PetSmart Grooming Salons, but I only share information I feel is relevant to my readers. PetSmart is not responsible for the content of this article.
Since Tucker was a tiny baby — six months old, I have always been the one to bathe him and groom him. However, I have finally given up the battle of trying to rid him of all that excess hair that I can never get out. In frustration, I reached out to my favorite pet community, and they all suggested I give Pet Smart® Grooming a try.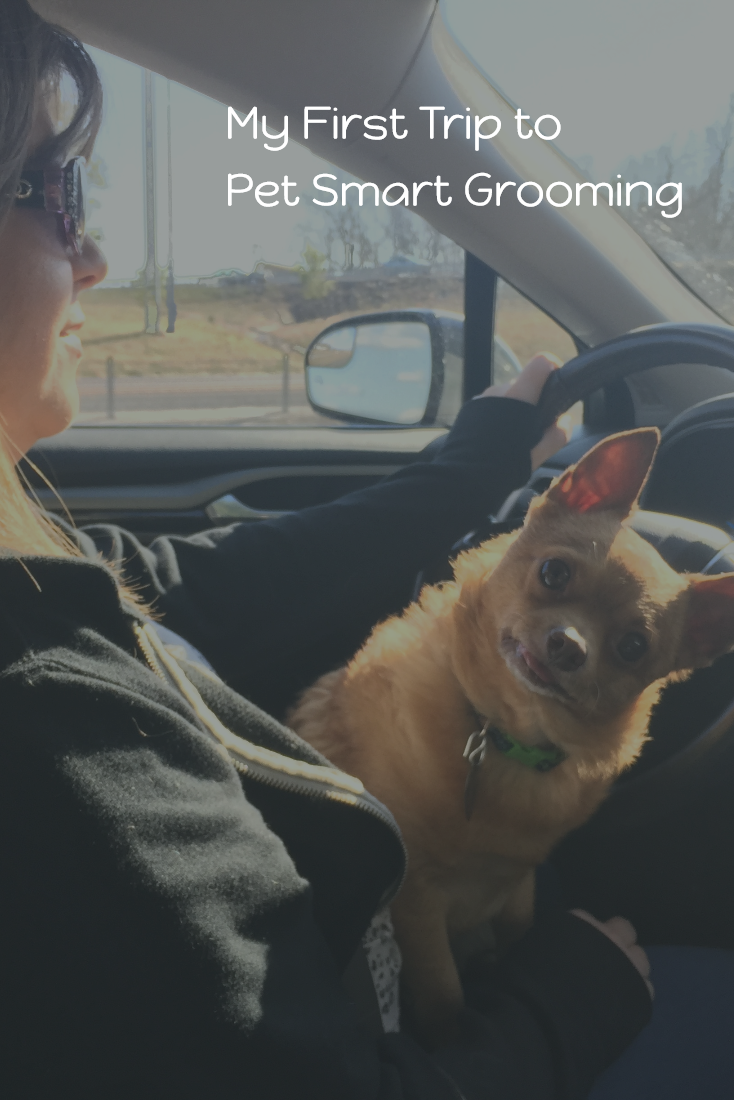 Now, Tucker is my baby and he has never been anywhere like this, so I was a little hesitant as to what to expect. From the moment I walked in and met Zach, he put my mind at ease.
He took Tucker and cuddled him in his arms, all the while chatting with him about how sweet he was — and Tucker was loving every minute of Zach's tender loving care.
I explained to Zach how touchy feely Tucker was — he hates to have his paws touched, he doesn't like to be touched on his neck, and I told him not to expect too much from him regarding getting his teeth brushed. I was pretty sure that Tucker was going to refuse the toothbrush.
We said goodbye to Tucker and went on a shopping spree in the store and then went and had some late lunch and browsed the bookstore while Tucker had his amazing spa day.
I won't lie. I was very concerned while I was gone. I am not used to my baby being with strangers, and neither is he. I kept thinking to myself, "Is he okay? Are they really going to take care of him like I can? Will they put his best interest at heart?"
I didn't need to worry though, because at Pet Smart,all salon associates acquire annual safety certification and take additional course-­‐work where they learn about dog anatomy, signs of stress and common pet medical conditions.
In just a couple of hours, I received a call that they were almost done and we headed back to Pet Smart to pick Tucker up. He was so delighted to see me that he literally jumped from Zach's arms into mine.
I was AMAZED at how different he looked. Zach told me about all the things they did and how Tucker reacted to each one.
For his bath, he was very relaxed at calm (which I expected because he LOVES bath time), and then they blow dried him and for 45 minutes, brushed him with 3 different Ferminator brushes (which is an addition you can add to your grooming package).
They got ALL of his loose hair out – and this momma is super thankful because I was tired of cleaning up dog hair.
Zach was so excited to share with me about how Tucker let him brush his teeth, and he also told me that even though he flinched a bit when it was time to get his nails buffed, he soon calmed down and allowed him to get them all done.
This made me very happy because now, about every other month I am going to take Tucker in for a spa day because it is SUPER affordable and easy to do.
To set up a grooming appointment, all you have to do is go online and make sure your local Pet Smart has grooming, and then follow the prompts choosing what you want done and then schedule it. It is that easy.
And the best part — it is very affordable. Tucker got an oatmeal bath to help with his dry winter skin, brushed out all the dead fur, his teeth brushed, and his nails buffed and it was like $50 or something around that price.
I am already planning on getting Tucker another appointment next month.
If you need to get your pet groomed for the Spring and Summer months, be sure to use Pet Smart. Our first experience with them will definitely not be our last!
Follow PetSmart on Social
This is a sponsored conversation written by me on behalf of PetSmart . The opinions and text are all mine.