If you are in the throes of planning your wedding and find yourself stressed out, don't worry! I have some great tips to share with you from finding the perfect bridal gown, to making sure your mom and mother in law have the best mother of the bride dresses to even planning the ceremony itself.
These tips should help put you at ease and stop the craziness that causes many brides to stress out right before the wedding.
#1 Finance A Modern Wedding
Couples approach their weddings from a different perspective nowadays. Marrying later and often after already set up their households, they don't need the gifts of appliances and linens that once furnished their first home.
What they might need is help with the wedding and honeymoon-related expenses. They don't depend on the bride's family to pay for the wedding and reception any longer, with the groom's family's financial obligations being minor. New brides and grooms share expenses and pool their savings to make the big day something memorable.
#2 Dressing The Bridal Party
Today's bride can also choose her gown, the mother-of-the-bride dress, and the bridesmaids' wear online to save time and relieve stress. You can shop for quality online and still count on fitting and fabrics on your own terms. In fact, click this link to find cheap mother of the bride dresses.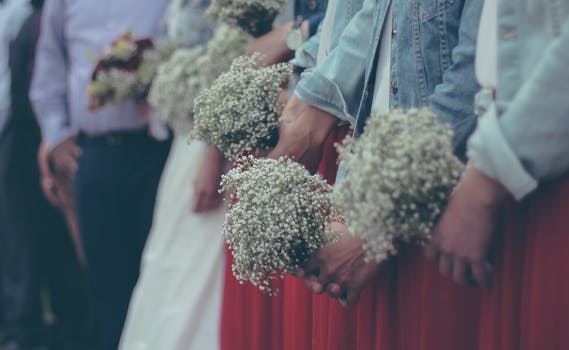 Finding the perfect dress can be quite stressful for both the bride and the moms, but if you take the time to really look online and around, you will find that there are many places online where you can find inexpensive dresses that are absolutely stunning. In fact, I am looking at this dress and how stunning it would look on me (one of these days my kids will be getting married!)
It is beautiful and comes in so many colors!
#3 Getting Your Head Back
The bride must stay focused through the planning and the wedding day itself. No one gives her the option. That is what a wedding planner or a best friend is for. They can be the eyes, ears, and mind of the bride to help her day go off as smoothly as possible.
When a bride can get through her wedding without worrying about anything because she has the right people in place to take care of all the logistics, that is when you will have a happy bride!
#4 Delegate as Much as Possible
I know that many brides like to handle everything all on their own because it's their wedding, but the brides that are the happiest are the ones that delegate the most.
For example, when it comes to the honeymoon, you can give your best friend your money and credit cards and allow her to take care of booking everything for you. By doing this, you remove any headaches you could encounter from annoying travel agents, forms you have to fill out online, etc.
Plus — once you know where you are going, you can make plans ahead of time.
#5 It's Your Big Day So Enjoy It
The last thing is this — it's your big day, so stop worrying if everything will turn out perfectly. Sometimes things happen and the best thing you can do for yourself is to stop stressing over everything and just go with the flow.
If it starts to rain on your outside wedding and cannot get inside, who cares? This is the best day of your life. Enjoy it IN THE RAIN and marry the love of your life!
So there you have it — 5 things you can do to stop stressing over your wedding day. Which one should you be focusing on right now?