Even though the weather is starting to turn cooler, I am always in the mood for something sweet and something cold. I recently made a delicious Pumpkin Pie Frozen Yogurt that is perfect for the holidays and the fall season.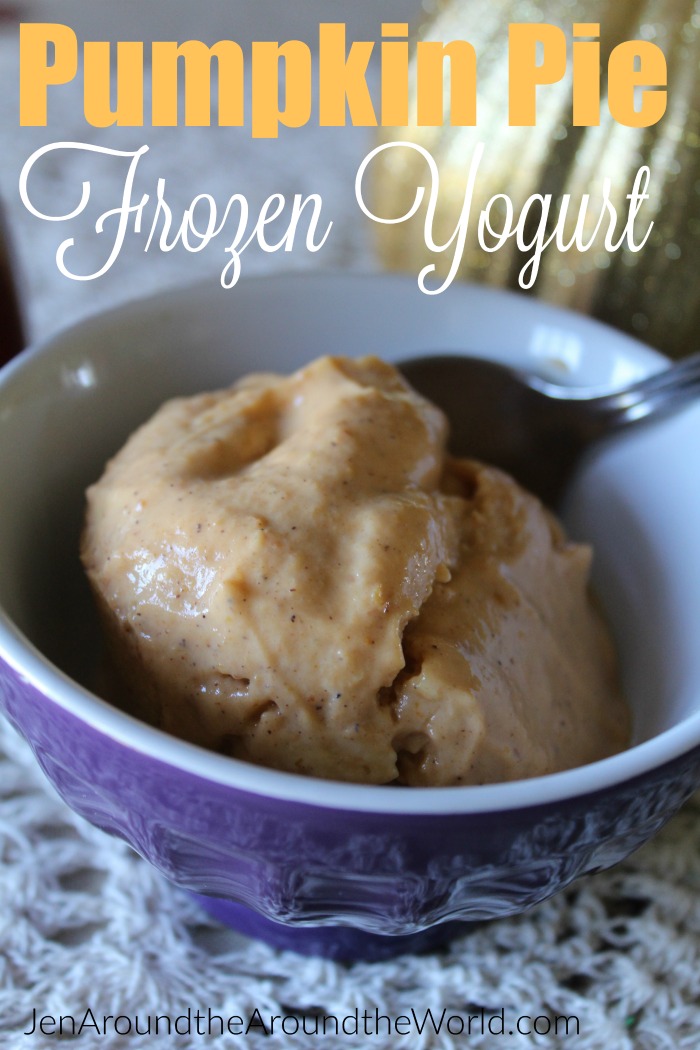 Everything about this frozen yogurt screams fun and scrumptious! I used Whole Earth Sweetener to add a little sweet taste to it and to take away from the tanginess of the yogurt.
Whole Earth Sweetener is a great way to add a touch of sweetness and make you rethink what sweet means in your desserts and dishes.
The best part is that these sweeteners are lower in calorie, gluten free, and they are also certified kosher.
So — just what do you need to make this frozen delicacy?
~Greek yogurt
~Canned Pumpkin
~Whole Earth Honey
~Pumpkin Pie Spice
This frozen yogurt really captures the flavors of pumpkin pie filling.
I used my ice cream maker to mix this up so it would be good and frozen like it should be. I love the ice cream maker that I have because you simply keep the machine's bowl in your freezer and whenever you want to make ice cream, frozen yogurt or sorbet you mix up the ingredients, put the bowl on the machine, start it up, pour in mixture and in less than 20 minutes you have ice cream! No rock salt or ice required.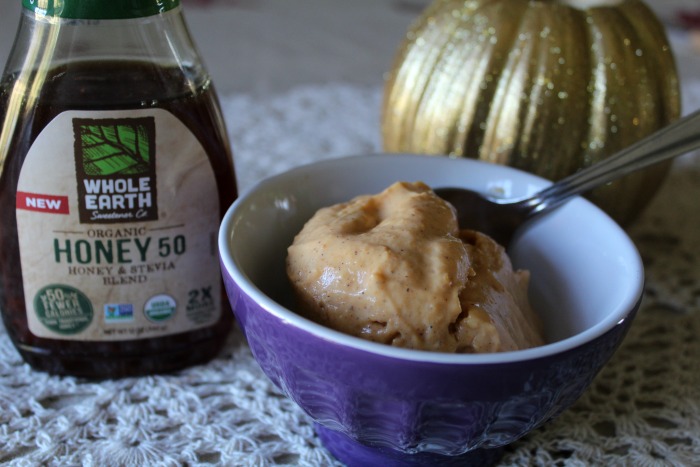 Pumpkin Pie Frozen Yogurt
Ingredients
1 cup vanilla Greek yogurt
1 cup canned pumpkin
1 tablespoon Whole Earth Honey
1 teaspoon pumpkin pie spice
Instructions
Combine all the ingredients in a large bowl and stir until thoroughly mixed.
Put the entire mixture into an ice cream freezer/maker and freeze according to manufacturer's instructions. Freeze any leftovers in an airtight container.
Whole Earth Sweetener Co. provides a new solution for families, as it provides a variety of lower-calorie products to use as part of a healthy lifestyle, without having to miss the great tastes they love.
If you want to lighten up the sweetness in your holiday dishes without losing flavor, then you should try out Whole Earth Sweetners.