This is a sponsored conversation written by me on behalf of The J.M. Smucker Company. The opinions and text are all mine.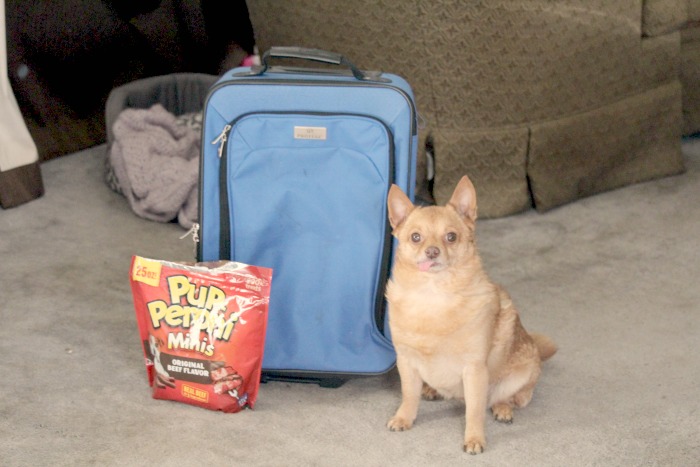 Y'all know how much I love my little Tucker — the best chihuahua on the planet right? That sweet dog of mine goes everywhere I go — even on vacation. I have had him now for about 10 years.
After a few whirlwind vacations, I have finally figured out the necessities I need to bring with me when he travels with us. If you are traveling with your dog this year, here are 5 things you want to make sure to bring so that your sweet pooch has as great a time on vacation as you do!
5 Things You Need to Bring When Traveling With Your Dog
#1 Collapsible Water Bowl
I cannot stress enough how important it is to bring along your dog's own water and food bowl. When we travel, we always stop to eat somewhere that has outside dining so that I can bring Tucker. I bring his own food and water bowls because it makes it easy to feed him while we are enjoying our dinner as well.
I use a collapsible bowl because it makes it easier to store and pack in Tucker's travel bag (and yes — my dog has his own travel bag!)
#2 His Own Wardrobe
Okay — this is not a necessity, but it makes for a fun outing when you can dress your dog up in his own clothes to go out on the town.
Tucker has his very own beach shirt that he wears anytime we are taking a beach vacation.
It makes for a fun outing and people will get a kick out of your sweet fur baby looking his or her best! Tucker also has outfits for Game Day, Halloween, Christmas, Valentine's Day, and yes – his very own beach attire. What can I say? He LOVES to wear clothes.
#3 His Favorite Treats
Another thing that will really make your pet have a great vacation is by bringing along their favorite treats to enjoy during the day. For Tucker, right now, that is new Pup-Peroni® Original Beef Flavor Minis Dog Treats .
They are the perfect size for him since he is such a small dog and because they're also made with real beef as the #1 ingredient, I know Tucker will eat these up!
And the best part? The 25 ounce size is available at Meijer, and if you use the mPerks coupon available, you can save 15%!
#4 Anxiety Blanket or Jacket
If you are traveling with your dog and they love to ride, then that is a good thing. If your pooch is like Tucker and traveling makes them anxious, you might want to invest in a product that will offer them some sort of calm.
Tucker can get a little antsy, so we invested in a Thunder Jacket for him for when we travel. It helps him to settle down and not whine so much. After about an hour in the car, we take it off because by then he has pretty much calmed down.
#5 A Crate
Whenever we travel somewhere, I never leave Tucker out in the room loose. I always bring his crate and he stays locked up in there while we are out sightseeing. The crate is my dog's safe place and I know that by him being there, he will stay safe if someone happens to come in while we are gone to clean. There is nothing like chasing down a loose dog on vacation!
These 5 tips are great things to take with you when you are traveling with your dog. By
keeping your dog safe when you travel, it will make his vacation amazing, but it will also make yours amazing as well.
Don't forget to stop by your local Meijer and grab a few bags of Pup-eroni treats! I'll be getting Tucker the Pup-Peroni Triple Steak Flavor (now available at Meijer) next.