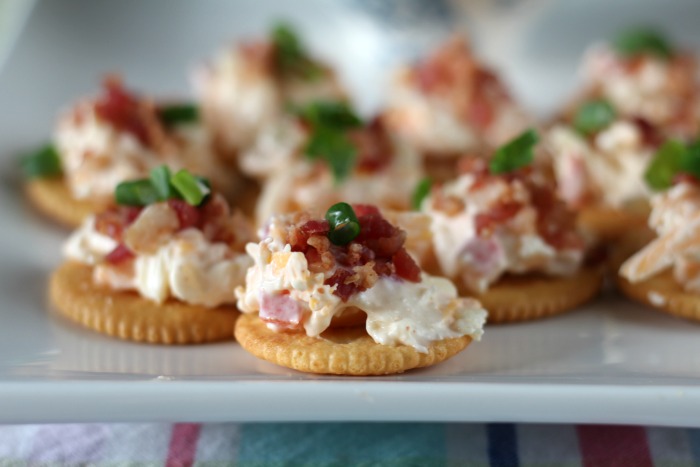 This is a sponsored post written by me on behalf of Mondelēz International Group. All opinions are entirely my own.
One thing about me that you may not know is that I do not deviate from recipes very often. I stick to the rules – I am a rule taker not a rule breaker and for me, a recipe is a rule. My daughter on the other hand – she loves to experiment and that is how we came up with this amazingly delicious homemade pimento cheese that when served on RITZ Crackers becomes this perfect bite that sends this mom over the top!
My daughter has been cooking with me in the kitchen since she was old enough to walk. At 3 years of age, she would climb the stool and beg to stir the cookies, or pat out biscuits – or whatever she could get her hands on.
It's no wonder that now at age 19, she loves to get in the kitchen cooking – and her favorite thing? Taking a recipe and putting her own spin on things. I love this because as a busy mom and business owner, I get overwhelmed. When I do, she steps in and gives me a break. She is my breath of fresh air and can cook better than anyone I know.
Kayla really got into cooking desserts and more at around age 15.
When she was flipping through my recipe book and saw my version of Pimento Cheese, she knew she was going to take it up a notch. I remember even telling her – "This is my tried and true recipe – it does not need any help whatsoever."
Of course, she looks at me, rolls her eyes and says, "Oh mom – let's live a little!" And boy am I glad she did because these Quick and Easy Pimento Cheese Bites were exactly what I needed the other night after a long day of work.
To start, all you need are just a few simple ingredients – shredded cheddar, shredded Monterey jack, cream cheese, mayo pimentos, and a few simple spices from your pantry.
And yes – buying store bought pimento cheese is cheaper, but once you make homemade pimento cheese, you will understand why I choose this version every time.
After mixing everything up, place your RITZ Crackers on a plate and top each one with the pimento cheese mixture. Now this is where I would stop because this is good enough for me. But my daughter? She always likes to add another level of flavor. This time, she added 2.
She topped the pimento cheese mixture with crumbled bacon and then added a touch of green onion to the top.
With the crunch of the RITZ Crackers and the sweet cheesy taste of the pimento cheese, along with the meaty flavor of bacon and that hint of green onion, this bite is the ultimate #FamilyRITZpiration.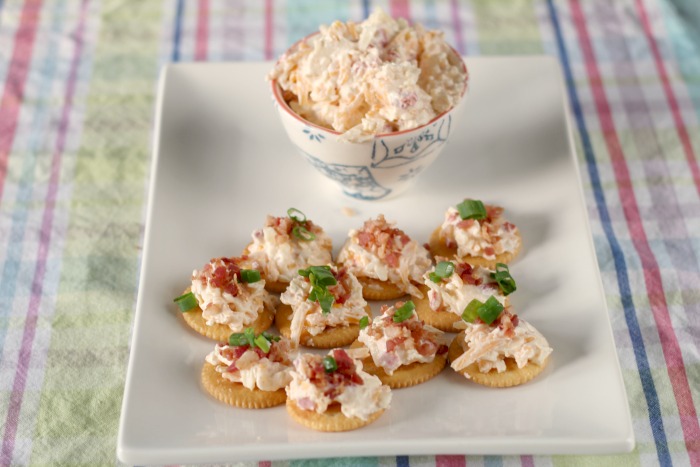 I picked up all of these supplies while on my latest shopping trip at Kroger. I love shopping there because the prices are great, and they always keep a full supply of all kinds of RITZ Crackers on hand.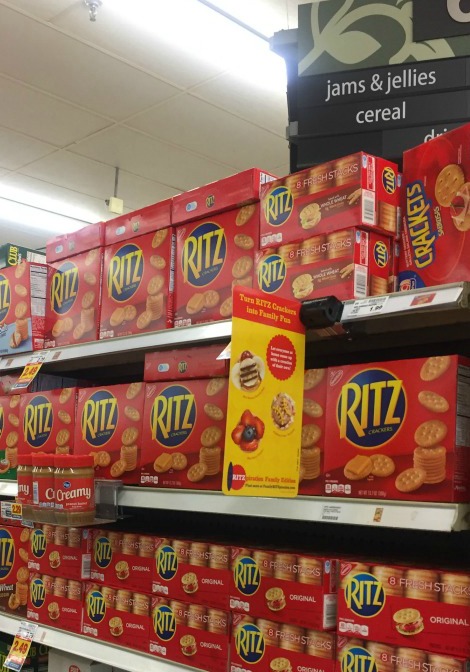 Kroger stores always stock everything I need and because the prices are so competitive to other stores out here, I can do all my shopping in one place. No more having to run to 4 different stores.
And the best part is that when I use the Kroger app on my phone, I can pre-load all my coupons so I don't forget to get my extra savings. You can find your closest Kroger store by visiting www.FamilyRITZpiration.com, and who knows? They might even have curbside service. You can also find RITZ Crackers at Kroger banner stores, like Owens or Pay Less.
So – here's that recipe for this delicious Pimento Cheese:
Quick and Easy Pimento Cheese Bites
Ingredients
2 c sharp cheddar cheese, shredded
2 c monterey jack cheese, shredded
8 oz cream cheese, room temperature
1 c mayonnaise
1 jar, s pimentos, diced, 4 oz.
1 tbsp vinegar
1/2 tsp onion powder
1/2 tsp garlic powder
1/2 tsp paprika
1/2 tsp cayenne pepper
1/2 tsp sugar
Instructions
1. In large mixing bowl, combine the two cheeses. Mix with your hands until the two cheeses are totally blended throughout.
2. In a medium microwave-safe mixing bowl, place the room temperature cream cheese. Cream it, using a fork or an electric mixer. If not soft enough to cream easily, microwave for 15 - 20 seconds. When smooth, add mayo, vinegar, spices and sugar. Again, cream until mix is smooth. Fold in the pimentos until well-distributed in the mix.
3. Add cream cheese mixture to the two blended cheeses in large mixing bowl. Using a fork, slowly incorporate the cheeses into the cream cheese mixture until all cheese is moistened and well-blended. Continue to blend until you achieve desired texture - anywhere from chunky to smooth - your choice.
4. You can serve immediately on RITZ Crackers, celery sticks, or use in a sandwich. Or you can refrigerate and serve chilled. Flavor will intensify as it sits. Enjoy!
What is your favorite way to enjoy RITZ Crackers? Visit www.FamilyRitzpiration.com for more inspiration!