My recipe for quick easy pork tacos was written by me on behalf of Smithfield® Marinated Fresh Pork. The opinions and text are all mine. #RealFlavorRealFast @SmithfieldBrand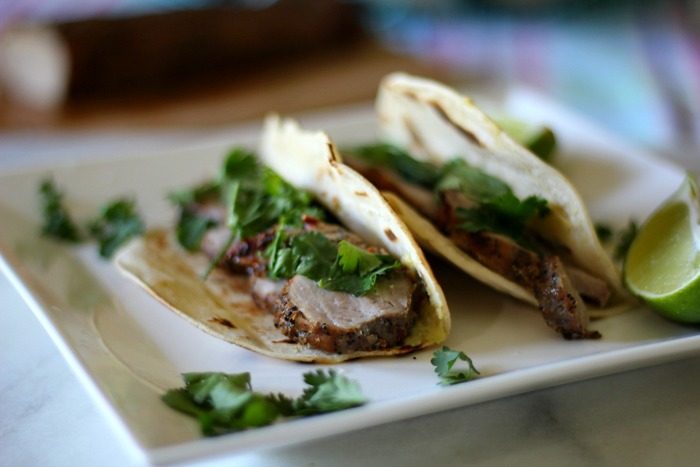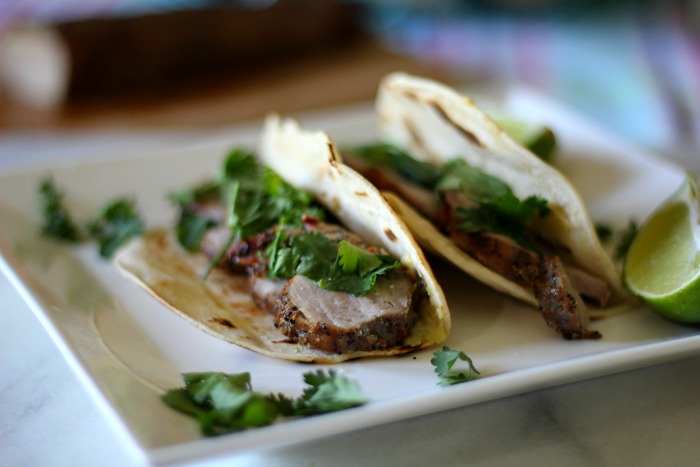 One of my favorite things to do is to create fast, easy, amazing meals full of flavor. I recently partnered with Smithfield Marinated Fresh Pork to create an easy back to school meal, and that is how I came up with my Quick and Easy Pork Tacos recipe. This would go great paired with a side of rice, and chips and salsa for an easy weeknight meal, made in 30 minutes or less.
While shopping at Kroger this week, I decided to pick up a couple of the Smithfield Marinated Fresh Pork Tenderloins. I love using these in recipes because I don't have to do anything to them except take them out of the package and bake them.
They are already marinated perfectly – and the flavor in each package is out of this world.
Back to school time can be a rough time for any parent. I remember those days of long hours of homework, getting used to new schedules and working long hours myself. Being able to find a meal I could get on the table quickly was a challenge, and many nights we just opted for takeout just because it was easy.
Now, thanks to Smithfield Marinated Fresh Pork — they have made it super easy to make back to school nights even easier. Their pork tenderloins are full of flavor and easy to prepare.
How to Make Quick Easy Pork Tacos
For my taco recipe I decided to use the Smithfield Marinated Fresh Pork Roasted Garlic and Cracked Black Pepper Tenderloin.
The cracked black pepper gave the quick easy pork tacos that perfect snappy bite I was looking for in a taco. It gave it real flavor, real fast without me having to wait forever while the meat marinated.
Cooking the meat is simple and easy. Set your oven temp to 425 degrees. Let it preheat, then take the meat out of the package, place on a pan and cook for about 25-30 minutes.
If you get a bigger pork tenderloin, it will need to cook longer. If you want quick and easy, get the smaller ones as they cook up quicker.
How to Make Quick and Easy Pork Tacos
Now – here is how I make my quick easy pork tacos.
I used to load my tacos with SO many ingredients that I could not taste anything but the shell or tortilla.
Now, I use just a couple of ingredients. The two main ingredients – lime juice for finishing and cilantro.
I start by slicing my pork tenderloin in medallion slices. I don't do them super thin because I like there to be a good bite of meat in each taco. (Be sure and let your meat rest for a few minutes when it comes out of the oven. This will let the juices redistribute.)
Then, I take corn tortillas and toast them in the oven until they are warmed through and brown. You can use taco shells, flour tortillas, chips – whatever you like.
Then –instead of using sour cream, I use hummus for my tacos.
After spreading on the hummus, I add my slices of pork and then top it with some cilantro, and finish it off by adding a little squirt of lime juice.
Two tacos like this happen to be the perfect portion size. Serve with a side of rice for a quick and easy weeknight meal.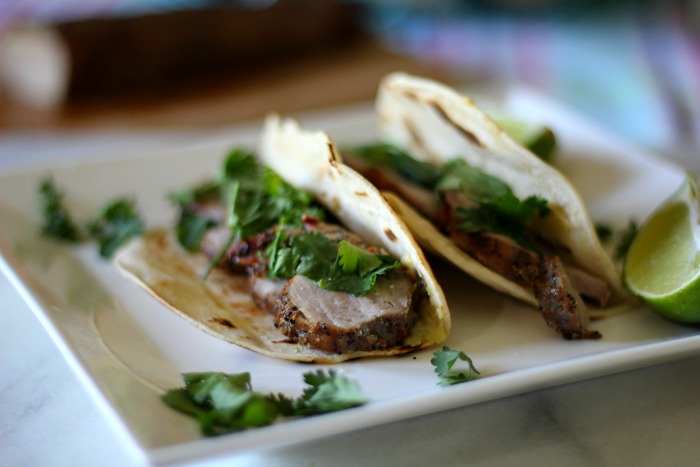 Smithfield Marinated Fresh Pork only uses premium cuts of pork; slow-marinated and seasoned just right, it's perfect for any night of the week. They've done all the hard work for you. Now, you can sit back and really enjoy a back to school dinner night without all the hassle.
For more recipe inspiration like this, visit Smithfield.com. And save $1 on one Smithfield product from your local Kroger location: Kroger, Dillons, Food4Less, Fred Meyer, Frys, King Soopers, QFC.