Last year, I discovered a very yummy sandwich that only takes about 10 minutes to throw together, but tastes like it took you hours to make. I also discovered how to make my own chips in minutes and since then, I have been making this meal a lot. My Quick French Dip Subs with Homemade BBQ Chips is filling and super easy to make.
Quick French Dip Subs with Homemade BBQ Potato Chips #15MinuteSuppers
Ingredients
1 bag of sub rolls
1 can, 18.5 oz ready-to-serve French onion soup
1 lb thinly sliced cooked deli roast beef
8 slices provolone cheese
Instructions
Put your oven on broil and toast the inside of your sub sandwich rolls. This will help them to hold up under the au jus dipping sauce.
Pour soup into 2-quart saucepan. Add beef slices. Heat to boiling over medium heat. Reduce heat; simmer 10 minutes. Drain, reserving broth.
Arrange 1/4 of the beef-onion mixture and 2 slices of the cheese on cut side of each bottom half.
Drizzle cut side of each top half with reserved broth. Place top on each sandwich; press down slightly. Divide remaining broth among 4 small bowls or ramekins. Serve with sandwiches for dipping.
This step takes less than 10 minutes. While your beef mixture is heating up, you can make your potato chips.
Simply use a mandolin slicer and place it on the super thin slices. Slice a potato up (takes about 15 seconds to do this). While you are getting your potatoes ready, you can get some oil heating in a pan.
Once your oil is ready (this takes just a couple of minutes), throw in your potato slices. Watch them carefully as they brown quickly.
Once they have reached your desired doneness (literally takes about 3 minutes), move them to a slotted tray to drain and sprinkle them with Homemade BBQ Seasoning.
This is quickly becoming one of my favorite #15minutesuppers ideas that I have had so far 🙂
What are your favorite dishes that you make that take no time to prepare?
Need more quick suppers? Check out these other great #15MinuteSuppers!
Follow 15 Minute Suppers on Facebook | Twitter | Instagram | Pinterest
and look for the #15MinuteSuppers hashtag too!
Head over to our #15MinuteSuppers Pinterest Board to see all the past recipes and more delicious goodness!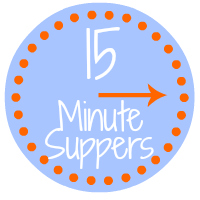 BLOGGERS: Would you like to join us at #15MinuteSuppers? We'd love to have you! Please check out the 15 Minute Suppers website or ask to join the Facebook group (for bloggers) to participate on Fridays…we'd love to have you join us.