If you have been around my blog for any length of time, you know that our cat and our dog are actual family members to us. We love them just like they are our babies. Now — with real children, we don't feed them all kinds of junk food and dinners filled with nasty chemicals, right? Why would we feed our cats and dogs food like that?
We don't — and that is why we choose to feed Mittens and Tucker both Rachael Ray Nutrish Zero Grain Cat Food and Zero Grain Dog food.
We love the Zero Grain version of the Nutrish Cat food. Mittens get excited every time we come home from the grocery store. She can already smell the deliciousness coming from her bag of food!
Cats love Nutrish Zero Grain Whitefish & Potato Recipe. It is made with real whitefish — a tasty and highly digestible protein that helps to maintain strong muscles and helps minimize litter box odors.
So why is it called Zero Grain?
It's simple. There are —
Zero grains, glutens or fillers
Zero meat or poultry by-product meal
Zero artificial preservatives, colors or flavors
First zero grain dry cat formula from Rachael Ray Nutrish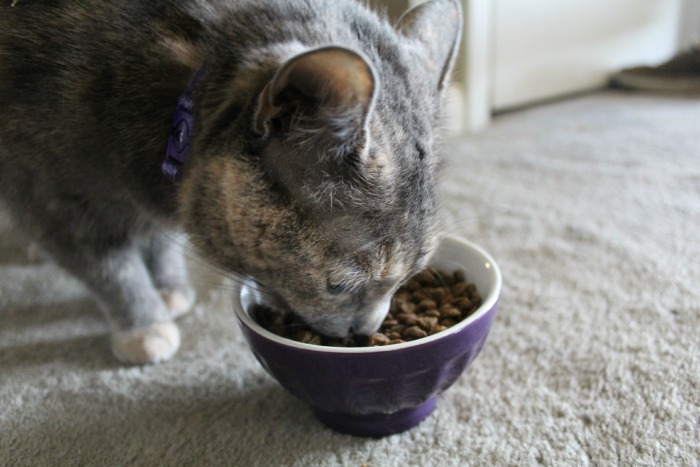 In 2007, with help from pet nutrition experts, Rachael Ray created Nutrish ultra-premium food and treats for dogs. In 2014, they grew the brand into the world of cat food.
Whether intended for dogs or cats, Nutrish recipes are made with simple natural ingredients and do not contain meat or poultry by-product meal or fillers. Real meat is the #1 ingredient in their cat food and all recipes were inspired by Rachael's kitchen.
Why I Love Rachael Ray Nutrish
When I first met the folks behind the Nutrish food brand, I was almost sold. What sealed the deal for me is that all of Rachael's personal proceeds go to Rachael's Rescue, created to help shelter pets. As of today, over $9 million has gone toward food, medical supplies and treatments for animals in need.
Anytime I am at the store and I see someone mulling over which cat or dog food to buy, I share with them my love for Nutrish and tell them all the wonderful reasons to choose that brand. I have yet to have someone choose another brand. Everyone I have talked to has walked out with a bag of Nutrish under their arm!
If you love your pets as much as we do, then you will want to make sure to feed them the best grain free wet cat food — that is what you get with Rachael Ray Nutrish!
What do you feed your dog or cat?