This tutorial for keeping your skin looking refreshed all winter has been compensated by Collective Bias, Inc. and its advertiser. All opinions are mine alone. #NatureMadeVitaminD #CollectiveBias
We are deep, deep deep into fall and my skin is already feeling the effects of the back forth weather changes. Here in Kentucky, we go from 10 degrees one day to 75 degrees the next — and my skin pays for it every single day. There are some things though, that I can do that will ensure my skin stays looking refreshed all winter long.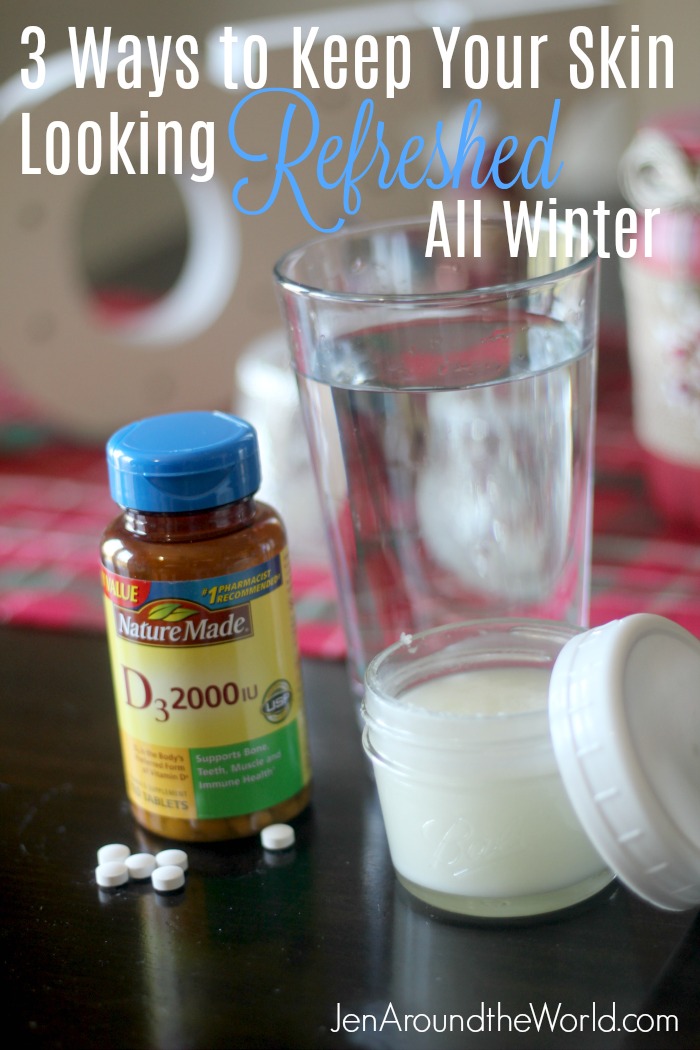 3 Ways to Keep Your Skin Looking Refreshed All Winter
#1 Drinking Lots of Extra Water
One of the very best things you can do for your skin is to keep it hydrated. The cold and harsh winter weather wreaks crazy havoc on our skin — especially mine. Which is why I always drink at least 2 liters of water a day during these months.
If you can, you should set a goal to try and drink a gallon a day. That ensures that you are not only keeping your skin healthy, but you are also flushing nasty toxins from your body.
#2 Taking Vitamin D
During the winter months, our body is missing a lot of one of the most important vitamins our body needs — Vitamin D. During the summer, being out in the sun, you get plenty of extra. Because of that, you can take vitamins during the winter to offset everything.
Vitamin D is synthesized by the skin when we're exposed to sunlight during certain times of the day and year. It can also be found in a limited number of natural and fortified foods sources. Vitamin D aids in the absorption of calcium, and vitamin D supports bone, teeth, muscle and immune system health.†
Nature Made® offers several levels of Vitamin D at Walmart, including Nature Made® Vitamin D3 2000IU Tablet and Nature Made® Vitamin D3 5000IU Softgel. The 5000IU high dose product is intended for those deficient in Vitamin D as determined and recommended by their physician.
When you take vitamin D from Nature Made, you can rest assured that you're getting quality vitamins from the #1 Pharmacist Recommended Vitamin and Supplement Brand – based on a survey of pharmacists who recommend branded vitamins and supplements.
While shopping at Walmart the other day, I headed over to the pharmacy and decided to check out the vitamin section, which is where I found such a great deal on the Nature Made vitamins. They have SO many great choices, including twin packs.
#3 Moisturize, Moisturize, Moisturize
The other thing I try to do a lot of during the winter is moisturize my skin. I make my own moisturizer using organic coconut and my favorite essential oils like tea tree, frankincense, and lemon. At night, after I wash and clean my face off, I rub the coconut oil moisturizer into my skin and let it penetrate deep. Then I wash off the rest and then get myself ready for bed.
I also do this in the morning before applying my makeup (I have found the best Korean foundation) and it makes all the difference in the world.
If you want to keep your skin looking great this winter, these 3 tips are the perfect place to start. Head to your local Walmart and stock up on all your favorite Nature Made Vitamins. Get that skin protected before those harsh winter days and nights arrive.
† These statements have not been evaluated by the Food and Drug Administration. This product is not intended to diagnose, treat, cure or prevent any diseases. This post has been updated on 8/20/18.