I received a complimentary bottle of Rose Water from Nielsen-Massey for creating this recipe. All opinions listed are 100% my own. #NMVRoses
If you are looking for a delicious new take on mug cakes, then you have to check out this recipe for a 2 minute Rose Water Mug Cake that I created using Nielsen-Massey Vanillas Rose Water.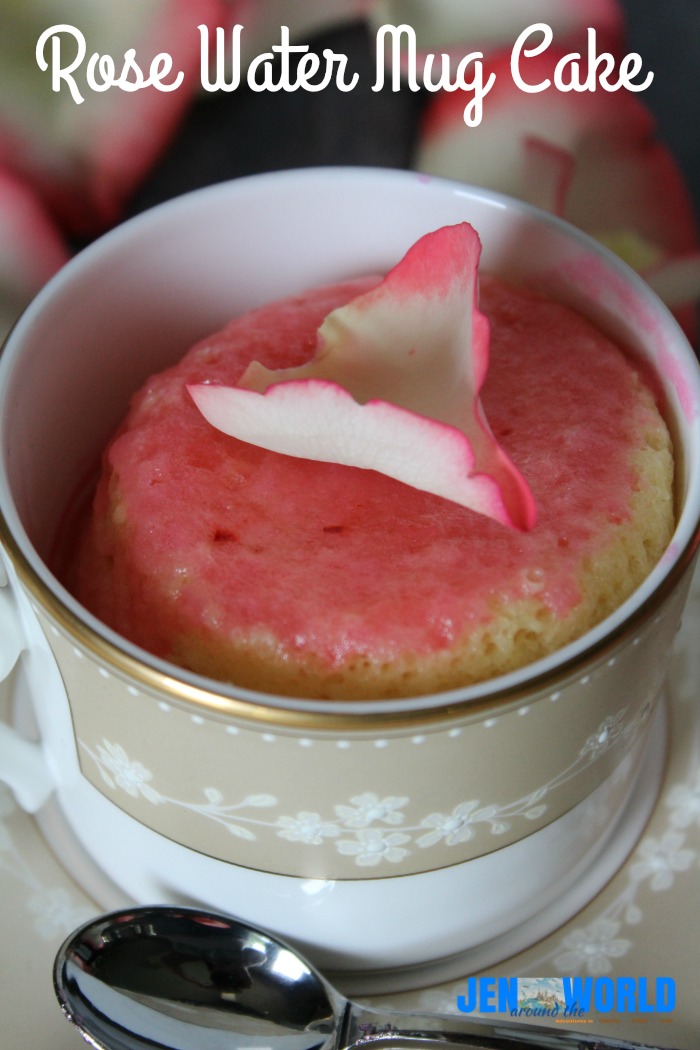 These are super cute, and would be great for any tea party, especially if you serve them in cute tea mugs like I have here.
Rose water as you may know, has a very soft yet distinct aroma. A flavor so unique, once you've had it you're bound to never forget it. As an edible, rose water can be used to perfume a variety of desserts due to its floral scent.
The best part of this recipe is that if you want to substitute the rose water for vanilla mug cakes, simply substitute rose water for vanilla extract and that's it!
Here is what you need to make this delicious and quick dessert —
For the cake portion you need —
For the icing portion you need —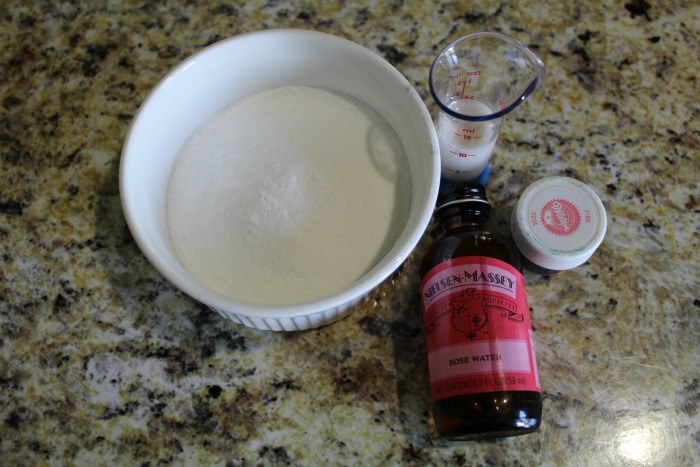 Then to start, beat together melted butter and one egg.
Then add in all the other cake ingredients and mix together.
Pour them equally between two mugs and then microwave for about 2 minutes until cake is done. (side note– don't use metal rimmed cups in a microwave).
I cooked the cake in a taller mug and then transferred the cooked cakes into my pretty tea cup mugs which worked out perfectly. I wanted to serve them in the decorative mugs.
Once they have been cooked and cooled, make your icing.
Then drizzle it on top of the cake for a festive and sweet touch and then top the cake with a fresh rose petal.
Rose Water Mug Cake
How to Make a Rose Water Mug Cake
Ingredients
For the Cake
2 tablespoons unsalted butter
1 large egg
2 tablespoons milk
1 teaspoon rose water
1/4 cup granulated sugar
6 tablespoons self-rising flour
Pinch of kosher salt
pink food gel coloring, optional
For the topping
1/2 cup + 2 tablespoons confectioners sugar
2 teaspoons milk
1 teaspoon rose water
pink food gel coloring
rose petals for garnish
Instructions
For the cake
In a large mug, melt butter in microwave for 20 to 30 seconds or until butter has completely melted. Add egg and whisk with a fork.
Stir in the remaining cake ingredients and mix until smooth. You can add one drop of food coloring if you like; stir.
Divide batter between two mugs. Microwave separately for 1 1/2 to 2 1/2 minutes or until a toothpick inserted in center comes out clean.
Allow the mug cakes to cool over a wire rack for 5 to 10 minutes before glazing.
To make the Glaze
In a small bowl whisk ½ cup confectioners sugar, milk and the rose water until mixture is smooth.
Add one drop of food coloring; stir. Note: Add more milk, a teaspoon at a time, for a thinner consistency or add more confectioners sugar if a thicker glaze is desired.
Pour 1 to 2 tablespoons of glaze over mug cakes. Garnish with a rose petal if you desire and dust with remaining 2 tablespoons of confectioners sugar.
You can also use Rose Water in a few other ways as well. These were provided by Nielsen-Massey. I am totally going to try this as a skin refresher as well.
Rose Water is the perfect addition to a fresh berry salad. Toss raspberries, strawberries, and blueberries with a drop of Rose Water to make the berry flavor bloom. Garnish with a sprig of mint or edible flowers.
Use Rose Water as a skin refresher. Dab Rose Water on a cotton ball and apply to a freshly-washed face after a long day of working in the garden. The natural astringent properties keep your skin gleaming and youthful. You can also add Rose Water to warm bath water for pampering stress-reliever.
Add a dash of Rose Water to your favorite custard recipe, sugar cookie or butter cake for an updated take on your traditional recipes.
Add a small amount of Rose Water to the water for your iron to lightly freshen your laundry as you go. The light scent will keep you energized and motivated throughout your day.
I hope you enjoy this recipe! How would you use Rose Water?