One thing about our family is that our pets are like our kids. I love when Halloween rolls around because we always make sure to involve them in all the festivities. Halloween can be a treacherous time for your animals but using these few tips, you can safely involve your pets in your Halloween festivities.
How to Safely Involve Your Pets in Your Halloween Festivities
Keep Them Leashed
One of the MOST important things during Halloween, or anytime for that matter is to keep your pets leashed if you are out an about.
There are so many cars roaming back and forth that there is a higher chance of them getting run over or hit. Keeping them on a leash keeps them right by your side.
Keeping them leashed also keeps them safe from the crazy folks that like to steal animals on Halloween night. My fur babies stay inside with us and only go out on a leash for that reason.
Offer Them Treats of Their Own
With all the Halloween candy floating around, there is a chance that your cat or dog might get a hold of chocolate or other toxic treats so be sure and offer them their own treats.
You can do homemade, or if your pet likes store-bought treats, you can do those. We like mini bones, and even some of the Nutrish treats.
Have Them Get Dressed Up Just Like the Kids
When our family goes out trick or treating, EVERYONE gets dressed up, including the dog and cat.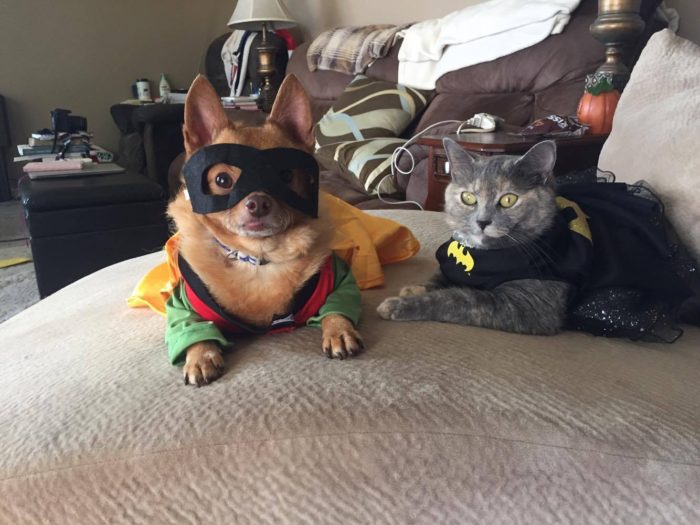 Tucker loves his outfits and, let me just tell you — he has a closet full of them! This year, he and Mittens dressed up as Batgirl and Robin.
Then, of course, Kayla had to make it extra special for Tucker since he was a superhero. Check out his fun story below!
In the small city of Calvert City, crime had never seen such an all-time low thanks to the superhero Tucker the Watchdog.
But on this Halloween, someone had been stealing all the kibble from all the dogs in the neighborhood. Who could it be??
In all his Chihuahua glory, Tucker the Watchdog chased after the culprit — finding out it was the neighborhood cat who wanted to just cause a little mischief this Halloween season.
Tucker apprehended the kitty cat and had his sidekick Mittens deal with this new visitor to the neighborhood. They shared the rules about what to expect and how we behave here in Calvert City. He apologized and said he was sorry.
Boots is now living with Tucker and Mittens. He and his mommy wanted a good place to live so Tucker invited them to come and stay with us. They both settled in and now Tucker the Watchdog is back to doing what he does best — guarding all the kibble in Calvert City.
Stay tuned for more stories of Tucker the Watchdog and Mittens and Boots. I am sure we will have plenty to share over the next few months.
For additional pet safety tips this Halloween we found these safety tips checklist for pets.