We have friends that have a lake house here where we live. My daughter and I clean it for them whenever renters come and stay in it, so on the days that no one else is coming in, we really love to take our time cleaning and we also prepare a delicious lunch for ourselves. That is how I discovered this Santa Fe Chicken Foil Pack Dinner that is made right on the grill. Everything is all in one pack making cooking and cleanup a breeze.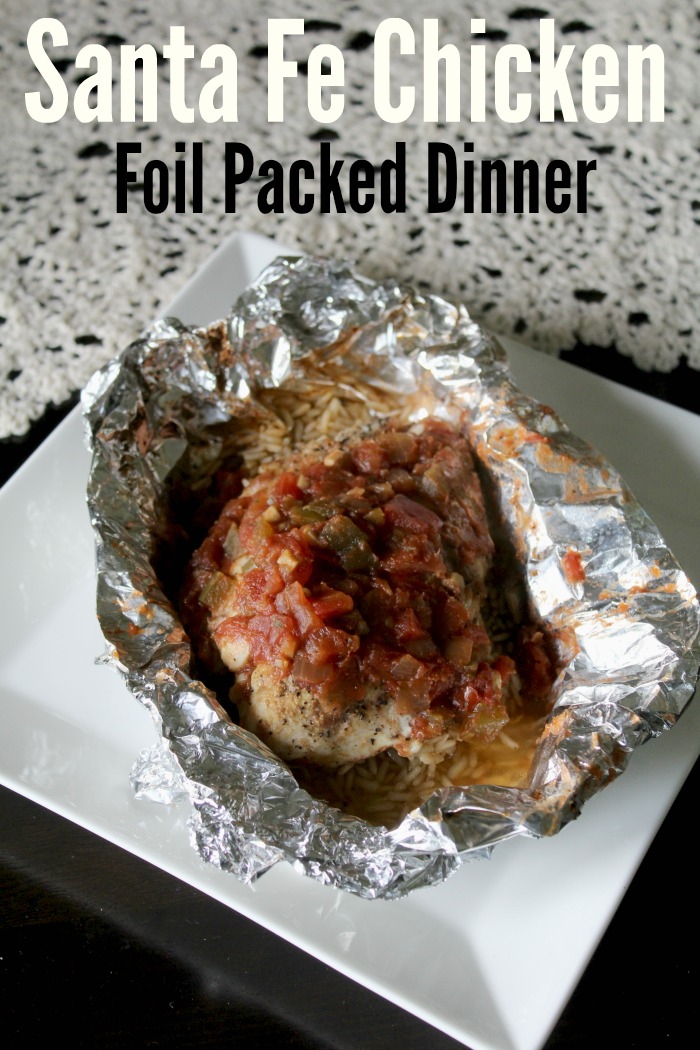 Now, this dish is one of the most delicious dishes I have made in a while and I think that is because it is flavored with the El Yucateco® sauces that you can pick up right from the Mexican section of your local Walmart.
This dish only uses 4 ingredients – chicken breasts, brown rice, El Yucateco® Green Chile Habanero Hot Sauce, and Picante Sauce. Those 4 ingredients together make the most easiest of dishes that can be transported and cooked anywhere.
In fact, I love taking my sauces with me no matter where I go. You never know when the desire will hit for me to spice up whatever I am eating.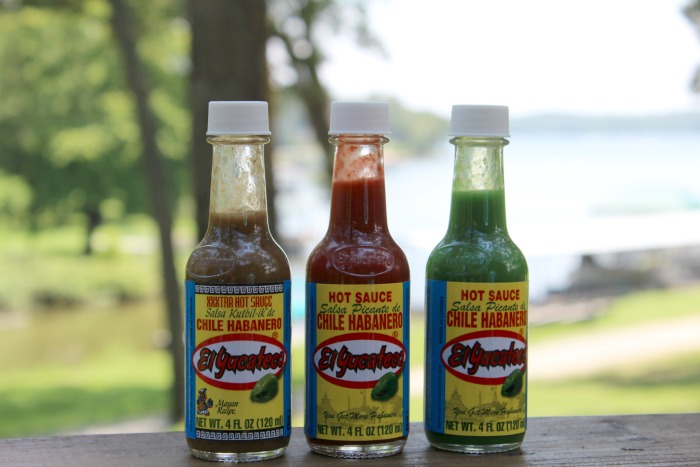 How to Make Santa Fe Chicken Foil Pack Dinner
Start with 1/2 cup of brown rice and add to that 1/2 cup of water and let it sit for about 5-7 minutes. This way you are softening the rice a bit.
Now, take a piece of aluminum foil about 12″ x 12″ and after the rice has set, simply scoop it out and place it in the center of the aluminum foil.
Then you are going to top that with your chicken breast and season it with salt, pepper, and cumin (there are not set amounts here — it is just to your liking).
Then, set that aside while you get the sauce together. Take your picante sauce (be sure to use mild here unless you like it super hot) and add 1 tablespoon of El Yucateco® Green Chile Habanero Hot Sauce and then mix together. You will be adding another tablespoon at the end of the cooking process.
Top your chicken with the mixture and then you are going to fold all sides up so that you are creating a little oven for your chicken and rice to cook in.
Now, from this point, you can transport anywhere you want to go. Kayla and I made these up before we left the house, so that while we were cleaning the lake house on this particular day we could also have a yummy meal while we were enjoying this beautiful lake view.
While she was cleaning, I was on the grill getting our lunch cooked.
During the cooking process, I add 1 more tablesppon of El Yucateco® sauce on top just to give it that little extra kick of heat that I like so much.
El Yucateco® is the #1 consumer choice. It is a fun flavorful brand that people love and make a part of their every day life.
My two favorite flavors of the El Yucateco® Sauces are the Red Habanero Hot Sauce and the Green Chile Habanero Sauce.
The Red Habanero Hot Sauce is made with fresh red habanero peppers, tomato, and select spices and seasonings.
It makes a great "all purpose" sauce because it packs a little more kick then the average hot sauce but doesn't leave you with that vinegar after taste.
The Green Habanero Hot Sauce is made with fresh green habanero peppers, garlic, select spices and seasonings. This one is actually the #1 seller nationally.
It is definitely hotter than the red habanero and it offers a crisp habanero flavor that enhances the flavor of any dish when used as a condiment.
My favorite way to use it is in creamy dips and also for grilling or cooking — especailly when fish or chicken is involved.
Have you ever used these sauces before? What flavorful dish would you come up with to add these sauces in? I would love to hear!