I love meals that can be prepped in advance and thrown in the oven at a moment's notice. This is one of those meals. You can serve this Sausage Breakfast Casserole for breakfast, lunch, dinner, brunch — whenever you want.
Looking for more easy recipes? Check out my huge database of delicious, homemade goodies.
Sausage Breakfast Casserole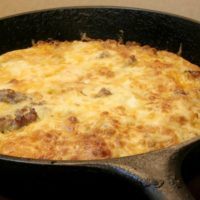 Ingredients
16 oz. package hot pork breakfast sausage
10 eggs, lightly beaten
3 cups milk
2 teaspoons dry mustard
1 teaspoon salt
6 cups cubed bread
4 oz. 1 cup shredded pepper jack cheese
4 oz. 1 cup shredded sharp cheddar cheese
1/2 teaspoon black pepper
Instructions
Preheat the oven to 325°F.
In a large skillet, cook sausage over medium-high heat, stirring frequently until thoroughly cooked and no longer pink.
In a large mixing bowl, combine eggs, milk, mustard and salt; stir well.
Distribute half the bread evenly in a buttered 9″ x 13″ x 2″ baking dish or you can use a cast iron skillet. Sprinkle with half the pepper, half the cheese, and half the sausage. Repeat layering using remaining bread, pepper, cheese, and sausage. Pour egg mixture evenly over casserole.
Bake uncovered for 60 minutes, or until eggs are set. Tent with foil if the top begins to brown too quickly.
NOTE: May be assembled ahead and refrigerated up to 12 hours before baking.