This post was sponsored by Milk-Bone® as part of a Two-Post Activation for Influence Central and all opinions expressed in my post are my own.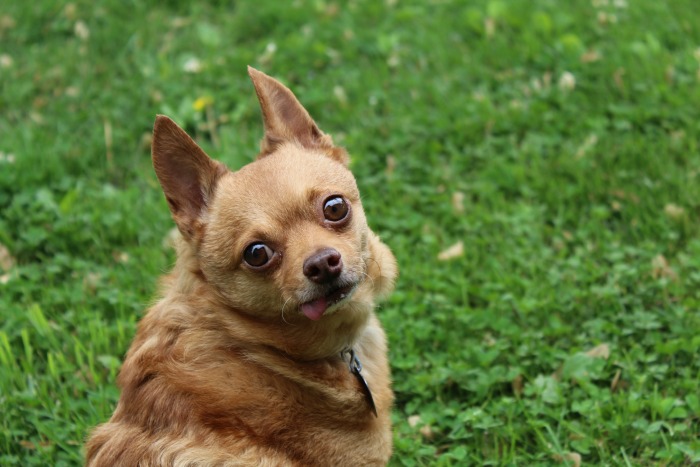 Did you know that November is Adopt a Senior Pet Month? This month, I am excited to talk to you about all the reasons a senior pet will make the best pet for your home. I also get to share with you about my best friend and the love of my life — my sweet little Tucker, who happens to be turning 10 this year.
In today's world, many animal shelters are filled with healthy and active senior dogs that are in need of a home, but because of them being older, they get overlooked a lot.
Here are a few reasons why I think you should consider adopting a senior dog.
1. Older Dogs Give Lots of Love
I don't know about you, but for me, there is nothing better than getting love from my dog on a day when everything has just sucked. When Tucker snuggles up next to me, it's like he knows that I have had it rough — and his sweet loving is exactly what the doctor ordered for me.
Just because a dog is older, does not mean that they get crankier. Yes, some do, but for the most part, senior dogs are very loving and gentle.
They have a lot of love to give — and they can still have lots of personality and spunk even if they don't have as much energy as they did in their younger years.
2. Require Less Exercise and Play Time
When adopting your first dog, if you choose a puppy, honestly — they are just like a baby — no joke. They require SO much time and attention. Senior dogs are older, and don't require as much playtime and exercise.
What they want more than anything is to just snuggle up next to you wherever you are and be your constant friend and companion.
3. Housebroken is the Best
When you adopt a senior dog, there is no need to go through the potty training process like a puppy would need. They are already housebroken and don't make huge messes in your home.
Adopting a senior dog who is already housebroken, it will save you a lot of time and energy that is definitely required of you when you consider adopting and training a young dog.
And if you think "an old dog can't learn new tricks", then you have never met some of the senior dogs I've met.
4. Senior Dogs Don't Chew on Anything
When my puppies were little, I cannot tell you how many pairs of shoes I had to replace thanks to the teething phase. However, once they reached the adult age and then later the senior age, the chewing stopped and I was forever grateful.
5. Diet is Simple
Older dogs might seem complicated with their diets when they age, but I have come to find that honestly — they are a lot more simple.
A checkup with your local vet can kind of tell you what kind of food your dog may need and the perfect treat for them — Milk Bone Treats!
Another great thing that Milk-Bone does is support the Canines Assistant Program. If you have never heard of them, it is an organization that matches incredible service dogs with incredible humans. I just watched this video and y'all I am balling like a baby here.
This year, Milk-Bone is celebrating its 20th Anniversary with Canine Assistants, a non-profit organization that trains and provides service dogs to children and adults with physical disabilities and special needs.
The video above showcases some of the dogs and pet parents that Milk-Bone has helped over the years. As you can see, dogs are more than just — they are everything to some people — including me.
Dogs really can change everything going wrong in your world with just one lick, just one hug, just one snuggle. Why not find a dog and let them be that for you today?