Here we are again, already 2 weeks into September and I am SO LATE at getting my reading list up for you. We have had a lot going on the last few weeks and it has thrown everything off.
But finally — without further ado, here is my reading list for September.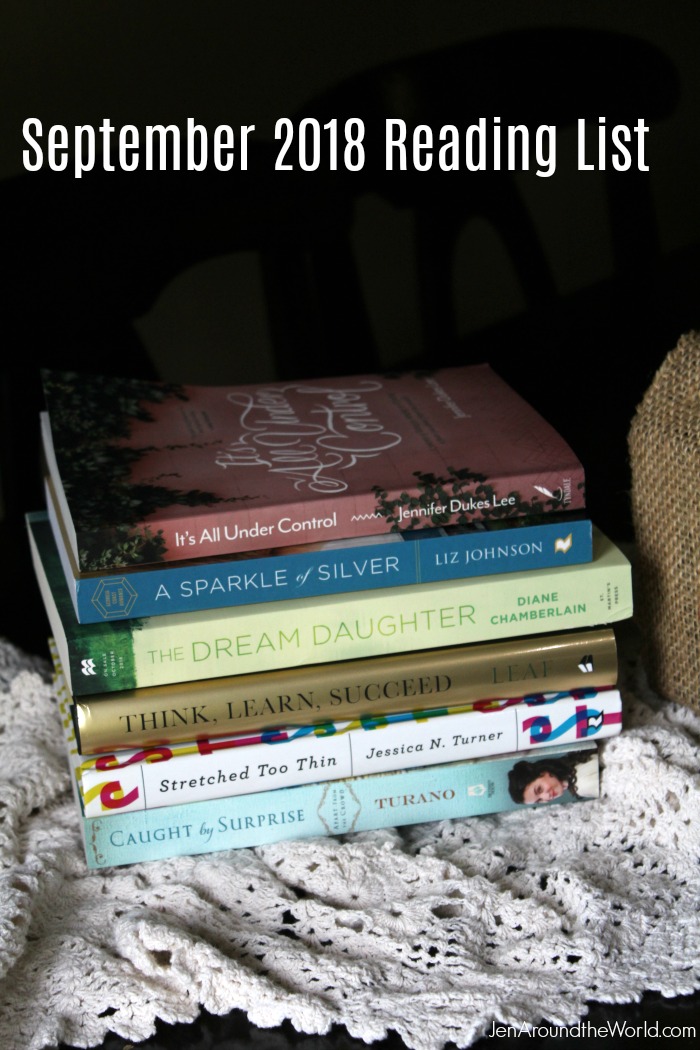 September 2018 Reading List
#1 It's All Under Control by Jennifer Dukes Lee
I just finished reading this book, and Y'all — I am over the moon for this book. It is simply refreshing. If you struggle with trying to do too much and struggling with trying to control every single thing around you, then this is a MUST read.
I was honored to be on the launch team for this book and was able to read a review copy. The book officially launches on September 18th but can be pre-ordered on Amazon by clicking this link.
#2 A Sparkle of Silver by Liz Johnson
I have been a long time reader of Liz Johnson. She is one of my favorite authors, and anytime she releases a new book, she always reaches out and asks if I would like to be on the launch team.
Of course, I always say yes! Her books are so moving and I cannot wait to read A Sparkle of Silver. This book officially releases on October 16, 2018, but can be pre-ordered on Amazon by clicking here.
#3 The Dream Daughter by Diane Chamberlain
I just started reading this book and I am already hooked. We're talking 1960's, with time travel, death, loss, love — everything you could want in a novel.
This book is a review copy and will be released on Amazon on October 2, 2018. If you liked the Time Traveler's Wife, you will LOVE this novel. You can pre-order it here.
#4 Think, Learn, Succeed by Dr. Caroline Leaf
I have heard a lot about Dr. Caroline Leaf from friends and family members. She reminds me of a soft-spoken Brene' Brown, so I am taking a chance and checking out one of her books.
I always looking for books that will help me be a better person and to have a better outlook on life. You can order a copy from Amazon by clicking here.
#5 Stretched Too Thin by Jessica Turner
I have followed Jessica for years now and have met her a few times at Mom2.0. She is one of the sweetest and loving women I know. When she announced that her new book Stretched Too Thin was about to release, I knew I wanted to read it and help her get the word out.
The message in this book is so profounded and so needed for this day and time. So many moms suffer from working mom guilt and through her new book, she teaches us how to lay that aside and THRIVE in the season we are in.
I walked away so refreshed after finishing this book! The book releases on September 18 and you can pre-order it here on Amazon.
#6 Caught By Surprise by Jen Turano
I won this book on Facebook. I love reading Historical Romances and this one seems like the perfect one to fit the bill.
You can order a copy of the book from Amazon by clicking here.
And that wraps up my reading list for this month!
The best part? By the time I finish this month, I will have met my reading goal on Goodreads — and I still have 3 months left to go. I have read 60 books in 9 months!