This recipe for Sesame Chicken was sponsored by Ling Ling, all opinions expressed in my post are my own.
One of my favorite dinner meals is the nights that I make homemade Chinese takeout. Of course, everyone in my household wants fried rice, but that takes a while. You have to cook the rice, then let it cool, then cook it again, and on days when we are busy — I just want something delicious, quick, and easy. That is why I am so glad I discovered Ling Ling Fried Rice. Now, I can keep making easy recipes like my Sesame Chicken and have our fried rice done in 7 minutes flat!
Because of the infusion method that Ling Ling uses, their frozen fried rice dishes are simply amazing. We seriously could not stop eating it.
There are five unique dishes based on pure and authentic Asian inspired recipes from Japan, China, Korea and Thailand.
Yakitori Chicken
Yakiniku Beef
Thai-Style Chicken
Chinese-Style Vegetable
Bibimbap Beef
For this recipe, I paired my Easy Sesame Chicken with the Chinese-Style Vegetable version which is perfect if you want a vegetarian option.
Each box comes with 2 11 ounce bags, so you can decide to fix one serving, or make the whole box for a family style Chinese dish.
How to Make Sesame Chicken
Sesame Chicken with 7 Minute Fried Rice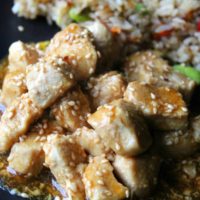 Ingredients
Chicken
1 large egg
2 Tbsp cornstarch
1 pinch each salt and pepper
1 lb boneless skinless chicken breast tenderloins
2 Tbsp vegetable oil, for frying
Sauce
2 Tbsp soy sauce
1 Tbsp water
1/2 Tbsp toasted sesame oil
1 1/2 Tbsp brown sugar
1 1/2 Tbsp rice vinegar
1 inch fresh ginger, grated
1 clove garlic, minced
2 Tbsp sesame seeds
1 Tbsp cornstarch
Instructions
In a bowl, whisk together the egg, 2 Tbsp cornstarch, and a pinch of salt and pepper. Cut the chicken tenderloins into small 1 inch pieces. Toss the chicken in the egg and cornstarch mixture.
Heat a large skillet with 2 Tbsp of vegetable oil over medium-high heat. When the oil is very hot add the chicken and all of the egg mixture. Cook the chicken, stirring only occasionally, until it is golden brown and cooked through (about 7-10 minutes). Drain off the excess oil, if desired.
While the chicken is cooking, prepare the sauce. In a small bowl stir together the soy sauce, water, sesame oil, brown sugar, rice vinegar, fresh ginger, minced garlic, cornstarch, and sesame seeds.
Once the chicken is cooked through and golden brown, pour the sauce over top. Toss the chicken to coat in the sauce. The sauce will begin to thicken as soon as it hits the hot skillet. Once the chicken is coated and the sauce thickened, turn off the heat.
Serve the chicken over a Ling Ling Fried Rice and sprinkle the sliced green onions over top.
While your chicken is cooking, simply throw your Ling Ling Fried Rice into another skillet and let it cook. Within 7 minutes you will have the most amazing and delicious meal you ever put in your mouth.
I love that Ling Ling Fried Rice has every vegetable you can think of — Edamame, corn, carrots, red bell peppers — and everything is fresh, flash frozen at it's peak making it full of flavor.
Right now, you can save $2 off one box using this coupon at anywhere Ling Ling Fried Rice is sold. If you want to experience the delicious infused flavors of Ling Ling Fried Rice for your next homemade Chinese takeout, you will never want to go out to eat again.