Thanks to Knockaround for sending me a couple of pair to these amazing Shark Theme Sunglasses. All opinions listed are 100% my own.
Every year since my kids were smaller, we have tuned in to our televisions and have been glued to the Discovery Channel to learn all about sharks during Shark Week. It's funny because it really started out as a way to learn more about sharks during one of our homeschool unit studies on sharks. Everything just happened to work out that we were studying them the same week that Shark Week was on.
From the first time viewing it, we have been hooked and have tuned in every year since then. I mean, I grew up watching Jaws, so why would I want to miss shark week?
Shark Week 30th Anniversary
This year marks the 30th anniversary of Shark Week, the massively successful week-long programming block on the Discovery Channel, dedicated to the mysterious marine animals.
To celebrate this anniversary, Discovery has partnered with Knockaround with these awesome shark inspired Sunglasses.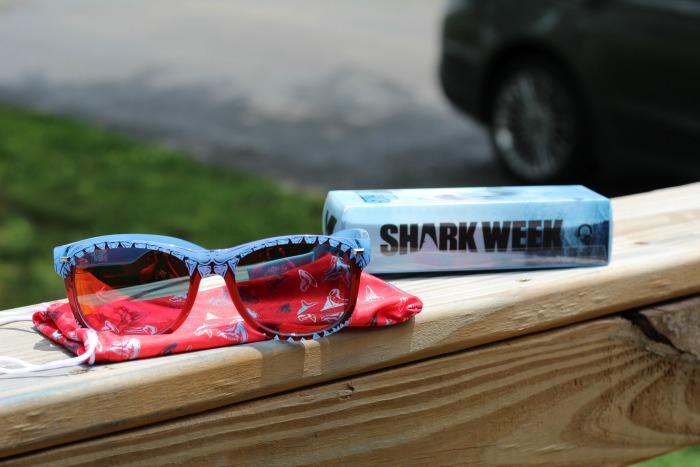 Knockaround and Discovery Partner on Shark-Inspired Sunglasses
Built on Knockaround's durable and high-quality Fort Knocks frame style, the 2018 Shark Week sunglasses feature a translucent breakwater blue frame with Great White jaw graphics, silver hardware, and polarized predator red lenses.
Every pair comes with a shark tooth microfiber protective pouch and Shark Week 30th anniversary commemorative packaging.
Why These Glasses are Important
Yes — you could celebrate Shark Week with any old glasses. But, the beauty of the Knockaround glasses is that from every sale made, they will donate $5 towards Oceana. Oceana is the leading international conservation organization focused on protecting and restoring the world's oceans.
Starting today, June 13th, the Shark Week sunglasses will be available to purchase for $35 on Knockaround.com with $5 from every pair sold going to Oceana. Looking for more sunglasses styles? Check out this list.
To date, Knockaround has donated over $30,000 to the non-profit to help fund science-based ocean research.
For me, this means a lot. I love supporting organizations and brands that give back and support important programs like this one.
Watch Shark Week on Discovery
Be sure and tune in like we will be doing to Discovery starting July 22nd for Shark Week 2018, featuring eight days of shark-centric specials that aim to educate about the powerful predators of the sea while clearing up misconceptions. I cannot wait to see what they have up their sleeves this year!