I received complimentary coupons to try Silk Almond Milk in exchange for writing this review. All opinions listed are 100% my own.
I am SO not a breakfast person. My morning food consists of coffee — and lots of it to get me going. However, since doing that 30 day challenge where I HAD to eat breakfast, I find myself looking forward to it. I am not a cereal girl either, so I am trying to make foods that are good for me. That is how I discovered this delicious recipe for Turkey Sausage and Broccoli Mini Quiche that I made.
These would be the perfect dish to prepare and freeze. If you are in a crunch for time, pop one out of the freezer and into the microwave. Wrap it in a paper towel, and then head out the door.
I really loved the flavors combined in this recipe. What made them so delicious though was NOT the sausage. It was NOT the broccoli. Not even the eggs and cheese. It was my secret ingredient — Silk Almond Milk.
I was sent coupons so that I could try and "Spring Clean" my diet just a bit. From the moment I opened and tasted the Vanilla flavor, I knew that this would become something I buy on a regular basis.
While milk sometimes makes my stomach hurt, the Silk Almond Milk does not. It is Dairy, Soy, and Gluten free — which means that it is safe for people who have dietary restrictions.
Sausage and Broccoli Mini Quiche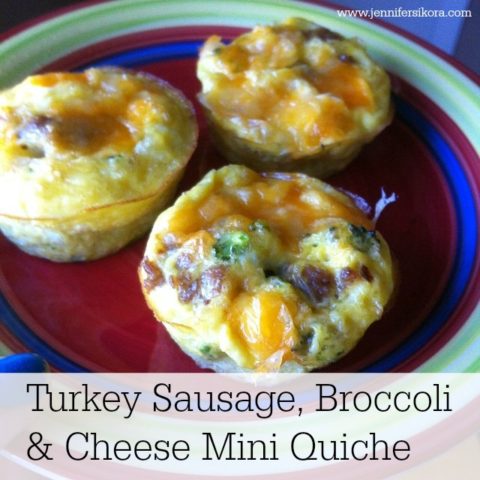 Ingredients
1/2 cup of turkey sausage, crumbled and drained
1/4 cup of chopped broccoli
1/4 cup shredded cheddar cheese
4 eggs, lightly beaten
1/4 cup of Silk Almond Milk
Instructions
Preheat oven to 350 degrees
Brown turkey sausage and then drain and set aside.
Chop up your broccoli and set aside
Take the eggs and beat lightly. Add in Almond Milk and beat until blended together.
In your muffin tin, spray with cooking spray so that they don't stick.
Measure out the sausage evenly between three or 4 of the cups.
Sprinkle the broccoli evenly between the cups.
Pour in the egg and almond mixture mix in each cup.
Top with cheese.
Place in the oven for about 30 minutes. Check the doneness of your quiches by inserting a knife in the center of each one. When the knife comes out clean, then the quiches are done.
Remove from the oven and place on a plate to cool. Eat then or freeze them for another morning.
Now that you have a new yummy recipe to try, here are 3 ways that you can spring clean your diet and get your eating on the right track.
3 Ways to Spring Clean Your Diet
Eat More Produce
Okay — this one is a no brainer, but how often do we reach for that bag of chips instead of grabbing an apple or banana? Fill your home with better for you options instead of junk food. Junk food is simply wasted calories.
For instance, I love crunch. So instead of eating unhealthy potato chips, I opt for making things like Kale Chips and Zuchinni Chips. They give me the crunch I need without adding all the unhealthy calories and sodium my body does not need. (just click that link and you can get my recipe for those yummy Kale chips).
Spring Clean Your Pantry
If you are like me, your pantry is full of half eaten, junk filled bags of yuck. Take your garbage can over to your pantry and go on a purge! Throw away anything that is not good for you and get it out of the house — out of sight, out of mind!
Use Silk More Often
The delicious, plant-based nourishment of Silk is a great place to start. Try Silk soymilk, almondmilk or coconutmilk in your morning smoothie or cereal, or enjoy it straight from the glass. Silk Almond Coconut Blend is the perfect balance of almond and coconut flavors. At 50 calories per serving, it's a great-tasting way to add a bit more delicious to your diet (also available in Unsweetened).
If you want more help regarding ways to Spring Clean Your Diet, follow Silk on Facebook and Twitter for more tips and recipes. Silk's own nutrition expert, Mona Rosene, MS, RD, offers simple ways to help incorporate more plant-based foods into the diet. For more information on the new products, or to learn more about the benefits of a plant-based lifestyle, visit www.silk.com.
Have you tried Silk? What are your thoughts about the product?