We received admission to Silver Dollar City as part of a promotional blogger tour of Branson, MO through the US Family Guide. All opinions are 100% my own.
One of my favorite episodes of the Duggars is the one where they visited Silver Dollar City in Branson, MO. Just watching their family have so much fun there made me really want to take my family and just have an amazing time.
Little did I know that just a couple of weeks ago, that dream would come true.
Silver Dollar City is a beautiful amusement park designed with the whole family in mind. Like everything else in Branson, it's only a short drive from the Grand Country Inn where we stayed while in Branson.
Our trip to Silver Dollar City was so amazing and fun. I love the 1880's theme that everything is set in. For me, it reminds me a lot of Opryland which we used to have a long time ago, but when the new Opry Mills Mall came in, they took it down. Now — I know that I can have that feeling again by visiting Silver Dollar City.
From rides to crafts and delicious food like Twisted Tater Dogs and everything in between, we explored as much of the park as we could. There are also shows to watch, but because I have teenagers — their first response was — ROLLERCOASTERS!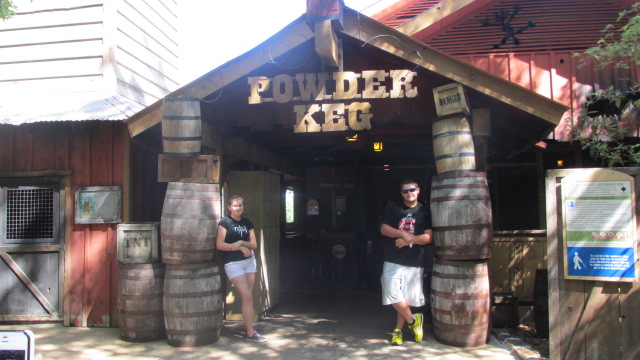 The benefit of having older kids at an amusement park is that they want to do all the thrill seeking stuff first. Since we were on vacation, my husband and I tagged along so we could get some amazing photos of them on all the rides.
Taking off on the Wildfire
Getting ready to run on the Outlaw Run
Swinging high on the Barn Swing
Blasting off on the Powder Keg
They were determined to be first in line at every single roller coaster to get a front seat and they did. We found out afterward that some of the roller coasters broke down during the day, so it was a good thing they rode all of them early.
Silver Dollar City is built on top of a huge cave that runs under the park and has attracted tourists for decades. The park maintains an old mining town theme and celebrates our American heritage. It also showcases more than 100 resident craftsmen, which is really awesome. I enjoyed watching them blow glass and make homemade peanut brittle. SO many kinds of brittle and it was delicious. I think I had two bags in one day — don't judge!
We started our day off with a breakfast buffet (it was so good), and then watched the opening ceremonies. The opening ceremonies honored all the vets and servicemen who were visiting that day. They even got them to raise the flag as we saluted and sang our national anthem and said the Pledge of Allegiance.
Branson is a patriotic place, and many of the attractions we visited acknowledged our servicemen. In fact, the theme this year is "Celebrate America" and you could definitely see it every single where you turned. We visited during the Star-Spangled Summer Festival, which is one of seven yearly festivals (it runs through July 20th). The entire park was decked out in red, white, and blue.
Oh — and if you are walking through the park and get lost, simply stop and ask one of the workers. They are SO knowledgeable and can get you back on the right track within seconds. The park is massive (over a hundred acres), so you'll want to have a plan.
We spent several hours there and did not get to attend any of the shows or tour the cave (those are for our next trip to Branson), but one of our favorite attractions was Grandfather's House.
Yes — we are standing crooked because Grandfather's Mansion is the crooked house 🙂 Such fun for the entire family!
If you plan on visiting Silver Dollar City, here are some things you will want to know ahead of time —
Get a map because the park is SO big.
Wear comfortable shoes because you will be walking a lot.
Bring money for food and some of the crafts that you will see. We loved the wax hands!
If you get tired of walking, rest for 20 minutes and get a round trip view of the park on the train. We really enjoyed this ride because we totally needed a break!
Plan to eat at one of the amazing food joints scattered throughout Silver Dollar City. It has always been a dream of this foodie to try out a Twisted Tater Dog. Those things are heaven!
A few other things to know:
Buy combo pack tickets to many of the attractions and save money. You can buy tickets and see the different packages available here.
Check out all of the discounts and special offers here.
Nursing moms will be happy to know that there are several nursing stations around the park.
You can rent a stroller (even a double stroller) if you are without and decide you need one.
For more information, check out the Silver Dollar City FAQ's here.
If you are looking for things to do while in Branson, be sure to check out my post on the Showboat Branson Belle and the Grand Country Inn (which is where we stayed).
Have you ever been to Silver Dollar City?