This shop has been compensated by Collective Bias, Inc. and its advertiser. All opinions and this recipe for Slow Cooker Garlic Herb Mushrooms are mine alone. #SamsClubMag #CollectiveBias
One thing I love about fall is all the football tailgating parties I get to attend and throw at my house. The problem with that is — I have recently started eating healthier, so I have to find good recipes that I can use to create healthy tailgating food that my party goers are going to love. That is how I discovered this delicious Slow Cooker Garlic Herb Mushrooms recipe. This is hands down my new favorite way to eat this beautiful superfood.

I knew that I was going to be having a get together soon with friends and family, so I wanted to practice with a couple of new healthy recipes I had found online. I headed out to my local Sam's Club because when you are tailgating, they always have everything you need to make your party complete. I mean, it's bulk for a reason 🙂 Buying in bulk not only saves me money, but it also means I only have to shop once for my tailgating supplies.
While there, I picked up some mushrooms for this dish. It calls for 24 ounces, and luckily, that is exactly how Sam's Club packages their mushrooms. Perfect for my healthy tailgating recipe.
Sam's Club has one of the best produce departments I have ever seen. They really make it easy for me to eat healthy and create healthy tailgating recipes like this mushroom dish I am getting ready to show you how to make.
How to Make Slow Cooker Garlic Herb Mushrooms
One of the first things you need to do when you buy any kind of mushroom is clean them off. You DO NOT under any circumstance, stick them under a running faucet. Mushrooms will soak up that water and make them really mushy.
All you have to do is dampen a paper towel, and just gently wipe the outside layer of the mushrooms. It will be enough to remove any dirt or debris on them.
Once you have the mushrooms cleaned off, simply place them in the slow cooker. You can leave the stems on if you want. If you don't want the stems, simply pop those off, but honestly — they taste just as good as the top of the mushroom.
For this Slow Cooker Garlic Herb Mushrooms recipe, you can use any mushrooom you want to. I chose white simply because they were on sale, but my favorite mushroom are the baby bellas. They are more firmer when they cook and they have the best taste of any mushrooms I have ever eaten.
Once you get your mushrooms in the slow cooker, add in your garlic and herbs and then cook on high for 1-2 hours or on low for 3-4 hours.
Once it is done, simply remove them and plate them on a cool serving dish. I found these half footballs that are perfect for sitting around on a table. It makes for the perfect healthy tailgating recipe!
Slow Cooker Garlic Herb Mushrooms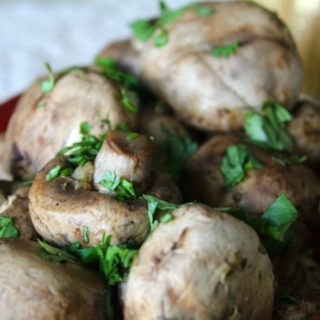 Ingredients
24 ounces cremini mushrooms
4 cloves garlic, minced
1/2 teaspoon dried basil
1/2 teaspoon dried oregano
1/4 teaspoon dried thyme
2 bay leaves
1 cup vegetable broth
Kosher salt and freshly ground black pepper, to taste
2 tablespoons chopped fresh parsley leaves
Instructions
Place mushrooms, garlic, basil, oregano, thyme and bay leaves into a 3-qt slow cooker. Stir in vegetable broth; season with salt and pepper, to taste.
Cover and cook on low heat for 3-4 hours or high heat for 1-2 hours, or until browned and tender.
Serve immediately, garnished with parsley, if desired.
Why I Love the Healthy Living Magazine from Sam's Club
Did you know that Sam's Club really cares about the health and wellness of each of the members that visit their stores? Not only do they offer a fully stocked produce and health and wellness section, but they offer a couple of ways to help you stay healthy all year long.
For starters, there are select Sam's Club that offer free health screenings on the second Saturday of every month. In fact, the very next one happens on October 8th, so be sure to check your local Sam's Club to see if they offer this service.
Another way is through the Healthy Living Made Simple Magazine that can be downloaded for free right from the Sam's Club website. Healthy Living Made Simple is an online magazine that is the ultimate place for all of your health and wellness needs.
One of my favorite articles this month is the one on the probiotic. I have been trying to learn so much about how to get more into my body and which foods are best to eat and this article was perfect for that.
I also LOVED finding out that the mushroom is the superfood spotlight in this magazine edition. You can read all about the health benefits and find some interesting facts including what Pharaohs thought about them too by visiting here.
If you are looking to take better care of your health, why not let Sam's Club lead you in the right direction? They offer everything you and your family needs to stay healthy such as Free health screenings, Optical, Hearing, OTC, Food and Beverage and more.
So you tell me — what do you do to stay healthy? What are your favorite healthy tailgating recipes?