This post has been sponsored by JOLLYTIME Pop Corn. All opinions and my thoughts on why you need to take a break are 100% my own.
Over the course of the last week, I have gotten back into going to the gym. I have been working out every single day and I am so proud of myself. On top of that, work has been CRAZY — and when it gets like that, I feel a bit overwhelmed. It's during these times that I just need a day to myself so that I can recharge and refuel myself.

Being good to ourselves is important. Many women, myself included put everyone and everything else in front of our health and well being. I mean, we matter too right? So why don't we try to take care of ourselves more? Taking a break from a busy lifestyle is a MUCH needed thing — especially these days when we are run ragged with school and sports schedules, work schedules and home life.
Life can definitely get in the way and make you feel like you just cannot go one more step. So here is what I do to unplug and take a break for the day.
Yes — I pop a big bowl of JOLLYTIME Healthy Pop Kettle Corn, turn on my favorite movies, and just veg out. Giving myself a little tv time is a way that I love myself.
During this time, I don't think about emails, blog posts, dinner time, what the kids or the husband needs. I just think about me and what I want at that moment.
And at this time, I just want my delicious popcorn and my chick flick.
Instead of eating the regular popcorn from the store, I have switched to the JOLLYTIME Pop Corn which is a great switch because I am swapping out my high calorie, high fat, salty snacks likes chips and pretzels, with JOLLY TIME Healthy Pop!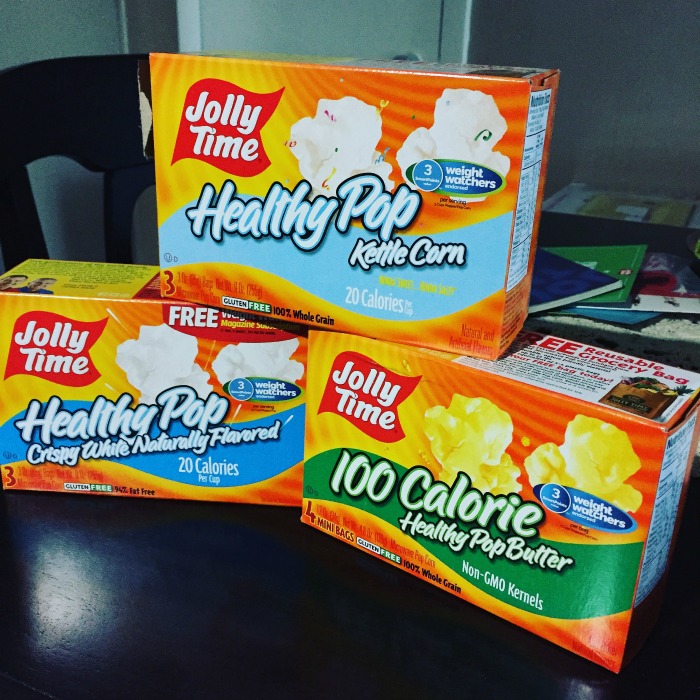 Healthy Pop from JOLLY TIME is a fiber-filled, low calorie popcorn that tastes great and perfect for summer snacking. 
I love that JOLLYTIME Pop Corn also offers a 100 calorie pop bag which means that I don't have to worry about how many cups I should be eating to have a healthier 100 calorie snack. They already have it measured out for me so that I can truly enjoy my movie without worrying about what I am eating at the moment.
That's another way I can relax and show myself some love.
Take the Healthy Pop Challenge
If you are looking for healthier snacking options, then why not take the JOLLYTIME Healthy Pop Challenge? You could win prizes like a Fitbit, you can get a free exercise band and $6 worth of coupons.
And — if you love to cook and make delicious snacks, check out all the recipes you can make using pop corn. Seriously– I am in recipe heaven right about now. I think I am off to make some basil garlic popcorn or this Healthy Pop Trail Mix popcorn.
You can find JOLLYTIME Pop Corn at your local grocery stores!
This is a sponsored conversation written by me on behalf of JOLLY TIME Pop Corn. The opinions and text are all mine.