I have been compensated for my time in creating this recipe and sharing all the details of how to make a juicy and delicious burger. All opinions are 100% my own.
Ever since we purchased our grill about a month or so ago, all we have done is grill. Like every single night. No joke. We love grilling and are now excited that we can continue grilling even into the cold season.
One of our favorite foods to grill is hamburgers. Now — if you don't know what you are doing, you can create a very dry burger, but — if you follow these 3 tips, you can make a scrumptious burger like my Southwest burger pictured here.
How to Make a Juicy and Delicious Burger
Mix Hellmann's Mayonnaise into your meat
For an extremely flavorful burger that is moist and juicy and succulent when you bite into it, add 1/4 cup of Hellmann's Mayo for about 1 pound of hamburger meat. Not only does this flavor your meat, but it also adds extra moistness giving you that perfect burger every single time.
Add a dimple to your meat
Before you cook your patties, take your thumb and press gently into each patty and create a small crater. This will allow your burgers to cook evenly and not puff up in the middle.
Dab a little butter on after cooking
Once your burgers are done cooking, simply add a pat of butter and let it melt over the top. Not only will it add a little bit of flavor, but it will mix together with your other ingredients creating a delicious taste.
Now — for the Southwest Burger
If you want to make my hearty Southwest Burger, here are the ingredients you will need.
Southwest Burger + 3 Things You Can Do to Make a Juicy and Delicious Burger #Burgervention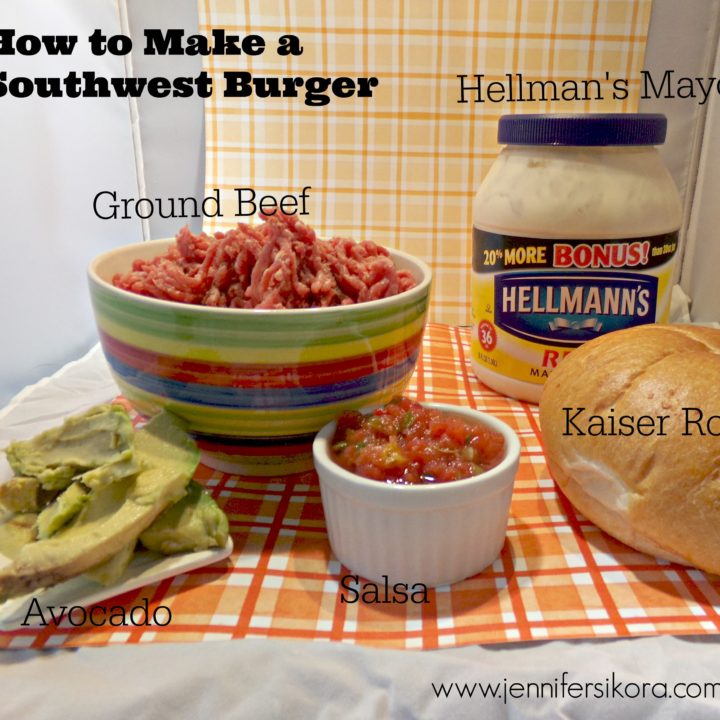 Ingredients
2 pounds of hamburger meat
1/2 cup Hellman's Mayo
Lemon and Pepper for seasoning
Garlic Salt for seasoning
Colby jack Cheese Slices
Fresh or Jarred Salsa
1 avocado sliced
Instructions
Combine hamburger meat and Hellman's mayo together in a bowl. Once mixed thoroughly, divide the meat into enough to make 6 patties.
Pat it out and put a dimple inside each burger. Season with lemon and pepper and garlic salt.
Grill on a grill or place under the broiler in your oven until desired temperature has been achieved.
Once the burgers are almost done, top with cheese slices and place back in the oven to melt the cheese.
When cheese has melted, put burgers on buns and top with prepared salsa and avocado.
How YOU Can Make a Juicy Burger
This summer, just in time for the 4th of July holiday, Hellmann's is staging a "Burgervention," putting an end to dry burgers across America. To create the Best Ever Juicy Burger this summer, mix Hellmann's Real Mayonnaise directly into the ground beef when preparing your burgers. The mayonnaise helps to lock in moisture as the burger cooks on the grill, ensuring a juicy, delicious burger every time.
Opt for great ingredients in your burger like Hellmann's which is committed to cage free eggs, quality oils and vinegar.
Visit www.hellmanns.com or tweet @Hellmanns #Burgervention for recipes and tips to make the Best Ever Juicy Burger for family and friends this summer.
What is your favorite burger? The next time you make one, be sure and add in the delicious taste of Hellmann's for extra juiciness and added flavor.