This shop has been compensated by Collective Bias, Inc. and its advertiser. All opinions are mine alone. #ad #MakeHeartburnHistory #CollectiveBias
During the holidays, I like to indulge — a lot. One of my favorite indulgences is spicy soups like my Spicy Butternut Squash and Carrot Soup. It is the perfect taste of fall, and a great start to an awesome Thanksgiving dinner! My secret to being able to enjoy something like this is simply one word — Nexium® 24HR Tablets 42ct.
This soup has got to be one of the tastiest things I have ever made in my entire life. The richness of the butternut squash and the sweet of the carrot, blended together with a bit of cayenne creates this amazing seasonal effect in your mouth.
Your tastebuds will love you for this dish — but your heartburn not so much. Honestly — you don't have to let heartburn ruin the holidays for you — if you prepare in advance.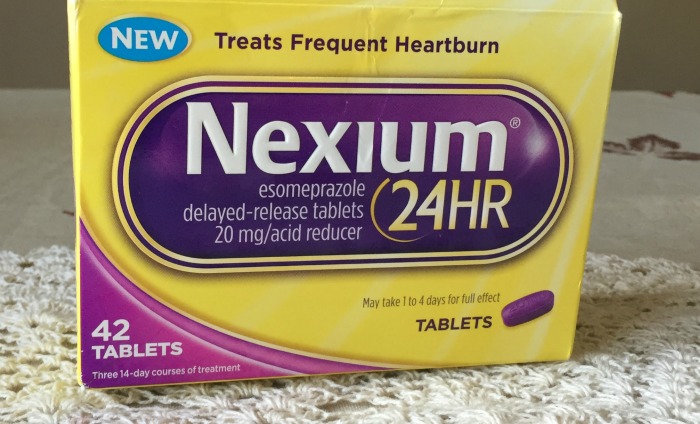 Just a few days before I am preparing to make something spicy, I always start taking Nexium® 24HR . I usually just pick some up when I am at Walgreens. I go there about once a week to pick up medication for the family (and makeup for me).
You can make the most of your holiday just by taking one pill a day for a few days before your festivities begin. I am SO thankful to have this during the holiday season this year, because I will be serving more of this amazing soup, as well as the Cajun injected turkey my husband is planning on preparing.
So how do you make this delicious and mouthwatering soup?
Start by gathering all your ingredients —
Vegetable broth
Butternut Squash
Carrots
Olive Oil
Onion
Cumin
Cayenne Pepper
Salt and Pepper to taste
Green Onions or Chives for Garnish
Lemon Crema for the top
Slice your butternut squash in half and scoop out the seeds. Peel your carrots and leave them whole. Place them on a cookie sheet lined with parchment paper and place in a 425 degree oven for one hour.
Drizzle them with olive oil before placing in the oven and sprinkle on a little salt and pepper.
Then — when they come out of the oven. the butternut squash and carrots are caramelized and will make your house smell AH- freaking — mazing.
Set this aside and let it cool.
Then, take your onion, dice it up and place in a saute pan with 2 tablespoons of olive oil. Turn on medium high heat and saute the onions until they are translucent and soft.
Then in your blender, scoop the butternut squash out of the shell, place the carrots, onion and olive oil, cayenne pepper, and cumin.
Be careful because it still may be a little warm. You do not want your blender spouting soup all over you!
Pulse in your blender until everything is combined. Then turn on puree and let it whirl away for a bit. After I get done with this step, I place it back into a sauce pan on the stove and let it reheat.
Nobody likes a cold soup y'all.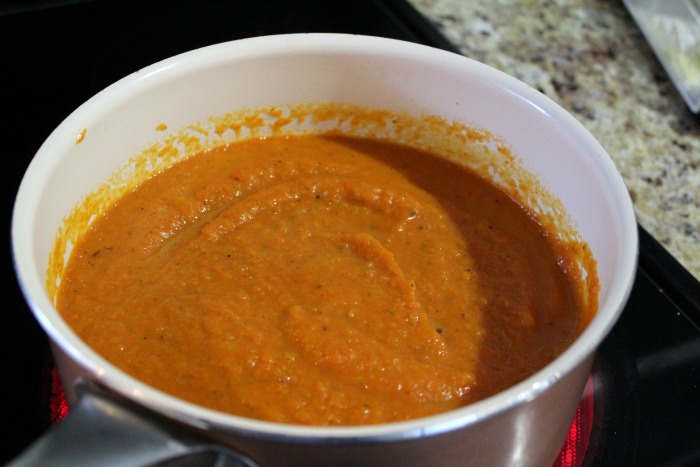 Then I serve it in a bowl with a drizzle of lemon crema — which is simply 1 tablespoon of sour cream, 2 tablespoons of heavy cream, and 1 tablespoon of lemon juice. Sprinkle in a little salt and pepper before drizzling on top.
Then serve it topped with scallions or chives — either one works great.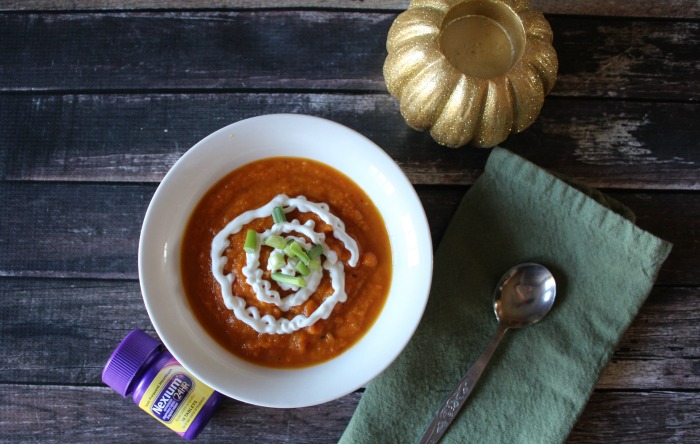 This soup is so over the top delicious — you will want to make this again, and again, and again.
Spicy Butternut Squash and Carrot Soup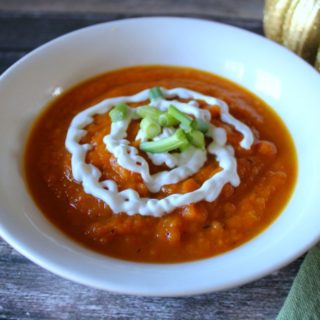 Ingredients
1 butternut squash, cut in half, seeds scooped
6-7 regular carrots, peeled and trimmed
olive oil
1 medium onion, chopped (about 1 cup)
2-3 cups vegetable stock
½ tsp cumin
½ tsp cayenne pepper
Chives, for garnish
Instructions
Line a sheet pan with parchment. Preheat oven to 425F.
Spread the prepared carrots and squash on the baking tray (squash cut side up), sprinkle with olive oil, salt and pepper. Roast in the preheated oven for 1 hour, turning the carrots halfway through.
In a skillet over medium heat, add 2 T olive oil and heat. Add the onion and saute until translucent. Set aside.
Scoop the squash out of the skin into the bowl of a blender or food processor, add the carrots, sautéed onion, cumin, cayenne and 2 cups of vegetable stock. Run the machine until smooth.
If soup seems too thick, add more stock until desired consistency is reached. Season with salt and pepper to taste. Place back in stock pot and heat until hot.
Garnish with chives, scallions and lemon crema..
Be sure and grab Nexium® 24HR Tablets 42ct the next time you are out so you will be prepared to indulge and enjoy your holiday get togethers! This is the season of not depriving yourself and enjoying what you love.
Head to Walgreens between now and November 30th for great savings — you can get an In-Store Walgreens coupon for $2.00 off Nexium 24HR (48 ct.) and a special in store price of — Two Nexium 24HR (28 ct.) for $40.00.