Now that winter is officially over (can we all say THANK GOD and Praise the Lord!), I am ready to move out of this sluggish slump I am in. I weighed myself the other day and realized that over the winter, I have gained around 10 extra pounds thanks to being cooped up. I am ready to spring clean my health and get back in shape, and I am starting with this delicious Banana Mocha Smoothie I recently made.
All the fatty and greasy foods I have eaten over the winter now must stop and in its place, I want more healthier choices. This delicious banana mocha smoothie is the perfect blend of coffee, banana, honey and more to give me an amazing energy boost first thing in the morning.
I recently received a  Nutri Ninja | Ninja Blender in the mail to review to help me get my diet spring cleaned. I have never owned a Ninja before, but I have heard amazing things about what it does.
To make this smoothie, you simply dump all your ingredients into the 24 ounce tumbler pop it on and select the right setting and it does the rest.
Since getting the Ninja in, I have made SO many delicious and healthy recipes with it ( I will be sharing those recipes with you at a later date).
My daughter created a juice a few weeks ago that helped her to quickly get over a cold. It was full of greens, vitamin c, and more. The Ninja chopped and pureed everything up until it was fine and completely mixed together.
I have also made Quick and Easy Tomato Soup with it. I put everything into the large pitcher and blended it up and then heated it on the stove.
Not only does the Ninja spring clean your diet, it cuts down on the cooking time as well!
We love the Ninja so much that we have pretty much quit using every other blender and chopper in our kitchen.
Nutri Ninja® | Ninja® Blender
Optimized for maximum nutrient and vitamin extraction and pulverizes fibrous vegetables, fruits, seeds, and nuts to an ultra-smooth consistency
Includes a 72-ounce pitcher, and 18-ounce, 24-ounce and 32-ounce Nutri Ninja® Cups with Sip & SealTM Lids
All detachable parts are dishwasher safe and BPA free
Available at major retailers nationwide, starting at $199.99 MSRP
I also love how easy the Ninja is to clean. I just pull out the blade and wash everything up in little to no time at all!
Spring Clean Your Health With This Delicious Banana Mocha Smoothie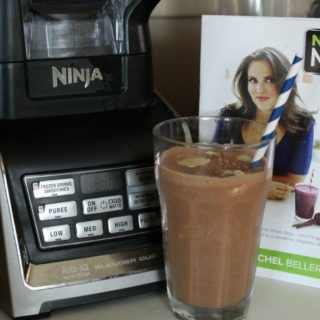 Ingredients
3/4 medium banana
3 tablespoons brewed coffee, chilled
2 teaspoons creamy almond butter
1 1/2 teaspoons unsweetened cocoa powder
3/4 teaspoon honey
3/4 cup almond milk
1 1/2 cups ice
Instructions
Place all of the ingredients into the Regular 24-ounce Nutri Ninja® Cup in the order listed, starting with banana.
Select "Auto-iQTM ULTRA BLEND".
If you purchase the Ninja, it comes with its very own recipe book and Quick Start to get a jump on spring cleaning your health.
I can't wait to share some more delicious recipes with you next week!
In what ways can you spring clean your health? Do you have any delicious recipes to share with me?