This shop has been compensated by Collective Bias, Inc. and its advertiser. All opinions are mine alone. #RawhideFreePets #SmartBones #CollectiveBias.
Want to know how to create a fun spring photo shoot for your pet? Read on for my simple tips and fun poochie wear.

My sweet little Tucker is one of the most photogenic dogs I have ever seen. Since he loves wearing clothes and taking photographs, I thought I would share with you how you can set up a spring photo shoot for your pet. These tips will ensure that you get super duper cute photos of your pet too. And who knows? You might be like me and hang them all over the house!
How to Create a Spring Photo Shoot For Your Pet
#1: Shop on Amazon for the Perfect Treats and Outfits for your spring Photo Shoot for Your Pet
Everyone always asks me where I get Tucker's clothes (he has his own wardrobe closet), and my answer has always been Amazon. They have such cute and adorable clothes and they are not expensive, so I am forever buying clothes for him on there. He has a ton of costumes for Halloween too!
He's been a cowboy, a sheriff, a pumpkin, characters from movies and more. Oh, and my secret tip for getting him to sit still? I buy him treats! Some of our favorites are SmartBones Chicken Classic Bone Chews and SmartBones SmartSticks Peanut Butter.
Hover over the image above to start shopping for treats for your poochie!
We love these chews and sticks because they are rawhide-free and 100% delicious. Tucker needs something for his teeth, and this is a good diversion to give him something to chew on. They are made from healthy and wholesome ingredients, so while they are good for Tucker, they are good for me as well — because I know he has a great treat that is delicious and nutritious.


I love that while I am shopping for his clothes on Amazon, I can buy these yummy treats for him as well. Now that you have some cute clothes and props and your treats, now it's time for step 2!
#2: Find the Perfect Spot for Pictures
Once you have all the clothes you want to use for your spring photo shoot, now you need to pick the spot where you want to take your dog's photo. Since Tucker's favorite spot is under one of the trees in our yard, that is where we did his photo shoot.
Some great choices are on top of big rocks, sitting or laying on top of a wood stump, posing on a deck, or like Tucker, right under his favorite tree. Of course, if it is raining, you can always take them inside the house and find some super cute posable shots as well. Tucker's favorite spot in the house to pose is on the couch.
You might even get lucky enough to get them in a shot playing cards. I still am amazed that we were able to get this shot the night we were having family game night.
#3: Use Your Treats To Keep Them Still
Since Tucker is sometimes sneaky and will slink off away from what we are doing, we like to keep his attention with treats. I use his SmartBones Chicken Classic Dog Chews to get his attention.
.
Then, once we have his attention, my daughter snaps the photo. He absolutely loves his SmartBones — and we have the photo to prove it!
#4: Snap Away!
Once you get them still and sitting, simply sweet talk your pooch and snap away. Don't be afraid to take a break every now and then and let them finish their SmartBones treat.
I love taking photos of Tucker (just follow me on Instagram and you will know how much I love it!) The best part, he is always game for whatever we want to do to him. I truly think he loves it — and he definitely loves his SmartBones Classic Chicken Chews.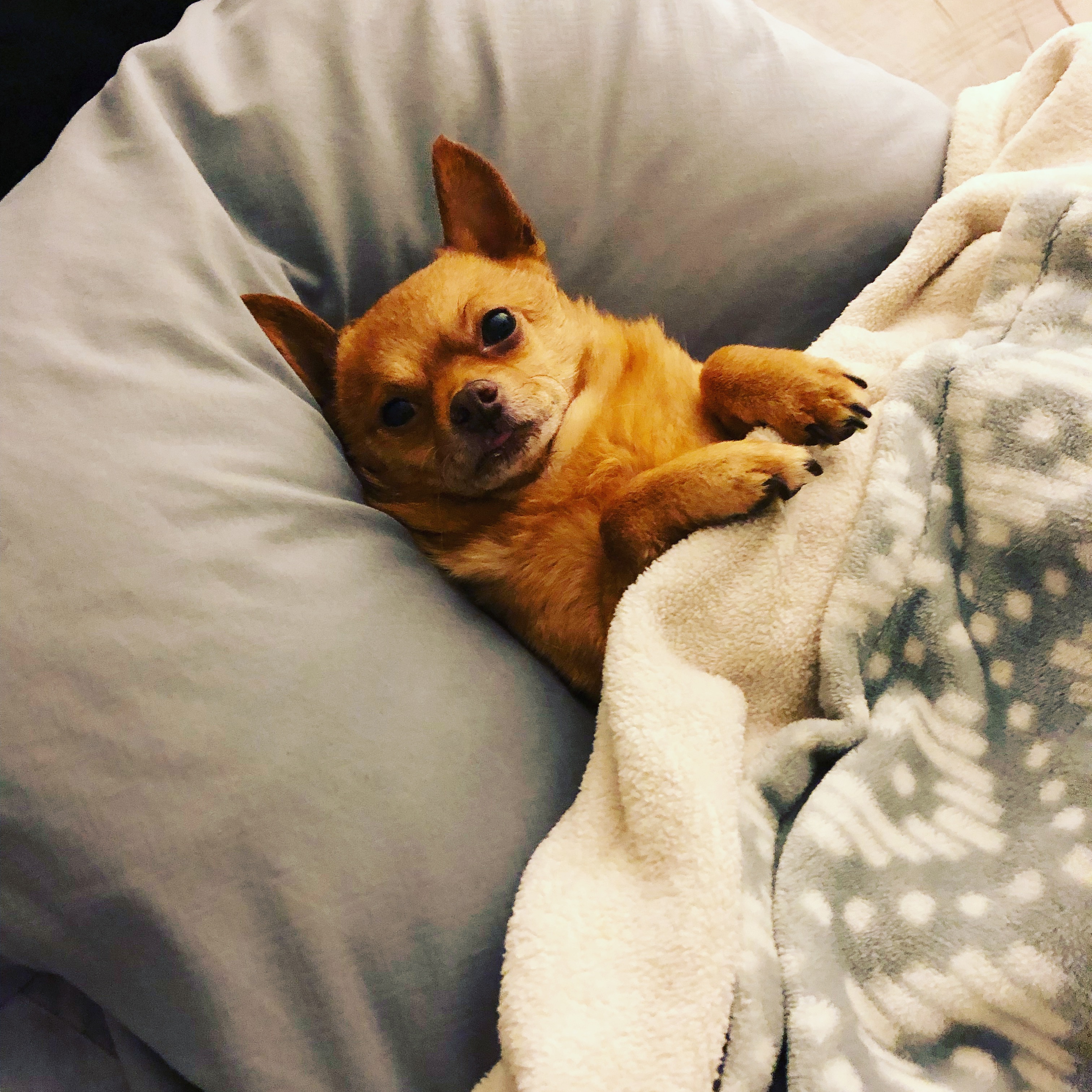 A spring photo shoot for your pet is exactly what you need this year! Have fun and enjoy doing something fun that will create lasting and long memories for you to cherish later on down the road. It sure is hard being a photo subject sometimes 🙂 Hop on over to Amazon and grab some fresh treats and super cute duds for your pet and get to styling them for the spring! What are you waiting on?