I have found a new favorite veggie of mine — brussel sprouts. Yes — I love them! I wasn't for sure if I was going to like them or not, but I have found out just how much I crave them. They are simply delicious. They go great in this quick 15 minute supper dish — Steak and Brussel Sprouts Stirfry.
This recipe comes from the Hello Fresh food service that I reviewed last month (don't forget to check out my other recipe for Chicken and Quinoa Stew that is simply to. die. for )
This meal comes together very quickly and looks stunning on the plate. To make the rice look like the Thai and Asian restaurants, simply use a measuring cup to scoop it up and mold it before placing it on the plate. It gives it that professional restaurant look 🙂
Here is the recipe! Hope you enjoy.
Yield: 2 -3
Steak and Brussel Sprouts Stirfry #15minutesuppers
Ingredients
8 ounces of sirloin steak cut into strips
1 cup of basmati rice
8 ounces of Brussel Sprouts
1 carrot
2 cloves of garlic
1 thumb of ginger
1 jalapeno
2 scallions
2 Tablespoons of soy sauce
2 tablespoons of white wine vinegar
2 tablespoons of veggie oil
Instructions
Add 1 1/2 cups of water to a microwave safe bowl. Add the rice with a pinch of salt and place in a microwave on high for 15 minutes.
Season the steak with salt. Heat 1 tablespoon of oil in a saute pan. Add the beef strips and cook in a single layer until browned and nearly cooked through, about 3 minutes. You may need to cook this in batches.
While the meat is cooking, work on your veggie prep.
Quarter the brussel sprouts.
Peel and dice up the carrot.
Slice the scallions and separate the green and the white portions into different piles.
Slice the jalapeno, remove the seeds, and dice up.
Mince the garlic and set aside.
Peel ginger and mince up.
Combine the vinegar and the soy sauce together in a small bowl and set aside.
Heat a tablespoon of oil in a large pan over med high heat. Add the brussel sprouts and cook, tossing occasionally until golden brown. Once they are crisp tender, about 4 minutes, set aside with cooked steak.
In the same pan that you cooked the brussel sprouts, add the white scallions, garlic, ginger, and carrots. Cook until fragrant, about a minute, before adding the jalapenos. Cook for about 3 minutes until the carrots are softened.
Return the sprouts and the steak to the pan. Add the soy sauce mixture and cook, tossing until the sauce is thickened.
Once the rice is done cooking, fluff with a fork and serve the rice in a mound on your plate and top with stir fry. Sprinkle scallion greens on top and enjoy!
I love simple and healthy dishes that I can prepare in a flash. What about you? Do you have a favorite "quick 15 minute supper dish"?
Need more quick suppers? Check out these other great #15MinuteSuppers!
Follow 15 Minute Suppers on Facebook | Twitter | Instagram | Pinterest
and look for the #15MinuteSuppers hashtag too!
Veggie Fried Rice from Around My Family Table
Gyro-style Greek Wraps from Better in Bulk
Mandarin Orange Chicken from Confessions of an Overworked Mom
15 Minute Tortellini Soup with Tomato & Peppers from Sunshine and Sippy Cups
Tortilla Crusted Tilapia from Lizzie Jane Baby
Tuna Burgers from Just 2 Sisters
Spicy Pepperoni Pizza Cups from Sweeties Freebies
Steak and Brussel Sprouts Stirfry from Jen's Journey
Buttery Thyme Noodles from A Nation of Moms
Shrimp Fajita Omelette from Turning the Clock Back
Head over to our #15MinuteSuppers Pinterest Board to see all the past recipes and more delicious goodness!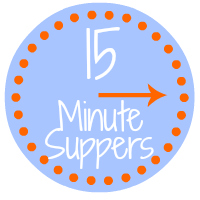 Would you like to join us at #15MinuteSuppers? We'd love to have you! Please check out the 15 Minute Suppers website or ask to join the Facebook group to participate on Fridays…we'd love to have you join us.