"This post is sponsored by Everywhere Agency on behalf of Macy's; however, all thoughts and opinions expressed are my own."
One of my all time favorite desserts is Strawberry Shortcake, so when I heard that Macy's was having an event at the Cool Springs Galleria mall to help celebrate National Strawberry Shortcake Day, I knew I wanted to go — because — hello — strawberry shortcake!
On June 14th, I will be heading to the Macy's in Franklin, TN to test yummy samples and learn how to make it even better!  But before I do, I wanted to share MY favorite way to eat a strawberry shortcake.
Mini Strawberry Shortcake Trifle
One of my favorite ways to eat this delicious dessert is in mini form. I have these 4 inch tall skinny glasses that I used and we build our trifles from there.
I do a layer of strawberries, a layer of graham crackers, and a layer of whipped topping for the ultimate dessert — and then we repeat the process.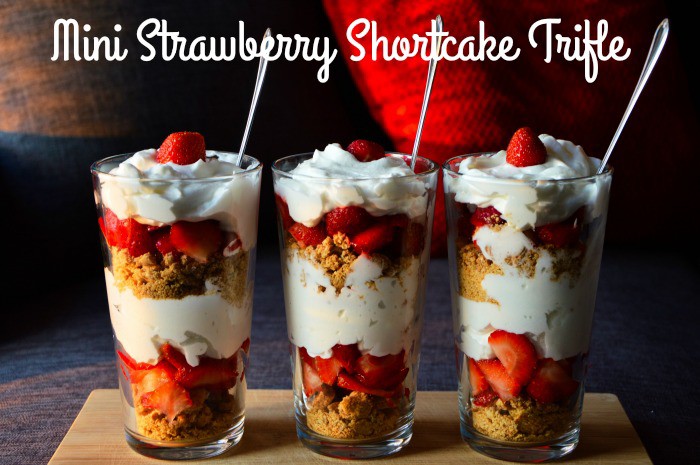 Mini Strawberry Shortcake Trifle + a Fun Macy's Event Coming Up! #
Ingredients
1 pint of fresh strawberries, hulled and qaurtered
1 package of graham crackers
1/2 cup of heavy whipping cream
2 tsp of powdered sugar
Instructions
Start by crushing your graham crackers in a zipped storage bag. Set aside.
In your stand mixer, take heavy whipping cream and put in mixing bowl. Use the whisk attachment and beat on high until cream just starts to come together. Add in powdered sugar and beat for just a few seconds more.
Set aside.
Now, with your glasses, begin the layering process and create a trifle effect -- strawberries, graham crackers, and then whipped cream. Repeat this process until the desired effect is achieved and then enjoy!
A couple of years ago, Chef Johnny Juizzini created the epic Strawberry Shortcake recipe that he said is hands down the ultimate favorite, so I cannot wait to try the version that I will be sampling on June 14th.
Tickets to the event are free if you would like to join too! All you have to do is visit this link and see if there is an #AmericanIcons event being held at your local Macy's. You may have to RSVP, so be sure and look and see if that is the case.
Now that you know how I like Strawberry shortcake, how do you like it? I would love to hear! And don't forget to go to Macy's and enjoy watching this iconic dessert being made.