I participated in an Influencer Activation on behalf of Influence Central for the SPLENDA® Brand. I received product samples to facilitate my review as well as a promotional item to thank me for my participation. All opinions and reviews are my own.
I LOVE to bless my friends with a meal. For me, there is just something about cooking a delicious lunch or dinner for my besties and then inviting them over for a fun afternoon.
Since I am in the process of trying to exercise and give up my television time for a couple of months, I decided to invite my best friend Michele out for a walk around our lake area and then make a well balanced lunch for us as well as my daughter (who was along to take photographs of the lake).
We met at the dam where they recently made a walking and riding path. It is absolutely beautiful.
We were excited to get to spend some girl time together and we have been trying FOREVER to make plans to go to the dam and walk.
The breeze was nice even though it was well above the 90 degree mark. We had so much to talk about that we did not even notice when our walk was almost over.
Here is a tip for you — if you want your exercise time to go faster — go with a friend!
My daughter was exercising right along with us, but she was busy taking photos of our lake area. Seriously — have you ever seen anything as beautiful as this?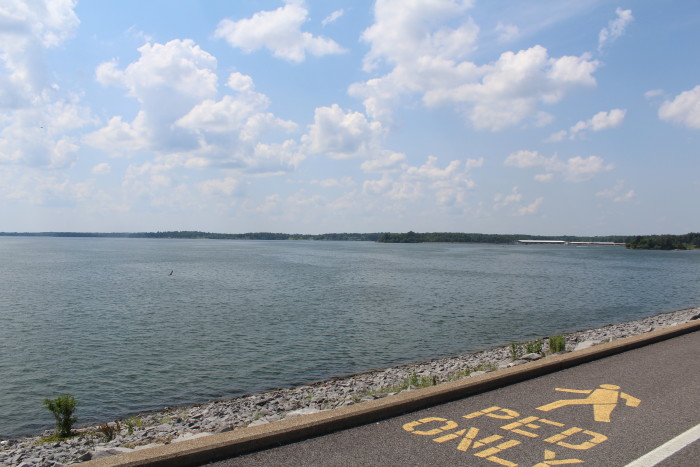 After walking, we decided instead of going back to my house to eat, that we would find a shady spot under the pavilion and eat there. It was just to beautiful a day to sit inside and eat.
I made a scrumptious lunch of Skinny Chicken Salad sandwiches (swapping out the mayo for greek yogurt), fresh cut up watermelon for a sweet treat, homemade baked sweet potato chips instead of the classic greasy bagged chips, and then to go along with our sandwiches, I made sweet and crunchy pickles — from scratch y'all!
I made the pickles swapping out Splenda Granulated sugar for the normal regular sugar that most homemade pickle recipes call for.
Did you know that swapping just one cup of sugar with one cup of SPLENDA® No Calorie Sweetener, Granulated can save more than 600 calories?
This makes these crunchy pickles a better option for you — and you know what? My friend Michele could not believe that I turned just every day cucumbers into these crunchy and sweet delicious pickles!
Honestly — if you can make dishes like these from scratch, why oh why do we ever need to purchase store bought? I prefer homemade any day because I get to choose what ingredients go in my dishes!
Sweet and Crunchy Pickles Recipe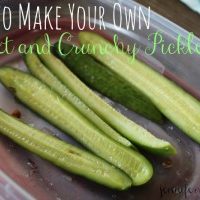 Ingredients
7 pickling cucumbers, quartered
1 cup water
1/2 cup rice vinegar
1/3 cup SPLENDA® No Calorie Sweetener, Granulated
1 tablespoon kosher salt
2 teaspoons of pickling Spice
1 teaspoon of pepper
1 jalapeno pepper, seeded and chopped
2 garlic cloves
Instructions
Place quartered pickles in a clean 1-quart jar. Set aside.
Combine remaining ingredients in a small saucepan. Simmer over low heat until salt dissolves.
Pour hot pickling juice over pickles to fill jar. Cover tightly with lid and refrigerate 3-5 days before serving. Pickle flavor and sweetness intensity increase over time.
We had a great time that day and now — I get to show you how easy it is to make these pickles at home — all by yourself!
Start with your list of ingredients —
A clean jar — I just used an old mayo jar I had laying around
Rice Vinegar (it's not as pungent as distilled vinegar)
Small cukes (baby cucumbers)
Garlic cloves
jalapeno
water
Salt
Pickling Spice
Start by cutting your cucumbers into quarters.
Slice each cucumber in half, and then cut each half into half. By the time you end, you will have 8 quarters per cucumber.
Then take them and place the quarters into your clean jar.
Once you get all your cucumber spears in the jar, then in a small sauce pan, smash your garlic and chop up your jalapeno. You are welcome to leave the seeds in if you want your pickles hot, but if you want them mild, be sure to remove the seeds before putting in the sauce pan.
Now to the sauce pan, add your salt, your water, and your vinegar. Then add in your Splenda.
Then the last step is to add your pickling spice. Once you add your spice, place the pot on the stove and heat untili the sugar and salt are completely dissolved.
Once it gets dissolved, pour your hot liquid right over the cucumbers in the jar. Make sure to put in the jalapeno chunks and garlic as well because this will help bring in the flavor to your pickles.
Once you pour the liquid over, simply put the top on and place in the refrigerator. It's best to let them set up for about 3 days to get the full flavor of the newly made pickles.
This simple swap out — swapping the Splenda out for the regular sugar is an easy way you can watch your sugar intake and try to eat a little more balanced.
Connect with Splenda
There are many more tips, tricks and delicious recipes on SweetSwaps.com.
What is your favorite way to balance out your meals?