This 15-minute Taco Dinner Skillet is exactly what you need during your hectic busy weeknights of running the kids to all the festivities and after-school functions.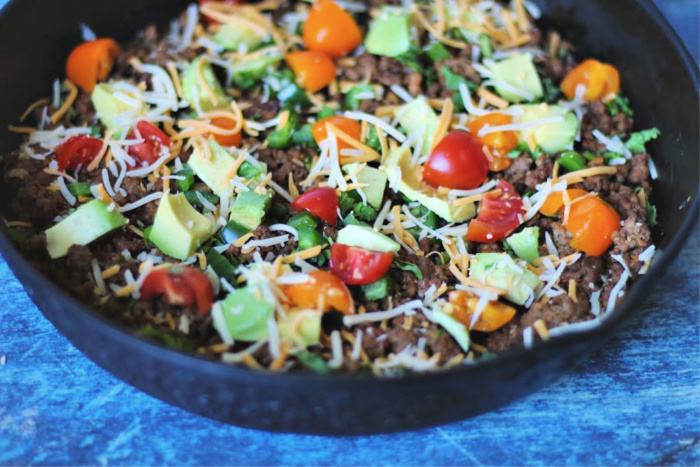 I love when I can find an easy meal that not only takes me fifteen minutes to make but also a meal that my family falls head over heels in love with.
This 15-minute Taco Dinner Skillet is both. I discovered this delicious recipe when I was creating my e-cookbook (which you can find here!). It is full of 15-minute dinners, and this one is definitely a keeper!
It's so versatile in that you can change the meat around and it still turns out delicious. The possibilities are endless. For example, you can use chicken, ground turkey, sliced or shredded beef, ground pork — even shrimp would be tasty in this one-pot meal.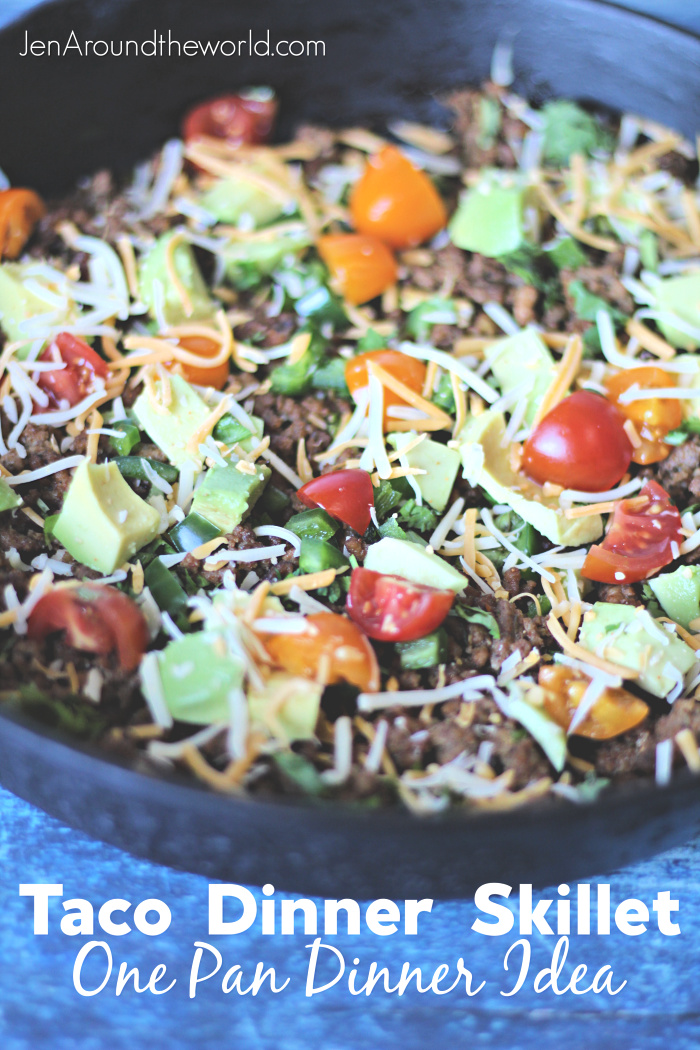 You can add any taco toppings you want to this dish. That is what makes it so easy to prepare.
Not only that but if you are feeling soft taco shells or hard taco shells, you can serve this right alongside some tortilla chips and turn it into a dip or an appetizer.
This Taco Dinner skillet has ground beef, peppers, onions, green onions- and if you want, you can sneak in other veggies like spinach or zucchini, even corn if you'd like.
If you prefer, you can also keep this low carb and not even use any tortillas or taco shells at all.
Being able to make healthier meals for my family in 15 minutes or less has been a goal of mine for over a year. As much as I love cooking, I don't like being in the kitchen for loooong periods of time.
So — I set out on a journey to make as many meals as I could in 15 minutes or less, which is how I came up with creating a cookbook with my daughter that is FULL of delicious 15-minute recipes.
My daughter and I worked hard for about 3 months, making these yummy recipes to share with y'all and this one is definitely a family favorite!
Yield: 4 people
Taco Dinner Skillet
If you have hungry taco lovers, this dish will fit the bill -- and you can have it on the table in 15 minutes!
Ingredients
1 pound ground beef, browned and drained
1 package taco seasoning. mix
1 each red bell pepper, diced
2 each green onions, diced
1 each jalapeno, de-seeded and finely chopped
1 each avocado, chopped
1 cup cheddar cheese
1 each yellow onion, peeled and diced
1 cup cherry tomatoes, halved
Instructions
In a large skillet, cook beef and onion over medium heat until meat is no longer pink; drain.
Stir in the diced jalapeno, red bell pepper, and taco seasoning and cook until heated through.
Top with green onions, avocado, halved cherry tomatoes, and cheese. Pop under the broiler for a couple of minutes to melt cheese and then serve with sour cream, tortilla chips or taco shells.
Now that you know about my delicious and easy taco dinner skillet recipe, tell me what your favorite go-to 15-minute recipe happens to be? Don't forget to grab a copy of my e-cookbook for only $7.95!