Minced meat spaghetti is a really scrumptious and delicious nourishing spicy and flavored meal that is primarily derived from Italian cuisine and is cooked in a variety of methods.
Its origins can be traced back to the early 20th century. The primary components are minced meat and spaghetti, and a few other spices are also used.
This dish is also one of the most straightforward and quick dishes you can prepare. If you have been meaning to prepare a delicious minced meat spaghetti but have not landed a quicker and easy-to-understand recipe that can help you, you are in the right place. You can check thecookingfoodie for more recipes.
Here is a simple recipe that can help you cook spaghetti with minced meat sauce.
Ingredients
1 pound of minced meat, such as beef, chicken, lamb, or turkey,
3 tablespoons cooking oil
1 cup and a half of chopped onion (130 grams)
3 cloves of garlic, minced (1 tablespoon)
2 teaspoons of tomato paste
1/2 of a teaspoon of dried oregano
A pinch of dried flakes of crushed red pepper
1 cup of water or broth
1 can of crushed tomatoes [28 ounces total weight]
Black pepper that has been freshly ground, along with salt
A handful of fresh basil leaves, with more leaves for serving
12 ounces of dried spaghetti or your preferred shape of pasta.
½ cup of shredded parmesan cheese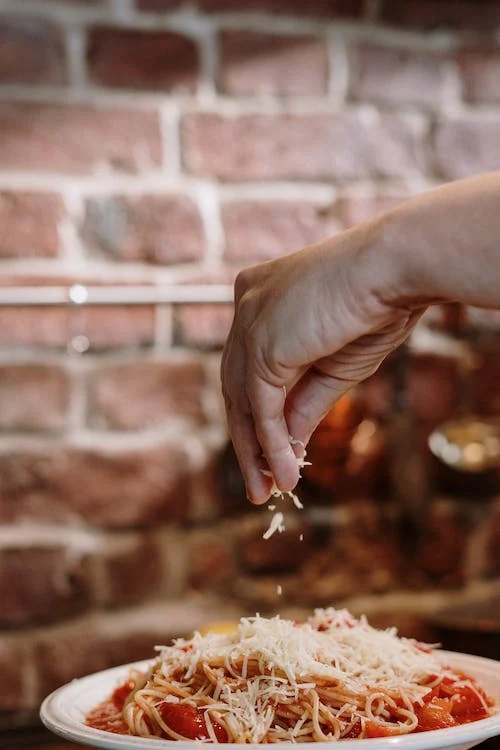 Procedure
In a big pot, bring the oil to a temperature over medium-high heat. Add the meat, and cook it for about 8 minutes or until it has a browned color. Make the beef into smaller crumbles by breaking it apart with a wooden spoon as it cooks.
Add your onions, and continue to cook them for about 5 minutes, tossing them occasionally until they become softer.
Add in the tomato paste, garlic, red pepper flakes, and oregano, and continue to heat the mixture for approximately one minute while stirring constantly.
After pouring in the water, use a wooden spoon to scrape the bottom of the pot to remove any chunks of meat or onion that have gotten caught there. Mix in the diced tomatoes, a hefty pinch of black pepper, and three-quarters of a teaspoon of salt. Bring the sauce to a simmer over low heat. Cook for twenty-five minutes with the lid off, on a low simmer. While the sauce is cooking, please give it a stir now and again and a taste to determine how the flavor should be adjusted.
Cooking your spaghetti
Bring a large pot of salted water to a boil, and then prepare the pasta according to the directions on the package, making sure to check it for doneness a minute or two before the stated cooking time. This should be done approximately 15 minutes before the sauce is finished cooking.
Finally
Remove the sauce from the heat, and whisk in the basil after it has cooled slightly. Add in the cooked pasta.
Wait a minute so that the pasta may soak up some of the sauce before removing the pan from the heat. Once more, toss the ingredients, and then serve with some grated cheese sprinkled on top.