I think here lately I am on a Thai food kick. All I have wanted to eat is something with an Asian or Chinese flavor. It is my new fave, so I knew this week for my first ever #15minutesuppers recipe, I was going to share my new Thai Chicken Lettuce Wraps recipe.
I never use iceberg lettuce or anything like that with my lettuce wraps. I always use Bibb lettuce if it's sale, but if not, then I just get my Romaine Lettuce. It works great for creating a pocket for the chicken mixture to rest in.
Thai Chicken Lettuce Wraps #15minutesuppers
Ingredients
2 boneless, skinless chicken breasts
salt and pepper for seasoning
2 green onions, chopped
1 carrot, peeled and diced
1/2 cup of broccoli chopped fine
1/2 cup slivered almonds rough chopped
1 head of romaine lettuce
1 can of LaChoy Rice Noodles
3 tablespoons of Soy Sauce
2 tablespoons of honey
We served these delicious lettuce wraps alongside a yummy salad that was topped with a copycat Thai Ginger dressing that I will be sharing next week.
If you want to change up the meat, you can try making my yummy Turkey Lettuce wraps with a Spicy Dipping Sauce. Either one are great and only takes about 15 minutes to prepare.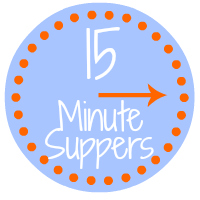 Follow 15 Minute Suppers on Facebook | Twitter | Instagram | Pinterest
and look for the #15MinuteSuppers hashtag too!
Chicken Scallopine from Around My Family Table
Classic Chicken a la King from Monzanita's
Mango Chutney Chicken from Better in Bulk
Thai Chicken Lettuce Wraps from Jen's Journey
Unstuffed Paleo Cabbage Rolls from Confessions of an Overworked Mom
Ranch Clam Chowder from Just 2 Sisters
If you are a blogger and you'd like more info, please check out the 15 Minute Suppers website or ask to join the Facebook group to participate on Fridays…we'd love to have you join us.