The other night, I needed a fast supper since we had to be at a friend's house in less than an hour. I knew I needed to make sure everyone had eaten, so I started scrounging the pantry to see what I could find. Thankfully, I remembered that I had this Tomato and Basil Pesto Pasta recipe in my "to make" file, so I grabbed the recipe and started cooking.
This recipe is very easy to make and doesn't take that long at all. Browning your chicken takes the longest portion of this recipe — and from start to finish, when this delicious dish is in your belly, maybe takes about 35 minutes TOPS!
Tomato and Basil Pesto Pasta
Ingredients
1 lb. thin linguini or angel hair
3/4 cup pesto sauce
2 cups cherry tomatoes, halved
1 cup chicken broth
1/4 cup olive oil
2 cloves garlic, pressed
1/2 – 1 cup powdered Parmesan cheese, and more for topping
3 chicken breast tenderloins
salt and pepper for seasoning
Instructions
In a large saute pan, saute the garlic with 1 tbsp olive oil until it's fragrant. Add the pesto sauce to the garlic combine well.
Pour in the chicken broth and olive oil and bring to a simmer. Add in the chopped tomatoes and stir well over medium-low heat.
In another pan, season 3 chicken breast tenderloins with salt and pepper and brown over medium high heat for about 6 minutes per side. Remove from heat, let sit for a couple of minutes and then dice up and add to pan with pesto sauce.
While chicken is cooking, cook the pasta as directed and then add it into the pesto sauce mixture. Keep the heat on medium-low and let the pasta absorb the flavor.
Once the pasta is well coated in the pesto sauce, turn off the heat and pour in the powdered Parmesan (as much or as little as you desire)
Top it all off with a little more Parmesan and serve immediately!
This recipe is super quick and turns out SO delicious every single time! This is serious comfort food at its finest.
Need more quick suppers? Check out these other great #15MinuteSuppers!
Follow 15 Minute Suppers on Facebook | Twitter | Instagram | Pinterest
and look for the #15MinuteSuppers hashtag too!
Vegetarian Greek Pasta with Feta from Around My Family Table
Caribbean Jerk Cod with Asparagus al Dente from Songs Kate Sang
Stirfry Recipe with Sprouts from Confessions of an Overworked Mom
Tomato and Basil Pesto Pasta from Jen's Journey
Seafood Salad from Just 2 Sisters
Kielbasa, Spinach and Rice Soup from Better in Bulk
Head over to our #15MinuteSuppers Pinterest Board to see all the past recipes and more delicious goodness!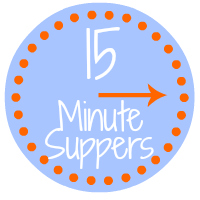 Would you like to join us at #15MinuteSuppers? We'd love to have you! Please check out the 15 Minute Suppers website or ask to join the Facebook group (for bloggers) to participate on Fridays…we'd love to have you join us.