I have a lot of travel on the agenda for 2016, so I am always on the lookout for the best hotels in the U.S. to stay in. I am not one for dingy, dirty, and nasty hotels. I like clean, upscale, that fits my needs, but I also like to get the best price available.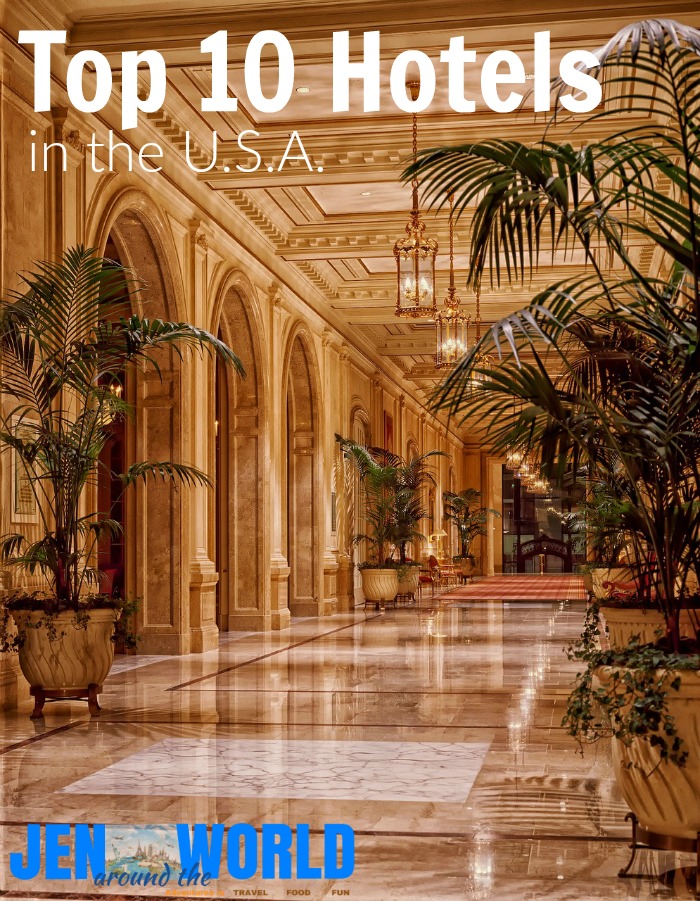 In a recent article done by Smarter Travel, they listed their top 10 favorite hotels. Some of these I have never heard of, and I definitely plan on checking them out.
Their list looks something like this —
The Lodge at Sea Island, Georgia ($400)
The Jefferson, Washington D.C. ($475)
ARIA Sky Suites, Las Vegas (online prices not available)
Four Seasons Resort Hualalai, Hawaii ($945)
The Peninsula Beverly Hills ($575)
Montage Palmetto Bluff, South Carolina ($645)
The Langham, Chicago ($350)
Mandarin Oriental, Las Vegas ($249)
Waldorf Astoria Chicago ($319)
Auberge du Soleil, Rutherford ($1,125)
Now, while these sound like great hotels (and I can assure you I am going to check one or two of them out), I have my own list of top favorite hotels.
Jen's Top 7 Favorite Hotels in the U.S.
#1. Hotel Preston, Nashville TN
One of the reasons that I love Hotel Preston in Nashville, TN is because of the fact that they have airport shuttle starting at 4 a.m.
Sometimes my flights are as early as 6:30 and when you live 2 hours away from the airport, you need a good hotel that you can count on.
I love staying here. We have used this hotel for events when we have brought our youth to Nashville, we have stayed here overnight on romantic dates, and I always stay here when I have to fly out of the BNA. It's less than a mile to the airport and is perfect for the frequent flyer.
#2 Hampton I-385, Greenville SC
Whenever my husband and I visit Greenville, SC there is usually only one hotel we look at — The Hampton Inn. They have 3 different ones — the very fancy one that is downtown Greenville (we have not stayed there yet), the I-385 which is near the mall, and the Haywood Mall Hampton Inn.
All 3 are amazingly clean and one of the reasons we love staying here is because it is convenient to the area. We are super close to everything, and they offer a free hot continental breakfast complete with bacon, eggs, and sausage.
The price is super cheap too — less than $200 per night and depending on what time of year you stay, it could be even less than that.
#3 Roger Smith Hotel, New York City
Now, there are many hotels you can choose when visiting New York, but the reason I love the Roger Smith Hotel is that it is a unique boutique hotel right beside the Starbucks (us coffee people have to unite, right?) and it is walking distance to basically everything you ever wanted to see in New York.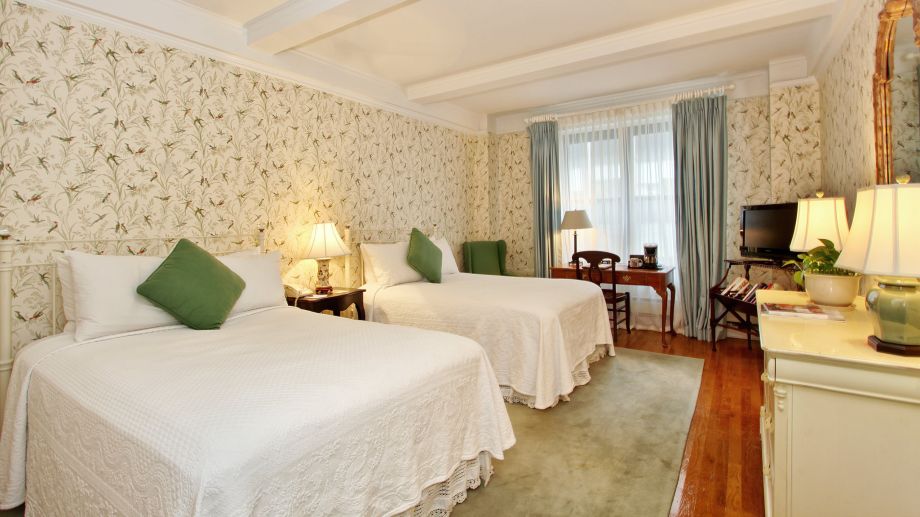 Not only that, but they were the most caring and helpful whenever Crystal's husband passed away. They quickly got us a car, got us to the airport, and gave us a huge discount on our stay there.
They won 5 gold stars in my book the day they did that. They will forever be my hotel of choice when I visit New York.
#4 Meyer Vacation Rentals, Gulf Shores Alabama
Whenever we visit Gulf Shores, we love staying in the Meyer Vacation Rental Condos. They are just like a hotel but with full kitchens and they are right on the beach offering you an amazing view from your balcony.
They are very inexpensive in price and they are located right in the heart of Gulf Shores and Orange Beach. We have stayed here a couple of times and really do enjoy it.
#5 Grand Country Inn, Branson MO
We stayed at the Grand Country Inn during our trip to Branson and I loved everything about this hotel. There was blacklight mini golf, a complete restaurant and shop, and so many fun things to do right there, including nightly shows for the adults and kids.
They even have an indoor water park which is included in the price when you stay here. This hotel is only minutes from all the fun stuff in Branson (and Walmart is right across the street which was a score for us!)
#6 Stephen F. Austin, Austin TX
I stayed at the Stephen F. Austin during my last trip to Texas. I was blown away by this hotel. It is right downtown and minutes away from the Capitol building.
I was blown away at the beauty of this hotel. The staff was amazingly friendly and the restaurant has some of the best food I have ever eaten in my entire life.
The cost to stay here runs about $250 a night, but if you watch Priceline, you can get a better price on your stay.
#7 Langham Huntington Hotel, Pasadena CA
Whenever I visited California for the OZ event, we stayed at the Langham Huntington Hotel. Now, this might sound familiar, because one of the Bachelorette was filmed here.
This has to be one of the most romantic hotels I have ever had the pleasure of staying in. I cannot wait to go back here one day.
There are a few more that I have stayed at over the years, but these are the ones that have left a lasting impression on me.
How I Save on Hotel Stays
Okay — so here is my secret to being able to stay in these amazing places and not having to choose a dump.
Media Rate: If you are media, which means any kind of publication and you write about travel, most hotels have a media rate — all you have to do is ask. With the media rate though, you do have to pay up front, which is NO big deal if it saves you hundreds of dollars right??
Priceline.com: I love Priceline and I use it ALL the time for both flights and hotels. It's even better when you can combine the two and really save.
Groupon: I always make sure to scour groupon and see if they have any coupons going on at the moment. I have snagged 4 star hotels for less than $100 per night — which is my favorite savings.
Hotel Specials: Many times, hotels will offer specials and package deals which include dinner, breakfast, drinks, etc. If you figure it all out, many times there is a hefty savings in that deal.
Just ask: There have been a couple of times that I called the hotel and spoke with the public relations departmnet. I explained who I was and what I did and they sometimes offer me either a full complimentary stay, or they will give me a voucher for a free night, or a hefty discount. In exchange, all I have to do is write a post about my stay and review them on Trip Advisor as well, (which works great for me because that is what I do!)
I would love to hear your favorite hotels around the U.S. that you have stayed in. Leave them in the comments below!