Car seats are baby essentials specifically designed to keep your baby safe and protected during the ride. From the moment you step out of your hospital room with your baby, you are required by law to use a child car seat. Furthermore, kids are also required to be restrained suitably in your vehicle until he's old enough to use your car's own seat belt.
There are various types and models of baby car seats available in the market today. Your choice will largely depend on your child's age, height, and weight. Other factors will also play a significant role in your decisions such as the following:
Longevity

Ease of installation and use

Your vehicle type

Your budget
Different Car Seat Types: How To Choose The Best One For Your Child
Safety features are another essential thing you need to look out for in a top-performing seat so make sure to keep the following things in mind:
It should not be on the car seat recalls list
Here are the types of car seats you should be aware of:
Infant Car Seats
This type of safety seat is made especially for infants and positioned facing the rear of your vehicle. It can be used by newborns until they reach the weight and height limit of the seat, usually until they are two years old. It usually comes with a base or can be directly strapped in your vehicle, and doubles as a carrier.
Depending on how fast your baby grows, you can use it for up to twenty-four months. Once your precious angel outgrows an infant safety seat, it's time to shift to a car seat designed for toddlers and older babies.
Convertible Car Seats
You can switch this type of car seat from the rear-face position for newborns and toddlers to front-face mode for older kids. Its rear-facing mode can typically accommodate children for up to 65 pounds. Your child can use this seat from birth until he outgrows it.
This is a good investment if you're on a budget. However, it does have a few drawbacks worth considering. One of those is portability. Convertible car seats cannot be used as carriers. Also, they don't come with a base so you may not have an easy time moving it in and out of your car. And although you may feel that your baby is more protected due to its bulky built, it may not work well with smaller babies.
Booster Seats
When your child is not old enough to use your vehicle's seat belt, booster seats come to the rescue. These seats are front-facing only and can accommodate a weight of up to 40 pounds depending on the model or brand.
These seats come with its own set of the harness of buckles. There are also models that use your vehicle's seat belt. It can help your kid sit up higher so that you can strap the regular shoulder and lap belt of your vehicle across his body at the right points to securely hold him. Your child can use it until he is 4 ft and 9 in tall or between the ages of 8 to 12. Make sure that your child is at least 13 years old before you allow him to ride at the back seat of your car without a safety seat.
Booster car seats come in the following types:
High-back booster.

This type has a high back for supporting your child's neck and head. They are recommended for vehicles with low seat backs.

Backless booster.

This type does not have a back. Use it only if your car has enough head support behind your kid.
All-In-One Car Seats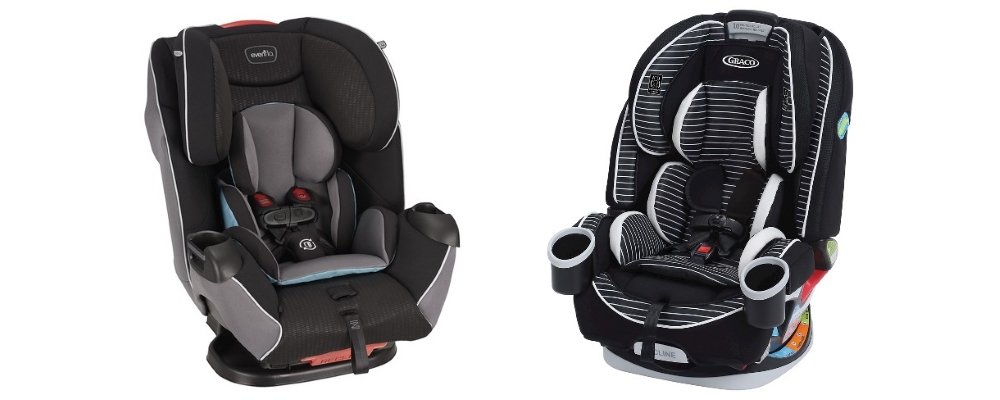 All-in-one or 3-in-one car seats are like convertible seats. The only difference is that by removing their harness, they can be used as booster seats. It's also a great choice if you're looking to save on your budget since your baby can use it as rear-facing, front-facing, and booster. This type of car seat typically comes with an adjustable headrest with a built-in shoulder belt into it. Before changing it into a booster, make you've carefully read the manufacturer's manual.
Things You Need To Consider When Selecting A Car Seat
Used safety seats.

There's a big chance that a used car seat is damaged and may not be at par with the current standards set by the government. If you really have to buy a secondhand seat, make sure to get it from someone you truly trust. You also need to check its expiration date and if it has been a part of a

child seat recalls list

. Do not buy it if you don't know its full history.

Infant or car seat stroller combos? Car seat stroller combos may be the most cost-effective choice, but an infant seat comes with a few advantages. You simply have to lift it off its base and snap it on a stroller instead of unbuckling it and lifting it out of your vehicle so you won't have to worry about waking your sleeping angel.
Fit to the vehicle.

It is essential to choose a seat that will fit your car or multiple vehicles well. Each car seat is manufactured differently, and there are models and types that will fit better in smaller or larger vehicles. If you have multiple cars and the budget, considering buying another one for convenience's sake.

You might even have to make sure your car seat fits in the rental car you get from https://paddockrentacar.com/.
Do not make a decision based on price tag alone. An expensive seat does not always mean it's the safest or easiest to use. The top-performing and the safest car seat is the one that you can correctly install, fits in your vehicle well, used suitably during every ride, and provides a comfortable fit to your child's size.