Whether you need to take your dog with you when you're traveling or simply require a safe, convenient way to carry them into the vet, a pet carrier is vital when you are a pet parent.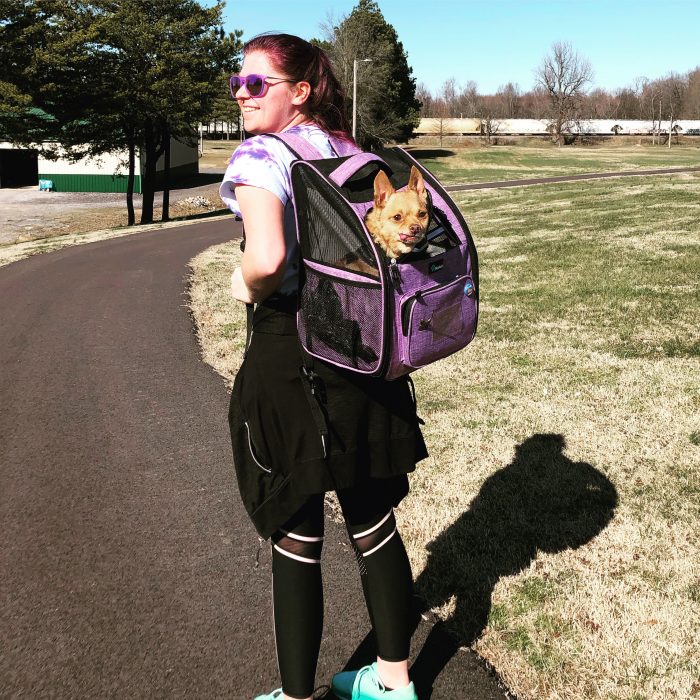 In many instances, people invest in a variety of options for different purposes as opposed to finding what some may deem the ideal bag. There really is no such thing.
Each is made for specific purposes with those used for travel is more durable, sturdy, and safe than something you may use on an everyday basis to stroll around your neighborhood.
How to Determine Which Pet Carrier Is Right
The first step in purchasing dog carriers is measuring and weighing your animal to determine an adequate size. The pup needs to have the capability of standing and turning around while in either a hard or soft variety.
When measuring, you'll go from the tip of the nose on back to the base of the tail and then put an additional three inches onto that measurement. From that point, go from the top of the head to the ground, after which you will again extend it by three more inches.
With carriers that you wear, such as slings or backpacks, there doesn't need to be a lot of extra room for the pup to move around. In saying that, most times, these will carry a maximum weight capacity, so that will need determining.
Choosing An Appropriate Style
There are a variety of carriers for our fur babies on the market that you can choose from, which can become somewhat overwhelming, particularly if you are new to pet parenthood. It can be challenging for even seasoned owners to always know what the very best options are with the choices being so prevalent. But as was suggested, deciding to have multiple carriers is wise for a multitude of uses.
If you plan to take your puppy on any kind of excursion whether it be on a plane or a train ride or perhaps a boat or even a long drive in a car, a carrier that has hard sides also considered to be a travel version offers the most protection for the pet. These are durable and more in line with travel as opposed to a regular type of situation. Buying one of these to carry regularly would probably prove to be too cumbersome and challenging with which to deal. This carrier is particularly suitable for dogs that are medium-sized or larger, but you can use them for any dog.
The soft sides are a more casual variety that can be used for more everyday purposes, whether you go to a restaurant, running errands, or any kind of short-distance trips. These are much less difficult to handle than the hard-sides being much more convenient and portable. The smaller pups or even a medium-size can work in this version, but it needs to be a calm traveler. Any animal that becomes hyper or nervous and may tend to dig or chew should not be constrained to this type of unit. For ideas on the type of dog carrier to consider, go to https://pt.slideshare.net/Joseph90j/types-of-dog-carriers?ref=.
Your back and shoulders will appreciate the variety that comes on wheels as you can simply put it down and pull it behind you securely knowing that your animal is safe. As with the other varieties, our fur babies do get somewhat jostled as we carry them around, but when they are on the ground safely being wheeled, there's less of that. These are ideal for walking in a city environment, and they will also work well when traveling, such as on an airplane.
If you opt for the backpack or the sling to carry your pets, these are more for the small and the medium puppies who come with us when we may take a hike or walk for a distance or maybe doing errands around the town. If your pup gets tired walking or running beside you, merely scoop them up and put them in this type of carrier so that they can see you and their surroundings. Either of these is ideal when taking your animal to the vet in an effort to keep them safe from the other dogs and off of the vet flooring.
Carriers are not only intended for use with pets that have medical challenges or senior animals, but they are very beneficial in these situations. They are required when traveling using any public transportation or if you were to go into a public restaurant or establishment with any dog. Safety is a priority when it comes to our fur babies, and a carrier will ensure that our babies are always out of harm's way no matter the setting.